Meet Brian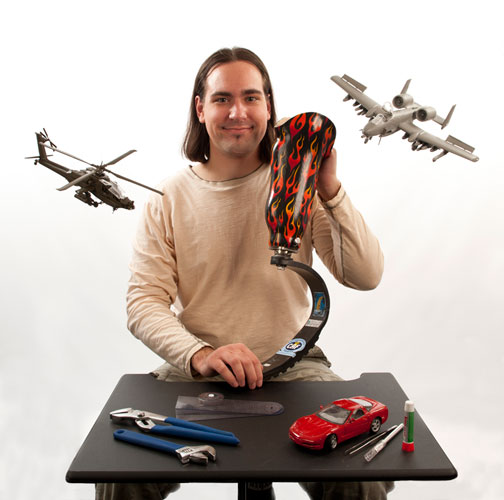 SAHP Degree he is pursuing: - Doctorate of Physical Therapy (DPT)
Class of:  2013
Hometown: - Calimesa, California
Where did you complete your prerequisites?
I completed my prerequisites at Crafton Hills Community College and Walla Walla University. I finished up my Bioengineering degree at WWU.
Why did you choose to attend the School of Allied Health Professions at Loma Linda University?
I chose SAHP at LLU because it's a familiar school and familiar location. I also know that it has a good reputation and I have good connections that can help me get in touch with prospective employers.
How is LLU preparing you for your chosen health care profession?
LLU is teaching me not only how to care for the patient, but also how to care ABOUT the patient. Anyone could learn joint mobilities and muscle tests by heart and perform them, but LLU pushes me to go beyond that, to exemplify a Christ-like caring for the patient so that I can heal not only their body, but their mind and soul as well. Teaching someone how to care for themselves, or how to regain their old abilities lost in a trauma is something that Physical Therapy excels at, showing a person that they can become whole again by their own hand.
What are your plans for after graduation? or Where do you see yourself in five years?
After graduating from the DPT program, I want to continue on with my education and get a post-professional Master's in Prostheses here at LLU so that I can design and fit prosthetics as well as provide Physical Therapy.
What activities do you participate in outside of class on or off campus.
I read a lot as well as listen to music. I like to practice martial arts, run, and go for walks. I also like to build things such as models as well as wood-working.
What advice do you have for new students?
I would tell new students that they have to want to be here. If they don't want to be here, they won't be successful. They don't have to have their life plan figured out, but they need to be willing to work hard, because education is a difficult thing to obtain, but the value of this education and the experiences you gain here during this hard work is returned a thousandfold compared to what you give.
Tell us about a clinical experience you have had and how it has impacted you or your career choice?
I was doing some volunteer work at the local medical center (LLUMC) and was assisting a Physical Therapist with a patient who had spine surgery from a traffic accident and had been unable to walk for nearly six years, receiving physical therapy almost the entire time to return strength to his legs. Unfortunately, in all those six years, he had been unable to stand or even walk once. This one day, I was helping the PT to try and get the patient out of bed and see if we could get him to stand, to see if his legs had become strong enough. With some effort, we were able to get him to sit up in bed and stand. And at last, we were able to help him to walk. The man started crying because he was so happy to finally be able to walk again, even if it was assisted with a walker. He was so thankful for us being able to help him up and get him walking. It's that kind of difference that I want to make in the future with my own patient, to give them back their life and show them that they are not helpless, that they do have the power to live a full life.
Brian's favorite places around LLU
The Macaroni Grill
The Old Spaghetti Factory
In-n-Out Burger
Starbucks inside the Barnes & Noble where I can lay out my books and study
Hulda Crooks Park
Drayson Center near campus are both good places to go for relaxation and exercise.
What motivates you to continue your educational pursuits?
I am motivated by the fact that I see this education as a privilege, and that I feel blessed to be able to attend this school and earn a degree that will give me the chance to heal people who have been injured and broken. I had originally aimed for a degree in Mechanical Engineering in my undergraduate schooling, but I changed to Bioengineering (to enter LLU for the DPT) because I found that I still had a deep passion for human biology and wanted to integrate that with the mechanics of the moving parts in the human body. Previous jobs I have held are a student grader/teacher's assistant, a daycare worker, a worker at an ADRA community center, an employee at Del Taco, and a math/physics/chemistry tutor. A challenge that has cropped up during my stay here so far at LLU has definitely been scheduling. The DPT program is very time-consuming and will require scheduling sacrifices, which has definitely negatively impacted my social life with friends.
Additional comments
LLU professors are extremely supportive of their students' abilities to learn. If you have any problems, you can go to any one of your professors and they will do everything within their power to help you. The professors here are very willing to get involved and listen to what you have to say and understand how to help you.