Meet Crystal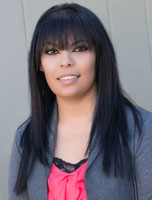 AH Degree she is pursuing: - Cytotechnology
Class of: (year) - 2013
Hometown: - Fontana, Ca
Where Crystal completed her prerequisites
I completed my prerequisites at San Bernardino Valley College and I also attended Chaffey Community College where I received my A.S. degree in Pharmacy Technician studies.
Why Crystal chose to attend the School of Allied Health Professions at Loma Linda University
I decided to attend Loma Linda University because I wanted to be a part of a school that is known for its excellence in academics. The Loma Linda Cytology program has be known to be the number one Cytology program in the Nation and I wanted to be a part of that. I wanted to get the best education and that was Loma Linda University.
From Crystal's point of view.....How is LLU preparing me for my chosen health care profession
Cytology is a specialty that will teach you the art of diagnosis. LLU prepares you very well in all aspects of the program that will lead you to success in the future and will allow you to be one of the best cytotechnologist in the field. The program prepares you to have the knowledge and the confidence to excel not only in the program but also prepare you for boards.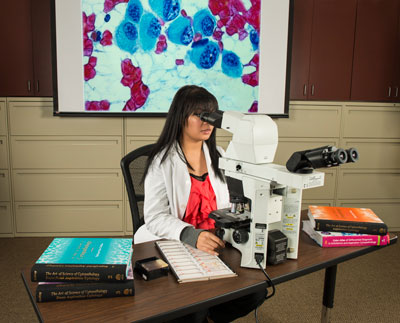 Crystal's plans for after graduation
After graduation, I plan on continuing my education and perusing a Masters Degree in Pathology Assistant studies. With the foundation I receive from my Cytology program I will be very well prepared to continue my educational goals to becoming an ASCP board certified PathA.
Crystal's off campus activities include
I love to bake it's a way to relax and let my creativity flow. I enjoy reading and drawing. I'm very crafty I love crocheting, scrap booking, sewing and painting.
Her community service
I attend church every week and make sure that attending is a part of my everyday agenda. I participate in activities at work such as raising money for charities associated with the company and events like Read Across America that is an event focused for children.
Crystal's advice for new students
My advice to future students is that Cytology is a program that will need all of your attention. You must be organized and active in your studies. The program goes by so fast and like any other program it will require a lot of study time. Cytology is such an interesting specialty that will always surprise you and by the time the program ends you will have a new found knowledge of Cytology, Histology and Pathology.
Crystal's favorite course she has taken so far
My favorite courses in Cytology have been Urinary Cytology and Respiratory Cytology. Learning these cytological sites gave me the foundation to understanding the metastases of cancer. Looking through the microscope you see so many interesting slides from pollen in the lungs to bacteria or fungus and also seeing abnormalities that have the potential to become neoplastic.
Crystal's Top 5 favorite places around LLU
1.Cytology building 2. Centennial Complex 3. Café Society 4. Patio Pantry 5.Thai Bowl
What motivates Crystal to continue her educational pursuits
Education is very important to me. My passion in life is to make a difference in the lives of my patients. To be able to serve my community and educate others about the prevention of disease is what motivates me to pursue my educational goals. Education is something that no one can ever take from you and it is an investment that will last a life time.
Crystal's comments about LLU
LLU is such a beautiful campus you will feel right at home the minute you enter the campus. There are so many activities that you can participate in and also there are many places on campus to study. LLU is a Christ centered university that will teach you so many wonderful values and it will change the way you perceive certain things in life.