Meet Kathryn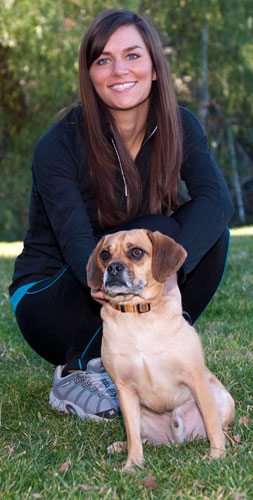 SAHP Degree: - Doctor of Physical Therapy
Where did you complete your prerequisites?
I completed my bachelors degree in kinesiology at Arizona State University.
Why did you choose to attend the School of Allied Health Professions at Loma Linda University?
I chose the DPT program in the school of SAHP because it provides the opportunity for me to work with children with disabilities, and that is something that I have always been passionate about. Physical therapists play an extremely important role in the lives of these children, and working with these children truly touches your own life. The feeling of accomplishment when helping these children is indescribable not only for the child, but for me as well This mutualistic relationship really amazes me. I chose Loma Linda to help me achieve this goal because I knew that it was going to be an amazing environment for me to live my life in. The holistic approach of the school is unlike any other schools that I applied to, and it is an approach that I myself have always thought was necessary for success. I knew that Loma Linda would provide me with many opportunities to become involved with to help get to where I want to go, such as their possAbilities program and the many service trips available for students. So far at Loma Linda, I have had an amazing experience. The professors and people here are each such individuals and are not only good professors, but good people as well.
How is LLU preparing you for your chosen health care profession?
Loma Linda is preparing me for my desired profession in so many ways, not only are they teaching me in a very efficient way, the necessary credentials to succeed in my profession, but they are also helping me to grow in my faith. Each professor prays before each exam and encourages us to take time for ourselves and to grow. Another reason Loma Linda has seemed to exceed my expectations is because each professor truly cares. They don't just take their own course into consideration, but also the courses that are taught by other professors, as well what we have going on in our personal lives. They each know what is going on in other classes, which is a really cool thing.
What are your plans for after graduation?
After graduation I plan on using the things that I have learned and taking my skills in PT to another country for maybe 6 mo. to a year. I hope to use the talents that I have been given and have achieved to help those less privileged in other countries. After I that I most definitely want to work in pediatrics with kids with developmental and neurological disabilities.
What activities do you participate in outside of class on or off campus?
Outside of class I like to run and swim laps. I am currently training for a half marathon in november, which really helps to relieve the stress of studying! I also just signed up to hopefully volunteer with Loma Linda's possAbilities organization. I am involved in a co-ed intramural volleyball team that starts next week with some of the kids from my class, and I am also in the process of starting a small bible study with 4-5 girls from school and friends. Other than that I really enjoy hanging out with my friends and my dog Rocky! I am a social butterfly and I love to laugh so any chance I get I am out the door going to the beach, hiking, biking, hanging out, shopping, taking road trips, or whatever!
What advice do you have for new students?
My advice is to stay positive!! Surround yourself with positive people, and don't let others bring you down! Whatever you like to do for fun, make sure you keep doing it! All of this combined with friends and a little hard work will make for a very fun and rewarding experience here! :)
What has been your favorite course you have taken so far?
Anatomy was by far my favorite course because even though it was extremely intense and very challenging, it was also extremely fun! Seeing cadavers for the first time and putting it into perspective all the things you have just learned is so cool! It's just fascinating. That course is also where everyone came together, as a family. The professors all had such unique and awesome personalities, but they all worked so well together despite how different they all were! That made it fun, which always makes it easier to learn!
Kathryn's Top 5 favorite places around LLU
1. The Beach
2. Santa Monica
3. Big Bear/San Bernardino mountain ranges
4. Hulda Crooks park- more specifically the foothills there
5. Cool Cactus Cafe
What motivates you to continue your educational pursuits?
My motivation comes purely from passion. I am extremely passionate about this and I know that is hands down, with out a doubt, what I want to do for the rest of my life. Sometimes when I get so involved in my books and with school work I start to lose sight of why I am here and why I want to do this, but then something will happen such as a professor showing pictures form a service trip, or some kids that are patients of there's, and that feeling and sense of amazement comes back and I remember why I am here!