Meet Ksenia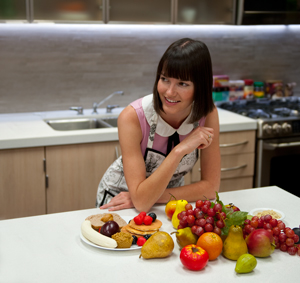 SAHP Degree pursuing: - Masters of Science in Nutrition and Dietetics
Class of 2011
Hometown: - Vladivostok, Russia
Where did you complete your prerequisites?
California State University, San Bernardino B.S. in Nutrition and Food Science
 Why did you choose to attend the School of Allied Health Professions at Loma Linda University?
Loma Linda University is unique in a way that it provides quality education and exceptional help from its' faculty and staff. Professors give individual attention to students without referring them to the T.A. Nutrition and Dietetics program is well suited for me because internship necessary for the R.D. exam is part of the curriculum. This played an important part in my decision to come to Loma Linda, as I can complete Masters degree and internship in two years instead of three.
How is LLU preparing you for your chosen health care profession?
Loma Linda University is a large teaching hospital and getting hands-on experience in some of my classes has been very rewarding.
What are your plans for after graduation?
To gain experience, I will work as a clinical or community dietitian to start. However, my dream job would be doing nutrition counseling as well as traveling and exploring health foods in different cultures.
What activities do you participate in outside of class on or off campus.
Outside of school work, I do nutrition counseling and teach cooking classes. This has been the most rewarding job I have ever had.
What advice do you have for new students?
My advice to new students is to weigh out your options, but keep in mind that after carefully researching different programs, I have found Loma Linda Nutrition combined with internship program the best one.
What has been your favorite course you have taken so far and why?
Every professor is outstanding. Mrs. Kosch teaching Medical Nutrition Therapy was wonderful in guiding us through the lab and the long TPN calculations. The lab was in the hospital so many students got to experience the clinical atmosphere. Dr. Rajaram teaching Nutritional Biochemistry is an excellent professor. Dr. Rajaram really knows biochemistry and I can honestly say that I haven't fully understood the subject until I took a course at Loma Linda. Wonderful, wonderful professors.
Top 5 favorite places around LLU
Stell's- a coffee shop that provided me with a cozy place to study and delicious drinks.
Shake it Up- group dancing lessons for only $10 per session. Great way to meet people from the area and learn how to dance well!
Snow Valley Mountain Resort-I went snowboarding for the first time this year and Snow Valley is a great place to start. I loved it!
Farmer's Market in Downtown Riverside- every Saturday morning it is an excellent place to go and get fresh produce in beautiful historic part of Riverside. Flowers, produce, home made olive oil and sushi graded fish are just a few things available at the farmer's market.
Thai House- THE BEST Thai food! I am a 'foodie' and after trying numerous Thai food around Los Angeles area, I have yet to try anything better than Thai House. Highly recommend.
 What motivates you to continue your educational pursuits? What motivated your choice to change your career path?
Nutrition and Dietetics is my passion so staying motivated is not difficult. My previous jobs (as with most people) involved costumer service but in the past few years I've been only working in the field of dietetics.