Meet Sarah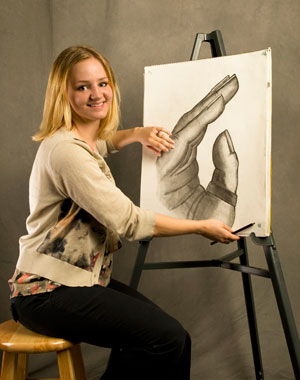 SAHP Degree: - Medical Dosimetry
Class of 2010
Hometown: - Yucca Valley, California
Where did you complete your prerequisites?
I completed my Bachelor's Degree in Physics at the University of Redlands.
Why did you choose to attend the School of Allied Health Professions at Loma Linda University?
Loma Linda University is a prestigious university. With that said, I chose Loma Linda because I realized that I learn best in an environment where the professors are easily contacted, the class sizes are small and I could receive the individual attention I needed.
How is LLU preparing you for your chosen health care profession?
When entering a medical field it is very important that you understand every aspect of the decision making process, I feel that my questions are never left unanswered here. My chosen profession will have me working closely with doctors, nurses, radiation therapists, residents, administration, patients, etc. and since day one at Loma Linda I have been slowly exposed to all different areas of treatment planning.
What are your plans for after graduation?
I plan to see myself in a profession that I love, helping patients and myself succeed.
What activities do you participate in outside of class on or off campus.
I exercise regularly and I honestly find the Drayson Center to be very beneficial to my study habits. The gym schedule is open therefore I can plan to workout whenever I have the time. I have been sticking to a pretty regular schedule and I see an improvement in my grades and overall state of mind.
What advice do you have for new students?
I would encourage a new student to work very hard and to use all resources available. Attending the "Wholeness series" has been one of my resources for information and I continue to find the information they present to be very informative.
Who is your favorite professor?
My Oncology professor Carol Davis has made a huge impact on me. She remains knowledgeable in her field by continuing her education, regularly. She is an excellent professor/professional. She teaches a challenging course but by encouraging us to study hard and making the class interesting and fresh she has made it a definitive favorite amongst the students. Program directors like her are what make the programs (Radiation Therapy/Medical Dosimetry) successful. By meeting with us, regularly, she is training us to be thoughtful, logical and resourceful young professionals.
Your Top 5 favorite places around LLU.
Ravi's Indian Cuisine
The park/basketball courts off of Anderson
Cafe Society
Napoli Italian Restaurant
Krikorian theater in Redlands
What motivates you to continue your educational pursuits?
I decided to return to receive more schooling after the economy took a turn for the worse. Careers are very hard to come by and education can prepare you for a serious career not just another job. I commute from Rancho Cucamonga and although that isn't too far away, juggling a school schedule, my finances schedule, commute, and a social schedule has been tough at times. I find if I set goals for myself and stick to them I am able to accomplish everything I am trying to do.
LLU is a great school I know you will find someone with an interesting story to represent you because the students here are so motivated and diverse. It is very obvious, from orientation, that Loma Linda cares deeply for their students and in turn those students begin to reflect Loma Linda's mission statement and dedication.