Meet Tony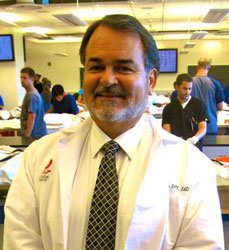 Dr. Antonio Valenzuela, Assistant Professor, Physical Therapy Dept
With SAHP since 1989
Proud Alumni:  PTA 1998, MPT 2007, DPT 2008
Our School is a place where dreams can become reality, where students come without clinical skills and leave with a wealth of knowledge and ready to thrive in a clinical setting.
The future of Physical Therapy is bright.   There is currently so much need for our services and the needs will just increase as our Baby Boomers begin retiring  and joining the geriatric population.
I enjoy most working with bright minds.  Our students are the best because they have chosen to be here, they want to be here, they have a goal in mind and they work hard to attaining their goals.
I enjoy traveling, meeting new people, seeing new places, eating new foods.  I also love cooking and experimenting with new dishes and cooking for large groups.
There are two events that I look forward to attending every year.  Graduation so we can celebrate our students hard work and accomplishments and then a week later the welcome night for new students and their families where we present the path to their dreams and aspirations and how it is possible to reach their goals.
You can go to any other university and become a great physical therapist.  But if you want to become a great Christian physical therapist, then our school will offer you that type of education.
If you have any questions about LLU or our Physical Therapy program, please feel free to contact me.
Tips from Tony
1. Know the field you want to pursue.
2. Shadow professionals in that field and ask questions.
3. Research the current issues in that field so that when you come for an interview you have current knowledge of the field.
4.  Visit the department, sit in classes, talk to current students and professors.
5.. Become familiar with the history of our university, read the mission statement and decide whether this university and its practices are in line with your own philosophies.