Occupational Therapy Research
Annual Occupational Therapy Research Colloquium
Next Presentation is scheduled for December 2017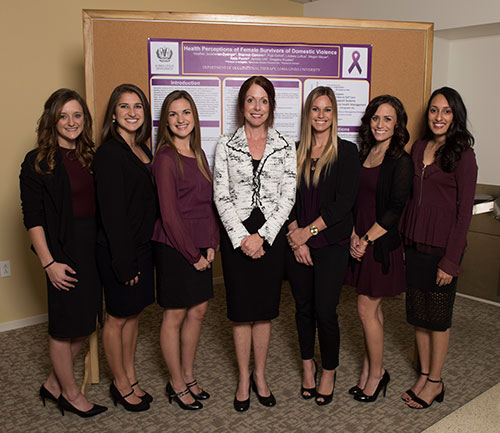 Master of Occupational Therapy graduate students showcase their research findings at this annual event. Posters of student community development projects are also on display. Occupational therapy practitioners who attend and participated in the student project review will receive 2.0 PDUs.
This event is open to the public.
Healthcare Practitioners, please RSVP if you plan to attend.
Occupational Therapy Research
As part of a health science university we believe in advancing occupational therapy through research. Interwoven throughout the Masters of Occupational Therapy program are research courses which afford each student the opportunity to design and complete a research project. Our projects are diverse supporting our curricular threads:
Transformative nature of occupation
Evidence-based practice and research
Health, lifestyle, and wellness
Teaching modalities (e.g., inter-professional, service learning)
Advocacy, justice, and civic responsibility (occupational justice & deprivation)
Students disseminate their research findings at our annual MOT research colloquium and many continue on to present their work at state and national conferences. Students work closely with our experienced research faculty advisors throughout the research process. Faculty primary areas of research interest are listed below:
Occupational Therapy Faculty

        Primary Areas of Research Interest

 

 

Health promotion
Primary Care
Implications of adult attachment theory for work, health, stress, and coping mechanisms

Heather Javaherian-Dysinger, OTD, OTR/L

 

Domestic violence
Health and wellness
End of life care
Education

 

Community based practice
Dementia care
International relief and missions 

Liane Hewitt, DrPH, CHES, OTR/L

 

Community Practice
Health and Wellness
Youth/Senior services

 

Early childhood trauma and lifespan
School mental health
Autism and higher education

 

Fieldwork Education
Pediatrics
Fathering and Child Development

 

Therapeutic Use of Technology
Conditional Reasoning  in Occupational Therapy Process
Occupational Therapy's role in Hepatology Prehabilitation

 

Community health/wellness
Obesity
Pediatrics

 

Sexuality (Body image, self-esteem, self-worth, confidence)
Spirituality (Inspiration, motivation, connection, transformation)
Leadership(Leader/Follower relationships, mentorship, student/teacher)

 

 

Educational environments and learner outcomes
The influence of grit and resilience
Hippotherapy/Equine-assisted therapy
MOT students have recently been involved with a broad range of projects.
The titles of student research projects and the curricular thread the project aligns with are presented in the following: