Imaging Informatics (Online) - Certificate
The Imaging Imformatics Certificate provides the radiologic technologist with skills necessary to functions as a PACS (Picture Archival Communications System) administrator.  The Program focus is on:  Informatics technologies, PACS planning and implementation, administrative issues, and the management of PACS systems.
Enrollment Period
Applications are accepted between January 1 and August 1 with the program starting in each fall quarter.
Requirements
Certified by the American Registry of Radiologic Technologists (AART) in Diagnostic Radiography
Copy of current state and national license/certification
Official transcripts for all college work
3 letters or reference
1 page essay describing personal and professional skills and accomplishments, interests, career goals, and how the Imaging Informatics program will help achieve them
Phone Interview (to be scheduled after application has been submitted.)
The applicants recommendations, interview and work experience are considered in the admissions screening process.
Up to date vaccinations
Program Courses
Autumn Quarter
RTII 354  Introduction to Informatics  -3 units
RTII 368  Communication and Edu in Informatics -3 units
Winter Quarter
RTII 364  Administrative Issues in Informatics-  3 units
RTII 378  Systems Management in Informatics-  3 units
Spring Quarter
RTII 384  Advance Imaging Informatics- 3 units
RTII 374  Image Management- 3 units
Summer Quarter
RTII 356  Information Technology in Radiology - 3 units
RTII 358  PACS Planning and Implementation - 3 units
Total number of units-  24 units
Program Design
The program consists of eight 3-unit courses totaling 24 units.  Students will utilize text, video, and other interactive online resources to optimize the online environment through the Canvas delivery system. 
Financial Information
The student should be prepared to be responsible for all tuition fees, living expenses, and transportation costs.
Contact us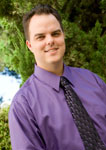 Timothy Seavey, M.A.M, RT (R)(CT)
Program Director
tseavey@llu.edu
Department of Radiation Technology
School of Allied Health Professions, Room A-829
Loma Linda, CA 92350
(909) 558-4931-2-0 or (909) 558-1000 Ask for Allied Health
then the BSRS Program Director ext: 85233