Supporting Allied Health Professions
Giving Back
At a recent alumni event, it struck me how many of our conversations revolved around recent graduates and their success on the job market.  It's an incredibly important topic, both because we want to see our graduates succeed and because we want to ensure that the School of Allied Health Professions at Loma Linda University is still recognized for setting the very highest standards.  When asked if our graduates are successful, I know the Dean was proud to respond with a resounding "Yes!"
Our School of Allied Health Professions graduates are recognized as some of the most coveted professionals on the job market.  The reason that our students and alumni have found this success is truly because the financial investment of the School's family and friends allows us to innovate, to stay on the forefront of healthcare advances, and to grow.  Along with our strong academic programs and an excellent faculty and staff and their commitment to both spiritual and physical wellness set us apart.
Your giving is truly a great investment.    The world needs more people with the skill set and mindset of our graduates, both in the workplace and in service around the world.  Yet, there is a gap. Your support allows us to continue to expand to meet that demand.  We are excited by a future in which we can do so much more.
To learn more on how you can give back, just call or email us.   I'd love the chance to talk to you.  In the meantime, please check out what we have going on right now: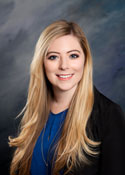 Tiffanie Haynal
Loma Linda University
School of Allied Health Professions
Office of Philanthropy
11175 Mountain View Ave, Ste A
Loma Linda CA 92354
Office: Phone:(909) 558-3271
Email: thaynal@llu.edu