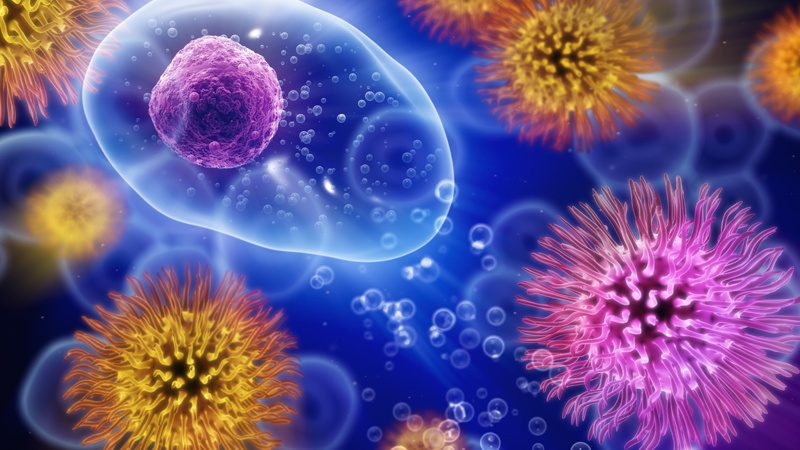 Program Overview & Information
Cytotechnology is the study of cells. The cytotechnologist, working under the direction of a pathologist, detects cell changes caused by different disease processes and is able to differentiate normal, atypical, and malignant cell changes. In recognizing microscopic abnormalities of cells and cellular patterns from various body sites, they assist the pathologist in detecting cancer at its earliest and potentially most curable stage. Cytotechnologists often assist other clinicians such as pulmonologists, gastroenterologists and interventional radiologists with specialized fine needle aspiration procedures which are used to obtain samples from suspicious lesions without major surgery. In addition cytotechnologists may be involved with the application of companion technologies including immunocytochemistry, fluorescence in situ hybridization and flow cytometry.
Cytotechnologists work in hospitals, clinics, and independent pathology laboratories. The employment outlook for cytotechnologists is favorable, with the demand for trained workers exceeding the supply. Cytotechnologists can advance to supervisory positions, participate in research activities, or become teachers in this field. Advancement is based on experience, skill, and advanced education.
Program Mission
The Cytotechnology program upholds the motto of the School of Allied Health Professions, "To Lead, To Heal, To Serve" by providing academic and clinical experiences where students strive for excellence in their work, integrity, and ethical relationships that help contribute to the health and well-being of patients.
Goals
The Cytotechnology program is part of the School of Allied Health Professions at Loma Linda University.  The goals of the school and the department as are follows:
To provide opportunity, instruction, and guided experience by which the student may acquire the basic knowledge and attain the skills essential to the practice of a chosen profession.
To help the student accept responsibility for integrity, ethical relationships, and empathic attitudes which can contribute to the welfare and well-being of patients.
To help the student develop a background of information and attitudes conducive to interprofessional understanding and cooperation.
To encourage the student to cultivate habits of self-education that will foster life long growth.
To engender and nurture in the student the desire to serve mankind, and in particular, to serve as needed in the medical centers sponsored by the Seventh-day Adventist church both in this country and elsewhere.
The two-year cytotechnology program leads to a Bachelor of Science degree. The program requires completion of two years of prerequisite course work at an accredited college or university. Accepted students transfer to the program at the junior year level. The program of study begins in the fall quarter. Upon satisfactory completion of the program, the student is awarded a Bachelor of Science degree and is eligible to take the national board of certification examination and become a registered cytotechnologist.
The junior year includes lecture and laboratory with an emphasis on basic cytology courses. The senior year includes an eleven week clinical practicum and advanced courses in histology, pathology and laboratory management. During the clinical practicum, the senior schedule is a full-time week (40 hours/week; 8 hours/day). Transportation to scheduled clinical rotations is the responsibility of the student. Depending upon assignment, commute times may be up to two hours.
Program Accreditation
The program is accredited by the Commission on Accreditation of Allied Health Education Programs (CAAHEP) – 25400 U.S. Highway 19 North, Suite 158, Clearwater, FL 33763 phone: 727-210-2350; fax: 727-210-2354 – in collaboration with the Cytotechnology Programs Review Committee (CPRC), which is sponsored by the American Society of Cytopathology (ASC); American Society for Cytotechnology (ASCT); American Society for Clinical Pathology (ASCP), and College of American Pathologists (CAP). Information regarding cytotechnology accreditation status can be obtained from the CPRC at the American Society for Cytopathology, 100 West 10th Street, Suite 605, Wilmington, DE 19801; telephone:302-543-6583, fax: 302/543-6597; email: dmacintyre@cytopathology.org.
University Student Learning Outcomes
Students will meet the following institutional learning outcomes:
Information Literacy:  Students demonstrate the ability to identify, locate, evaluate, utilize and share information.
Quantitative Reasoning:  Students demonstrate the ability to reason and develop evidence baed decisions using numerical information.
Critical Thinking:  Students demonstrate critical thinking through examination of ideas and evidence before formulating an opinion or conclusion.
Oral Communication:  Students demonstrate effective oral communication skills in English.
Written communication:  Students demonstrate effective written communication skills in English.
Program Student Learning Outcomes
Students will also meet the following program student learning outcomes:
Evaluate cellular abnormalities with a level of accuracy by applying differential diagnoses in the framework of patient outcome management.
Demonstrate knowledge of the ethical role and responsibilities of the cytotechnologist.
Assess the results of quality assurance measures and institute proper procedures to maintain accuracy.
Comprehend and apply sound principles of scientific research.
Advocate rules and regulations with an emphasis on patient and workplace safety.
Entry Level Competencies for Cytotechnologists
Minimum Expectations:  To prepare competent entry-level cytotechnologists in the cognitive (knowledge) psychomotor (skills), and affective (behavior) learning domains.
Pass Rates for the Board of Certification Examination
The 5 year total pass rate for 2015-2019 is 100%.
Employment Rates in the Profession
The 5 year total positive placement rate for 2015-2019 is 100%.   
Contact information
Matt Riding, SCT (ASCP)CM
Cytotechnology Program Director
Loma Linda University
Jriding@llu.edu
909-558-4000 ext. 45386
Claro Masangcay, CT (ASCP)
Clinical Instructor, Cytotechnology
Cmasangcay@llu.edu
909-558-4000, extension 45387
Desiree Palafox, SCT (ASCP)
Clinical Instructor, Cytotechnology
dpalafox@llu.edu
909-558-4000, extension 45390