Student Perspectives
Ivana Poste
2018 Rising Star- Occupational Therapy
"Loma Linda University MOT program does not only provide students with an "OT lens" to become an occupational therapist. They provide a much greater lens to help us see even better. Through the many opportunities provided here I have been able to practice seeing the world through another person's cultural context. This added lens has only enhanced my understanding of the beauty and uniqueness of those around me and the meaning of everyday life helping me to better connect with the world."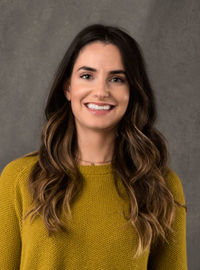 Transforming lives through occupation, service, and advocacy. Loma Linda University's Department of Occupational Therapy mission aims to graduate compassionate, service-oriented leaders who demonstrate excellence and integrity. It also aims to advance practice and facilitate occupational engagement among individuals, communities, and societies. Graduates will demonstrate the skills of critical, creative, and practical thinking to wholistically promote health and occupational justice. The engaged educational process will transform students into compassionate practitioners, advocates, and visionaries who utilize research and evidence-based practice to meet the needs of our changing society.
Department of Occupational Therapy Professional Philosophy
The Department of Occupational Therapy envisions occupational therapy's service to humanity as rooted in justice, advocacy, and whole-person care.  This service orientation manifests through collaboratively providing person-centered healthcare for under-served as well as diverse populations to address the complex needs of human life and social change.  
We envision the practice of occupational therapy as designed to provide all people the possibility of engaging in a healthy lifestyle. This is essential to achieving a satisfying quality of life through occupational participation.  Humans are complex, occupational beings. Occupations are the meaningful activities that occupy our time, inform our identity, and provide our lives with meaning and purpose. "All individuals have an innate need and right to engage in meaningful occupations throughout their lives. Participation in these occupations influences development, health and well-being across the lifespan. As such, participation in meaningful occupation is a determinant of health" (AOTA, 2011, p. 1).
As we participate in occupations we engage in a "dynamic process of interaction with the physical, social, temporal, cultural, psychological, spiritual, and virtual environments. Through active engagement within the internal and external environments, humans evolve, change, and adapt" (AOTA, 2007). The therapeutic use of occupation involves holistically addressing the mind, body, and spirit to empower and transform lives, communities, and societies.  
Occupational therapy is: the therapeutic use of everyday life activities (occupations) with individuals or groups for the purpose of participation in roles and situations in home, school, workplace, community, and other settings.
Occupational therapy services are provided for the purpose of promoting health and wellness and to those who have or are at risk for developing an illness, injury, disease, disorder, condition, impairment, disability, activity limitation, or participation restriction.
Occupational therapy addresses the physical, cognitive, psychosocial, sensory, and other aspects of performance in a variety of contexts to support engagement in everyday life activities that affect health, well-being, and quality of life (AOTA, 2004b).
Our scope of practice involves evaluation, intervention, and outcomes with individuals, organizations, and populations across the lifespan in the areas of:
Activities of daily living
Education
Instrumental activities of daily living
Rest and sleep
Leisure
Play 
Social Participation
Work
The Occupational Therapy Practice Framework (3rd Edition, 2014) describes our domain and process. Occupational therapists practice in both traditional and emerging area. Traditional areas of practice are rooted in the profession's history and include settings that commonly employ occupational therapy practitioners. Emerging areas are those settings that do not typically employ occupational therapy practitioners yet involve needs that relate directly to our scope of practice. We identify emerging areas of practice through our new interests of national association , changes in the healthcare system, as well as global changes in society. At Loma Linda University our emerging practice areas include, but are not limited to:
Aging
At-risk youth
Domestic violence settings
Lifestyle Medicine 
Obesity
Trauma exposed children
Department of Occupational Therapy Philosophy of Learning
Learning is an active process that occurs through intentionally designed meaningful experiences and reflection. Embracing the University values of compassion, justice, and excellence the Department of Occupational Therapy has adopted Service-Learning as its educational foundation. "Service-learning is a form of experiential education in which students engage in activities that address human and community needs together with structured opportunities intentionally designed to promote student learning and development" (Jacoby, 1996, p. 5). It connects faculty, students, and community partners in a collaborative, long-term relationship through a balance of service and learning outcomes.
The Department of Occupational Therapy has a history of community service and continues strive to achieve mission-focused learning in our curriculum founded in community-engaged scholarship. Through service-learning students will take the skills they are taught in the classroom and apply them in an authentic context thus engaging their learning. We have developed 7 service-learning classes. The service-learning experiences will align with the practice area emphasized that quarter (i.e., orthopedic, neurological, behavioral health, infant children & youth, general medicine, or professional practice). Our department currently collaborates with several community partners such as Option House, Inc., Inspire for Girls, and Altus Academy who we will partner with all of our service-learning experiences. We believe this will show a commitment and consistency with our partners. Students will have specific learning objectives for their service-learning experiences. Through these academic learning experiences students will explore and apply faith, service, and whole-person care while working with clients and communities. Structured reflection will nurture personal and professional growth resulting in transformative learning.
This prepares our students to engage in emerging practice settings where they will be required to use leadership skills. They need these skills to conduct needs assessments, develop programs and assess for outcomes and sustainability. Emerging practices for our Department include areas such as domestic violence, obesity in youth, at-risk children, foster care, and lifestyle medicine.
At different aspects in the program the experiences will foster critical thinking, creative thinking, and practical/applied thinking (Doll, 2011; Fink, 2003).  In critical thinking students will compare, analyze, and evaluate. Creative thinking will allow students to design innovative programs and bring new perspectives and approaches to various practice settings. This will be done through the service-learning projects and class assignments. Practical/applied thinking then takes students to a higher level as they engage in evidence-based practice, problem-solving, and decision-making.
The Department of Occupational Therapy aims to provide an engaged learning experience grounded in service to communities, critical analysis, and leadership.  Embracing the work of philosopher John Dewey (1916) and other learning theorists (Giles & Eyler, 1994; Stanton, Giles, & Cruz, 1999) we believe that people learn through active experiences and deep reflection. With guidance, a service-learning approach fosters the acclimation of values, civic principles, and knowledge transference. This experiential learning involves seeing possibilities in practice through reflection and interpreting evidence to inform professional decisions.
Curricular Threads:
Our curriculum has five threads that reflect the values and mission of the Department as part of Loma Linda University.
Transformative nature of occupation
Evidence-based practice and research
Health, lifestyle, and wellness
Service-learning
Advocacy, justice, and civic responsibility
Curriculum Design
Curriculum design is important in that it impacts "the way we consider, think and talk about teaching and learning" (Stefani, 2009). It is the core that unites the MOT program to the University Mission, the School of Allied Health, our student learning experiences, and the student learning outcomes.
The Department of Occupational Therapy views learning as a growing process integrated in service and leading to competent, service-oriented, leaders and practitioners. The Global Model of Learning reflects our curricular design.
The Global Model of Learning reflects the dynamic development of knowledge and competence transforming students into occupational therapists working in an ever changing healthcare environment. We believe learning is a growing process building that strengthens with each class, each quarter in the areas of service-learning, practice, and research. The Global Model of Learning is interwoven at all levels of learning, ultimately promoting the transformation of the individual from student to entry-level practitioner.
Description:
The model consists of a highly finished wood base, 3 gold-capped pillars, 3 gold support rings and a crystal globe. The symbolic meanings are described below:
Platform    
God forms the foundation of our existence and purpose
3 Pillars     
Service-learning
Practice
Research
The 3 pillars grounded in our faith form our foundation. The service-learning pillar fosters experiences of service with our community partners where students provide education on health, wellness, quality of life; and advocate for client rights and justice. This meets our curricular threads of:
Transformative nature of occupation
Evidence-based practice and research
Health, lifestyle, and wellness
Service-learning
Advocacy, justice, and civic responsibility
The Practice pillar involves our courses which are organized by areas of practice. This allows students to learn about disorders, interventions, and professional skills for that particular area. Believing that skills and values related to behavioral and mental health are at the core of every practice area, we have placed this at the beginning of the learning experience. This is so these skills can be built upon as they continue to move into the other practice areas.
Behavioral Health
Orthopedic
Neurological
Infants, Children & Youth
General Medicine
Professional Practice
The Research pillar consists of a series of classes called Critical Inquiry and Evidence-based Practice. Students begin by learning how to read research articles and then how to ask critical questions to determine best practice. They engage in evidence-based practice assignments related to the practice content of that particular quarter. Students then complete group research guided by faculty research agendas.
Crystal Globe
Represents our local and global communities that we serve as a program through service-learning and as professionals engaging in scholarship and service
Learning Process
Learning is an active process that occurs through intentionally designed meaningful experiences and reflection. Students learn through application of knowledge. To facilitate this, we organized our courses by practice settings: orthopedic, neurological, behavioral health, infants, children and youth, general medicine, and professional practice. Students are immersed in each of these areas over different quarters. Curricular threads including the transformative nature of occupation, evidence-based practice and research, health, lifestyle, and wellness, service-learning, advocacy, justice and civic responsibility are woven through each of the practice settings. This facilitates a wholistic view of the client and practice. The interweaving of the curricular threads is represented in the continuous rotation of the globe.
Program Learning Outcomes
Transformative Nature of Occupation
Articulate the importance of the history and philosophical base of the profession of occupational therapy using occupation as the therapeutic basis of transformation and meaning.
Health & Wellness
Describe the importance of balancing areas of occupation with the achievement of health and wellness for the clients in a wholistic perspective. (B.2.4)
Occupational Therapy Practice
Design occupation-based intervention plans and strategies (including goals and methods to achieve them) on the basis of the stated needs of the client as well as data gathered during the evaluation process in collaboration with the client and other health professionals. (B.5.1)
Evidence Based Practice (EBP)
Use scholarly literature to make evidence-based decisions.(B.8.3)