Since you have chosen a professional field for your work, it is important that you portray a professional image to those with whom you come in contact. Inappropriate dress, grooming, or conduct often detracts from the patient's confidence in the quality of their care, sometimes even resulting in a delay in the restoration of health. In addition, our affiliating hospitals have standards which are reflected in the guidelines below. For these reasons we provide the following standards which are required of you while enrolled in the program.
Personal grooming
Good taste indicates that haircuts, hairstyling, and personal grooming be neat, conservative, and not conspicuous. Grooming and style need to be practical so as to enable one's duties to be performed without embarrassment or inconvenience.
Specifically:
1. Men's hair must be neatly trimmed and not fall below the collar. Ponytails, spikes, and dreadlocks are not acceptable.
2. Mustaches and beards, if worn, must be neat and closely trimmed.
3. Women's hair, if long, may be required to be tied back. Spikes and dreadlocks are not acceptable.
4. The wearing of hats indoors is not acceptable.
5. Words, pictures, and/or symbols displayed on clothing should be consistent with a Christian institution and sensitive to a diverse student population.
6. Excessive makeup and fragrances are not appropriate.
7. Rings, if worn, should be low profile and limited to one finger per hand. Male students are not allowed to wear ear ornaments. If worn by women, ear ornaments are limited to simple studs and should not drop below the bottom of the earlobes. Earrings are limited to one per ear. Rings or ornaments in other anatomical sites are not acceptable.
8. Finger nails should be maintained in a professional manner, closely trimmed and should not interfere with patient safety and comfort during treatments. Nail polish, if worn, should be of a subdued color.
Dress
General dress: Modest casual wear is appropriate on campus and in class. Shorts must be neat and at least mid-thigh in length. Bare feet, bare midriffs, and low-cut necklines are not acceptable.
Lab dress: For many classes you will have to "dress down" for labs. Each instructor will specify the dress that is required for their lab. Lab dress is only to be worn for labs and is not appropriate in classrooms, the main floor of Nichol Hall or in any clinical facility.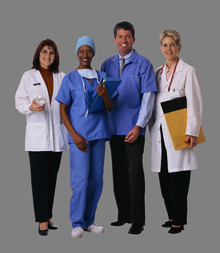 Clinical dress: Professional dress is required for all clinical assignments, chapel attendance, any class that is held in a clinical facility and in any class where patients are present. Professional dress includes: skirts/dresses of modest length or long pants (dress pants are recommended -no jeans), closed-toe shoes, and name tags. Lab coats may be required in some clinical settings.
Failure to observe the dress and grooming codes may result in your dismissal from a class or building by a member of the faculty. You will be allowed to return to the class/building when the problem is eliminated.
Conduct
We expect you to conduct yourself in a professional manner during your didactic and clinical training. Professional conduct includes, but is not limited to, punctuality, respect of other people, their property and their right to learn. It also includes an appropriate respect for those in authority. As students of Loma Linda University, we expect you to behave in a manner that will not bring criticism to yourself, this program, or the University. In any public place you may be exposed to patients' relatives and friends. Your conversation and the attitudes you display have an effect on those around you. We request you observe the following:
1. Any information given to you by a patient or found in a medical record must be held in strict confidence. Therefore, the discussion of patients' diagnosis and treatment, and other clinically-related topics should be extremely guarded. Patients' families and community people may be listening and wrongly interpret the things you discuss. Careless talk may lead to malpractice litigation.
2. A joking or high-spirited attitude toward illness and medical treatment should not be exhibited as it may be very disturbing to those who are ill and suffering as well as to the family members.