Horses & Lambs is an unique service learning opportunity for interdisciplinary work fo our occupational and physical therapy students. Here at Loma Linda University, we strive to make man whole and Horses & Lambs is a program that helps us live our motto. 
Several times throughout a quarter, we take our occupational and physical therapy students to a horse ranch, where they work with children who are faced with different physical challenges. This is an amazing chance for our students to be able to work out in the community, gain more hands on experience, and help out in a pediatric setting.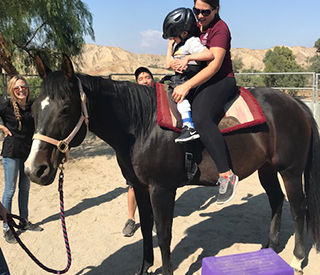 "There is something about the outside of a horse that is good for the inside of a man."
Riding horses has many therapeutic benefits in itself, but to maximize our time with the kiddos, we have them participate in different "funtivities" while they ride.  Our "funtivities" are designed to practice gross and fine motor skills, postural control, range of motion, coordination, and cognitive stimulation and interaction.  We see a variety of children whose challenges range from Autism, Cerebral Palsy, Muscular Dystrophy, Rett Syndrome, and more. Therefore, each riding session is tailored to the child's specific need.
The fun does not stop with riding. Once the children have completed their ride, we then move on to the grooming and walking miniature horse station. There are many different ways one can incorporate creative therapeutic exercises into grooming and walking a miniature horse, thus allowing our students to think outside the box. The children receive physical benefits from these activities and our students can come up with fun and exciting ways to facilitate therapeutic exercises.
Cost
Each session is $25 and this covers the cost of the horses. 
If you would like to make a tax-deductible donation to Horses & Lambs, please contact Tiffanie Haynal from our Philanthropy office at Thaynal@llu.edu. Most programs similar to Horses & Lambs charge $80 and up for one riding session. We want to make our program affordable and accessible to our community, therefore we would greatly appreciate your kind donations.
Contact Us
If you know a child who could benefit from our program, please feel free to contact us at, horsesandlambs@llu.edu to schedule a session. You can also find us on Instagram by searching our handle: horsesandlambs.
What our students are saying
"Volunteering with Horses & Lambs afforded me the opportunity to achieve real-world experience performing therapeutic exercises with children from our local community. I gained confidence in my abilities and observed the transformative power of animals to inspire children to reach new goals."
What our students are saying
"It was truly an honor to be part of Loma Linda University Horses and Lambs program. As a first year DPT student, I want to gain experience in pediatrics and this was the perfect opportunity. It was amazing to be outside, with an interdisciplinary team, and applying concepts from class."
What our students are saying
"I love how Horses & Lambs incorporates both fun and challenging activities into their sessions! Every activity is adapted to the child's needs in a creative way, which makes their experience very enjoyable, meaningful, and purposeful."
What our students are saying
"Horses and Lambs was a unique and special opportunity I won't soon forget- truly a lifelong memory. The program was a fulfilling reminder as to why I am here, not just to pursue a career in physical therapy, but why I specifically came to Loma Linda University. Learning from faculty and second year students was rewarding, but the real reward was in witnessing the wonders of the effects of equine assisted therapy for the kiddos as well as their family. I feel so truly blessed to have been a part of this wonderful program, and I look forward to more opportunities to participate."