Announcing the Imaging Informatics emphasis in the Bachelor of Science in Radiation Sciences (BSRS).
Coming Soon! Continuing Education (CE) in Imaging Informatics by the Summer of 2018 (tentative). This CE program will prepare Imaging Informatics professionals for the ABII (American Board of Imaging Informatics) exam.
About the Imaging Informatics Profession
With the convergence of patient data, computer science applications, and the expertise of health professionals, a movement is being made toward providing higher quality patient care through better management and availability of information. This is the world of health informatics. With the advent of electronic health records came the use of digital technology to capture medical images. Imaging informatics, also sometimes referred to as radiology informatics or medical imaging informatics, concerns how medical images are used and exchanged throughout complex healthcare systems. Virtually every healthcare clinical discipline now depends on imaging informatics. When clinicians have immediate electronic access to medical images, precious time is saved, allowing for timely medical decisions, reducing unnecessary repetition of exams and driving costs down.
About the Imaging Informatics Emphasis in the BSRS Program
This program emphasis provides with skills necessary to function as a PACS (Picture Archival Communications System) administrator.  The Program focus is on:  informatics technologies, PACS planning and implementation, administrative issues, and the management of PACS systems.
Refer to the information on the BSRS webpage. Contact the Program Director for more information.
Contact Us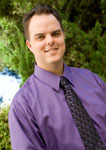 Timothy Seavey, M.A.M, R.T.(R)(CT)(ARRT)
Program Director
tseavey@llu.edu
Department of Radiation Technology
School of Allied Health Professions, Room A-829
Loma Linda, CA 92350
909-558-4931-2-0 or 909-558-1000 And ask for Allied Health
then the BSRS Program Director ext: 85233