Enrollment Periods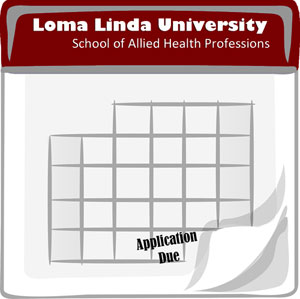 The following dates are open enrollment periods and deadlines for our Allied Health Programs. 
Please check with the program advisor for more specific enrollment questions. 
 
Important Enrollment Notices:
All applicants must complete and submit their application during their desired program's open enrollment period in order to be considered.   It is highly recommended that you submit and complete your application early in the enrollment process to better your chances of acceptance.  Most programs review and decide student acceptances once the application is complete.  Waiting or delaying your application can decrease your chances of getting into your desired program of choice.
Additional elements such as recommendations, official transcripts and proof of observation hour forms, international student transcript evaluations, may be sent after the application has been submitted; but ALL elements must be received and reviewed before an admissions decision can be made.  The University does not issue provisional acceptances for incomplete applications.
Programs make decisions as applications are completed and programs may fill before the published deadline date.  Since many of our programs are in high demand and fill fast, we recommend that you do not wait or hold out until the deadline to apply.
International students (those who have taken courses outside of the US) are highly encouraged to apply as early as possible due to the additional time in receiving and processing their completed applications, official transcripts and student visa paperwork.
If you attempt to apply and receive a notice that the class is closed,  please check back during the next open enrollment period to complete your application. 
Application fees are nonrefundable once the application has been submitted online.
If you are applying to the Doctor of PT Entry level, Occupational Therapy Masters, Orthoics & Prosthetics Entry level, or Masters of Physician Assistant programs, please follow their alternate application directions outlined on their program pages.
See our admissions page for further instruction on applying to the School of Allied Health Professions.
Open Enrollment Dates for Allied Health Applicants
Allied Health Studies
Healthcare Administration Bachelors  Nov 1-April 1
Health Professions Educator-Quarterly
Cardiopulmonary Sciences
Emergency Medical Care-Jan 1- Aug 1
Respiratory Care-Jan 1- Sept. 1
Advanced Practitioner Respiratory Care BS:  Fall 2017  Jan. 1-July 31
Clinical Laboratory Sciences
Cytotechnology:  January 1- July 31
CLS:  January 1- April 1
Phlebotomy:  Spring 2017- Apply Jan 16- Feb 13, 2017
Communication Sciences and Disorders
CMSD Bachelor of Science – October 1 - June 1
CMSD Master of Science – October 1 – January 1
CMSD Transitional Masters – October 1 – March 1
CMSD Doctorate- October 1- May 15th
CMSD Fieldwork Course-  Course available Fall and Spring quarters only
Health Informatics and  Information Management
All HIIM Programs January 1-August 15
Life Support Education
Dates vary- See LSE Schedule
Natural Sciences
Dates vary- See Class Schedules
Nutrition and Dietetics
All Programs November 30- March 31
Occupational Therapy
Entry-level MOT:  For Summer 2018- Apply through OTCAS Mid-July -October 2, 2017. 
Apply early Class fills quickly.  Deadline is set to the Eastern time zone. Refer to OTCAS for more info.
OTD:  October 1 – June 30
Orthotics and Prosthetics
Master of Orthotics and Prostetics – Oct 1 – Sept 1 (for Fall) 
Apply through OPCAS
Physician Assistant
Master of Science:  May 1 –  October 1, 2016 11:59 ET*  Apply through CASPA. Deadline is set to the Eastern time zone. Refer to OTCAS for more info.
Physical Therapy
Physical Therapist Assistant   August 3 – April 2 Priority Deadline Nov. 1   Apply Early.  This class fills and closes quickly
DPT-Entry level Doctor of PT- July 1-Nov 1; Dec 30 is closing date for secondary applications.  Sept 1 2017 is prioity deadline. Applications after have a low probability of getting accepted.  Apply through PTCAS
Masters of Science in Rehabilitation- Degree suspended. Contact the department for more info.
PP-Doctor of PT 65 – Oct 1 – Apr 1 (for Fall)
PP-DPT 45  – Oct 1 – Aug 1 (for Fall)
PP-DPT 45  – Aug 1 – Nov 1 (for Winter)
PP-DPT 45 – Nov 1 – Feb 1 (for Spring)
PhD  October 1- August 1
Radiation Technology
Medical Radiography Associates Oct 1- April 1  Earlybird Deadline Feb 15, Final Deadline April 1
Cardiac Electrophysiology-Beginning Fall 2018- through May 31, 2018
Diagnostic Medical Sonography : Fall 2017 Oct 1 – Feb 1 (Program tranisitioning to a Bachelors degree in 2018)
MRI Certificate : Fall - Jan 1 – May 1 
Spring 2018 June 1, 2017- Dec 1, 2017
CT Certificate : Jan 1 – May 1
Cardiac & Vascular Imaging Certificate Start Winter Qtr  Apply Jan 1-May 31
Nuclear Medicine Bachelors (AART) : For Fall Quarter 2017 - April 1 – August 25 Extended
                                                             For Summer 2017 (non-AART)  November 1-March 15
Radiation Therapy Bachelors- Jan 1 March 31
Radiation Therapy : Jan 1 – May 1
Dosimetry: Jan 1 – May 31
Healthcare Adm Bachelors : Nov 1 – April 1
Master of Radiation Science : Jan 1 – Sept 1
Master of Radiologist Assistant : Winter 2017 Jan 1 – March 17
                                                     Spring 2017 March 27-June 1
If the program you are searching for is not listed, please contact the department directly for enrollment periods and deadlines.
Contact SAHP Admissions for further questions about applications and admissions or email us@ askalliedhealth@llu.edu