Nuclear Medicine - Bachelors
Radiation Technology- Nuclear Medicine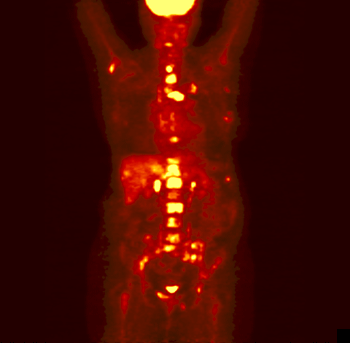 LLU Career Profile - Nuclear Medicine from Loma Linda U on Vimeo.
Program Resources
Have you Considered a Career in Nuclear Medicine?
Nuclear medicine is a medical specialty that uses radioactive tracers (radiopharmaceuticals) to access bodily functions and to diagnose and treat disease.
The skills of the nuclear medicine technologist complement those of the nuclear medicine physician and other allied health professionals.
The student technologist learns about patient care, radiation physics and safety, preparation and administration of radiopharmaceuticals, diagnostic imaging procedures, radiation detection equipment, computerized imaging cameras, and research procedures.
Bachelor of Science in Nuclear Medicine Program
Application Window
Applications are now being accepted!
Applications are accepted twice a year.  There is no waiting list or lottery.
Non-ARRT certified applicants can apply January 1 to March 15, for a summer start.
Program Accreditation
The B.S. degree in Nuclear Medicine program in the Department of Radiation Technology at Loma Linda University is accredited by WASC (Western Associate of Schools and Colleges).  Application for JRCNMT accreditation has been submitted.
Nuclear Medicine Program Statistics
Graduate Outcomes (PDF) New
Term Dates
The BS in Nuclear Medicine Program follows the Loma Linda University Quarterly academic terms.  Please refer to the Academic Calendar since the actual dates change yearly.
Costs and Fees
Refer to SAHP Tuition Rates
The estimated cost of the program is updated yearly based on the University's tuition and fees, which are subject to change (usually summer quarter). Tuition rates above do not reflect books, uniforms and supplies, living and transportation costs. Additional fees apply.  A University quarterly fee is charged.
Program Expectations
The Bachelor of Science in Nuclear Medicine Program is a rigorous program.  Students should expect to give full-time attention to this demanding program.  Students in the past have needed to adjust their personal schedules to make this program a priority.  Students should also plan to drive to their clinical assignments, which are assigned to each student after the program begins.  Students are expected to be responsible, accountable, and dependable as well as behave and communicate with high professional standards. Attendance in all classes and clinical rotations is expected.  Students are also expected to be able to perform the essential job functions throughout the program and on into the profession.
Program Learning Outcomes
Skill: Demonstrate the knowledge, skills, and responsibilities necessary for the practice of Nuclear Medicine.
Compassion & Diversity: Practice safe, compassionate patient care, including appreciation and respect for cultural diversity.
Critical Thinking: Demonstrate critical thinking, problem solving, and decision making skills in nuclear medicine
Knowledge: Maintain skills and knowledge by interacting with fellow professionals, attending educational conferences, and staying current with changing technology. Demonstrates knowledge of departmental organization and function.
Quantitative Reasoning: Apply quantitative reasoning to the practice of nuclear medicine.
Clinical: Obtain required clinical competencies including; patient care, procedures, showing how to competently utilize a variety of NM and CT equipment.
Institutional Learning Outcomes
Critical Thinking: Accurately interprets (analyzes and evaluates) information; objectively justifies conclusions and assimilates content into honest and thorough presentation of findings.
Information Literacy: Students demonstrate the ability to identify, locate, evaluate, utilize, and share information.
Quantitative Reasoning: Students demonstrate critical thinking through examination of ideas and evidence before formulating an opinion or conclusion.
Communication: – Oral: Demonstrate effective oral communication skills.
Communication: – Written: Demonstrate effective written communication skills.
Our Mission
The Nuclear Medicine Program supports the mission of Loma Linda University "to make man whole," by offering excellent educational experiences in a quality learning environment to facilitate the development of competent, compassionate health professionals. Individuals from diverse backgrounds are encouraged to embrace opportunities for lifelong growth and satisfaction from a career committed to healthcare.
Our Vision
The Nuclear Medicine Program supports an environment that enables learners to lead, to heal, to serve, to touch the world in a way that transforms lives.
Our Values
The Nuclear Medicine Program will prepare our graduates to be employees of choice for premier organizations around the world, by providing them with practical learning experiences through partnerships with those open to sharing our vision.
Essential Job Functions of a Nuclear Medicine Technologist
Interact with patients by verifying patient identification and written orders for the procedure. 
Deals with the nuclear instrumentation quality control by evaluating the performance of gamma cameras, PET, and PET/CT.
Performs imaging procedures by selecting the appropriate parameters for digital acquisition and determining the route of administration according to established protocol. 
Identification and labeling of all radiopharmaceuticals.
Administration of radiopharmaceuticals.
Maintains compliance with local, state, or federal regulations in radiation safety.
Loma Linda University: Educating Radiology Professionals
Loma Linda University offers a number of programs in the medical imaging field. Besides Nuclear Medicine, we offer programs in Medical Radiography, Computed Tomography, Imaging Informatics (online), Cardiac Electrophysiology, Magnetic Resonance, Nuclear Medicine, Sonography, Radiation Therapy, and Dosimetry.  We also offer an online Bachelor's and Master's degrees in Radiation Sciences, a Bachelor's degree in Healthcare Administration, and an online Radiologist Assistant Master's degree program.
Eligibility for ARRT and NMTCB Certification
Eligibility for the ARRT and NMTCB certification exams may be affected if the applicant has a prior felony or misdemeanor conviction. Prior to applying to this program the applicant should contact the ARRT at 651-687-0048 and the NMTCB at 404-315-1739 to determine if eligibility will be granted.
Clinical Assignments
We have clinical sites located in:  San Bernardino, Riverside, Los Angeles, and Orange Counties.
Application Requirements
Applicants must complete all of the prerequisites prior to entrance to the BSNM program with a minimum GPA of 3.0, submit official college and high school transcripts, complete 24 hours career observation, provide three references, write an admissions essay and submit application fee. 
Not every applicant will receive an interview.
Program Requirements
Applicants are required to complete a background check and possess a current Health Care Provider CPR card offered by the American Heart Association. Students at some clinical sites may need a drug test.
Observation Hours
The program application requires 24 hours of career observation in a Nuclear Medicine Department (two different facilities preferred).
ONLINE APPLICATION ESSAY
Each applicant is required to submit an online application, and within the application are ethics-based questions, and a 300-500 word essay. The essay is to include the following: why you chose nuclear medicine as a profession, why you want to come to Loma Linda University, what you have done for service activity in your life, what your goals are in the next five years, and why you see yourself as a Nuclear Medicine Technologist.  Essays will be judged based on the inclusion of all of this content.
APPLICATION PROCESS AND TIMELINE
All applications are processed the same. Our applications practices are clearly stated below and are consistent for each applicant.
The application window for non-ARRT is January 1 – March 15 for a summer start. The application window for ARRT is April 1 to June 15 for a fall start.
All elements of the application are due by March 15 (non-ARRT) and June 15 (ARRT).  For example: online application, essay, application questions, photo, observation form, and application fee.
All pre-requisites must be completed by the time the student starts the program. 
Interviews are not granted to every applicant.
It is the applicant's responsibility to follow up on their online application in the application/admissions portal.
Re-applicants and applicants are all treated the same.
Preference is not given to any area of diversity. All applicants are treated the same.
Qualified applicants will be contacted to schedule an interview appointment.
The LLU Nuclear Medicine program does not have a waiting list, nor do we hold seats for anyone.
Program Prerequisites:
Applicants must complete the following subjects at an accredited college or university prior to entering the program.
HUMANITIES
20 quarter/14 semester units minimum (choose minimum of three areas from: history, literature, philosophy, foreign language, art/music appreciation/history). Included in this minimum, 4 units of
religion per year of attendance at a Seventh-day Adventist college or university. eight units of religion are included in the BSNM degree core as a co-requisite.
NATURAL SCIENCES
Chemistry (Intro or General) with lab - one year
Intro or General Physics with lab
Human Anatomy & Physiology with lab (complete sequence)
College Algebra
Medical Terminology
SOCIAL SCIENCES (12 quarter/8 semester units min.)
General Psychology
Intro to Sociology
Lifespan Development
COMMUNICATION (9 quarter/6 semester units min.)
Freshman Composition, complete sequence (required)
Oral Communication
HEALTH AND WELLNESS (3 quarter/2 semester units min.)
Physical Education (2 activities)
Health or Nutrition
ELECTIVES
(to meet minimum total of 96 quarter units)
Please Note: C- grades or below are not transferable for credit. If you repeat a class the latest grade is recognized.  Courses must be from an Accredited Institution.
Program Curriculum  
Contact Us
Department of Radiation Technology
Loma Linda University
School of Allied Health Professions
Nichol Hall A829
Loma Linda CA 92350
1-909-558-4931-2-0
Terri Mosley, MA, Program Coordinator
tmosley@llu.edu
909-583-1032
Ray Ho, Program Director
rjho@llu.edu
Ext 87417
Margaret Frank, Clinical Coordinator
mfrank@llu.edu
Ext 87417