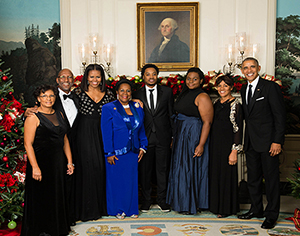 By maree - January 19, 2017
We inaugurate a new President tomorrow. But today, I want to share with you an experience I won't soon forget.   
My wife, Dr. Victoria Jackson, Assistant Professor, School of Behavioral Health; my sister, Dr. Denise Jackson Townsend, Internist at the Loma Linda Veterans Administration Medical Center; and I attended the White House Christmas Party on Thursday, December 9th, 2016, at the invitation of my cousin, Representative Sheila Jackson Lee (D, Houston, TX).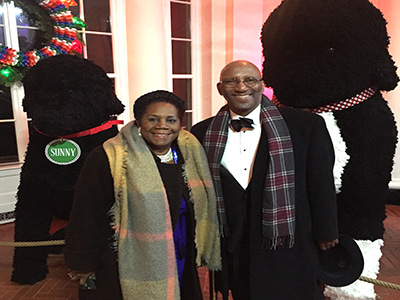 The White House was beautifully decorated with traditional Christmas decor in each of the rooms. Guests, suited in formal attire, dined at a scrumptious buffet while entertained by a Military Orchestra.
The highlight of the gathering was the privilege of a photo with the President of the United States and the First Lady. It was an exciting moment!
There were other dignitaries there as well; notables such as Senator Bernie Sanders (Vermont), and legendary Civil Rights Leader Senator John Lewis (D, Georgia). These were legendary moments never to be forgotten for a lifetime.