Class of 2021 Senior Hoodie Ceremony Photo Contest
Our Prize Winners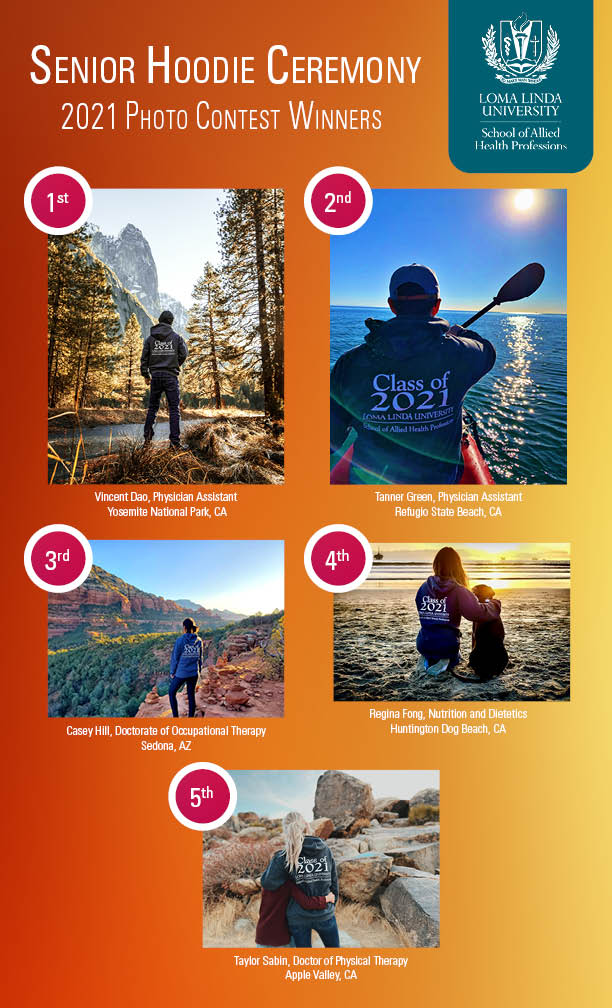 Covid-19 Guidelines
Student Health Service is committed to safeguard the health of our students in the midst of the COVID-19 pandemic. Read the guidelines to help you navigate these complex circumstances.
Veteran Student Profile
Ryan Ziegler
Physician Assistant Class of 2020
In 2012 I was devastated when I received notice from the Loma Linda University School of Allied Health Professions Physician Assistant (PA) program that I had not been accepted. I then decided I needed to do something to make myself stand out from the crowd for the next time I applied.
Read More
Office of Student Affairs
The Allied Health Office of Student Affairs helps our current Allied Health students with day to day activities at the School of Allied Health Professions and offers assistance when students may face challenges.
Office of Academic Affairs
The Allied Health Office of Academic Affairs provides academic resources and information for current Allied Health students.
Local and Global Mission Service
Student Handbook
Social Media for Current Students
Students are expected to utilize social media professionally and responsibly when representing one's self, Loma Linda University and the School of Allied Health Professions, their program, and future profession. Any social media account representing the university by utilizing its name or logo must register the account with the SAHP social media office by emailing ahalumni@llu.edu.
Chapel and Week of Renewal
Chapels occur weekly on Wednesdays from 11:00-11:50. For allied health students, the first and last chapel (Awards Chapel) is held at Campus Hill Church next to Nichol Hall. All other chapels are held at Loma Linda University Church on the lower campus.
Week of Renewal
For Week of Renewal, the adjusted morning class schedule is:
Classes normally meeting at 8:00 a.m. will meet from 8:00-8:35.
Classes normally meeting at 9:00 a.m. will meet from 8:45-9:20.
Classes normally meeting at 10:00 a.m. will meet from 9:30-10:05.
Classes normally meeting at 11:00 a.m. will meet from 10:15-10:50.
Week of Renewal is held at Loma Linda University Church.
CANVAS - Learning Management System
We use Canvas as our learning management system. You can access Canvas via your internet browser (e.g. Safari, Firefox, Chrome, etc.) by going to http://canvas.llu.edu, or by using the Canvas app.
Follow these steps once you have downloaded and opened the Canvas app:
Enter "LLU" when prompted to enter your school.
On the authentication page, enter your LLU username and password
On the Canvas for iOS window, click "Remember my authorization for this service" so you won't have to login every time you open the app.
Click to log in.
SAHP Writing Center Services
LLU SAHP students can get assistance with papers, editing, or APA formatting by contacting Dr. Gina Vyskocil
School Events
We hope you will take advantage of our many student events planned for this year by our School of Allied Health Professions Student Association (SAHPSA). More information will be available to you through Instagram.
Students are also invited to attend the Wil Alexander Wholeness Series. These series of lectures and workshops are ongoing throughout the year and feature various personal and professional development topics presented by a variety of speakers.
Current students have access to internal internet communications including One Portal, the school's Canvas system and their personal LLU student web mail accounts for on campus interactions and information.
SAHP departments and faculty will communicate through your student email accounts, so please check them frequently.

SAHP students and school-affiliated groups will make announcements through Facebook and Instagram, so be sure to follow SAHP and any groups that interest you.
Helpful Links
---
Additional LLU Student Links
Allied Health Links
Area Links
Student Apps
Look for Loma Linda University Apps in the Google play store.