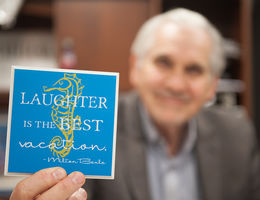 We all know the saying "laughter is the best medicine," but have you ever wondered how many body systems it really benefits? Laughter has a huge impact on both mental and physical health, and is possibly the cheapest medicine available, aside from fresh air, sunshine or exercise.
Read the article
Study finds consuming nuts strengthens beneficial brainwave frequencies.
A new study by researchers at Loma Linda University Health has found that eating nuts on a regular basis strengthens brainwave frequencies associated with cognition, healing, learning, memory and other key brain functions. An abstract of the study — which was presented in the nutrition section of the Experimental Biology 2017 meetings in San Diego, California, and published in The FASEB Journal...
---
About our Research Endeavors
We believe in evidence based research and practice! For the time being, if you would like to know more about our programs and/or what we our current projects, aims, and goals are please contact the admissions office or us directly at sahpresearch@llu.edu.