Are you interested in helping people with heart problems?
Are you looking for a profession that combines technology with patient care?
Are you seeking an in-demand career that can be started in about one year? 
CEPT from Loma Linda U on Vimeo.
About the Cardiac Electrophysiology Technology (CEPT) Profession
Electrophysiology (EP) is an emerging health care science and therapy. EP is a subspecialty of cardiology that focuses on diagnosing and treating cardiac arrhythmias.  The Cardiac Electrophysiology Technologist can be trained with no prior medical experiences, or may come from a variety of allied health professionals (RT, RN, CVT, EMS, RRT and PA). EP technologists ssist an EP Cardiologist during diagnostic and invasive procedures including programmed electrical stimulation, sterile scrub technique, electro-anatomical 3D mapping, catheter ablation for cardiac arrhythmias and device implantation for cardiac rhythm management such as pacemakers and other advanced implantable devices. 
How to Begin
Step 1:  Review the website, brochure, and FAQ in detail first, then contact the program director for answers to individual questions:
Step 2: Attend a free online information session. 
Step 3: Start the application process 
Step 4: Contact Christine Wetmore at (909-558-4931) (cwetmore@llu.edu) with general registration and prerequisite questions.
Program Resources
About the CEPT Program at LLU
Students in the cardiac electrophysiology technology program will learn EP theory, principles, and various techniques, and will be educated to utilize the latest advancements in EP Equipment technology and cardiac rhythm management.  Students will obtain 800 clinical hours by rotating to several Southern California clinical sites while in the on-campus program.  The Associate of Science is 12 months long, and clinical sites are assigned by the Program Director. The pre-requisites for the program could take up to one year to complete.
The A.S. degree is a face-to-face program that with some online coursework.
Graduates of the CEPT program will be qualified for employment with not just acute care hospital CCL/EP labs, but also hospital or physician rhythm management clinics, clinical support, and sales positions with various bio-technology companies.  
The development of this program is in direct response to the needs expressed by hospitals, physicians, and bio-technology companies to address the current demand for qualified EP allied health professionals to meet emerging challenges of the health care science and therapy of electrophysiology.  Currently only 8-10% of patients in the US are being properly diagnosed and treated for atrial fibrillation, which is just one segment of EP patients.
Clinical Training and Essential Job Functions
Students will complete didactic coursework (61.5 quarter units) and at least 800 hours of clinical education in a cardiac cath lab/EP lab.  
Physical demands include lifting; carrying; bending; manipulation of equipment; patient assistance; walking and prolonged standing; the ability to read written orders, advanced computer systems screens, patent records, and equipment controls and the ability to communicate with patients, physicians and coworkers. 
Mental and emotional demands include critical decision making, interaction with patients of different ages and health conditions, maintaining patient confidentiality, and being able to work under pressure in stressful conditions.
Program Certifications
This program is endorsed by the IBHRE. The International Board of Heart Rhythm Examiners (IBHRE) is recognized as the global leader in heart rhythm certification.  IBHRE was the first testing organization founded to raise the level of professionalism and academic credibility in cardiac pacing and electrophysiology.  IBHRE certified specialists include more than 9,000 distinguished physicians and allied professionals around the world who have been tested on the scientific foundation, clinical skills, and technical knowledge required to provide and facilitate safe quality patient care in the management of arrhythmias.  IBHRE certification serves as a validation to your cardiac pacing and electrophysiology qualifications, recognizes your achievement of an international standard that goes beyond the scope of licensure & successfully measures your knowledge based on predetermined standards in heart rhythm management. International Board of Heart Rhythm Examiners:  http://www/ibhre.org/
CCI is a credentialing organization for Cardiovascular Technology and emerging medical professionals.  Earning a CCI credential demonstrates not only fundamental knowledge, but also dedication to your professional development.  Becoming certified allows you to become part of a group of more than 17,000 certified cardiovascular professionals worldwide.  CCI's credentials are internationally recognized by physicians, employers, contractors of Medicare and Medicaid services, administrators, accreditations bodies and patients.  CCI yields the certification of RCES in the Cardiac EP Specialty.  For more information, visit their site: http://www.cci-online.org/
Program Outcomes
| | | | | |
| --- | --- | --- | --- | --- |
| YEAR | ACCEPTED | COMPLETED | PASSED | JOBS |
| 2014-15 | 6 | 6 | 5 | 5 |
| 2015-16 | 8 | 7 | 5 | 7 |
| 2016-17 | temp closure |   |   |   |
| 2017-18 | 4 | 4 | Pending | 3 |
Admissions Requirements
To be eligible for admission, the applicant must complete: 
A minimum of 58.5 quarter units (39 semester units) of prerequisites with a cumulative GPA of 2.5 or higher (3.0 GPA is preferred)
Submission of official transcripts
Three personal references
Admissions essay
Observation experience- Submission of completed form
Personal interview with program faculty
To remain in the program students must maintain a 2.5 GPA and adhere to the University and program's professional code of conduct
Applicants are also required to complete a background check as part of the application process
Students are required to have a current Health Care Provider CPR card offered by the American Health Association upon admission into the program and maintain it for the entire length of the program 
Students must show proof of required immunizations upon entrance into the program
Official High School transcripts will need to be requested and sent directly from your high school  to LLU if you will be using HS courses as your requirements
Official college transcripts will need to be sent in the same manner from each accredited college you have attended
Program Prerequisites
 General Psychology, General Sociology or Cultural Anthropology
 Anatomy and Physiology (Combined A&P course acceptable);
 Introduction to Physics
 College Algebra
 College English Sequence
 Medical Terminology
 Electives to reach a total of 39 quarter units of prerequisites (58.5 semester)
 Observation in an EP lab. (to be scheduled by the prospective student)
State Regulations for Online Programs
Restrictions apply for online courses from specific states.  Please refer to the LLU distance education information page for more information.
Application Window
Applications are now being accepted. To be scheduled for the June-July interviews, please complete your application by May 31, 2018
Before You Apply
Please contact the Program Academic Advisor for advisement before you submit your application.
Contact Information

Rob Cruise, M.S.R.S., RT(R)(MR)(CT)
Academic Adviser: Cardiac Electrophysiology Technology
jcruise@llu.edu
Department of Radiation Technology
School of Allied Health Professions
Loma Linda University
Loma Linda, CA  92350
Work: 909-936-4135
Fax: 909-558-7965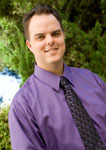 Timothy Seavey, M.A.M, R.T.(R)(CT)(ARRT)
Program Director (Interim)
tseavey@llu.edu
Department of Radiation Technology
School of Allied Health Professions, Room A-829
Loma Linda, CA 92350
Work: 909-558-4931 (2-0)
909-558-1000 ext: 85233