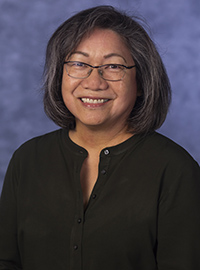 FULFILING THE GOAL TO RETURN TO SCHOOL
Cherrie Martin had a long-sought goal, to return to school and complete her bachelor's degree.  As a young adult, she had planned to finish her bachelor's degree, but instead started working to help her family out financially after she obtained her associate's degree.  Life then took its course, and Cherrie raised a family, which kept her busy for a number of years.
Yet Cherrie always kept the goal of completing her bachelor's degree in the back of her mind.  In 2011, Cherrie was working at Loma Linda University and discovered that LLU's bachelor's degree in healthcare administration (the BSHA program) fit her needs precisely.  She had the required pre-requisites, the program fit with the skills and knowledge she needed for work, and she could take the classes online.  Cherrie also appreciated the fact that LLU offered a Christian education that aligned with her values.  And, as an LLU employee, she was able to use her tuition benefits towards completion of the program.  For Cherrie, the BSHA program was the perfect program at the perfect time in her life. 
EXCITING HEALTHCARE ADMINISTATION PROGRAM
"Academically, the program was both positive and exciting," says Cherrie.  She enjoyed the classes, which complemented her current job responsibilities.  She also found the faculty to be helpful and approachable.  Cherrie says her teachers were wonderful:  "They want you to succeed!"  The online format of the program allowed Cherrie to continue with her work.  Even though she was not taking classes in person, she says she received fast, responsive feedback, as well as great mentorship. 
COURSEWORK ENHANCING HER CAREER
The BSHA program taught Cherrie many hands-on skills that she now applies in her career. Cherrie currently works in LLU's Office of Enrollment, which deals with student recruitment.  Cherrie uses the marketing strategies she learned in the BSHA program to formulate ways to attract potential students to LLU, since she and her co-workers are often students' first point of contact with LLU.  Cherrie also uses the staff and time management skills she learned in her organizational management course.  These skills have been very helpful in coordinating with the staff in her office, who largely work off-campus.
IDEAL PROGRAM FOR WORKING ADULTS
Cherrie highly recommends the BSHA program for prospective students who, like her, want to advance their education without giving up their current employment.  The flexible, online curriculum allows students to work on their own timeframe and enroll either full- or part-time.  Also, for those students who are uncertain of which area of healthcare they are interested in pursuing, Cherrie shares that the BSHA program provides insights into the healthcare profession in general, allowing students to explore a variety of options in the field.  In fact, Cherrie enjoyed the program so much that she encouraged her daughter to apply, as well.  Cherrie's daughter also graduated from the BSHA program!