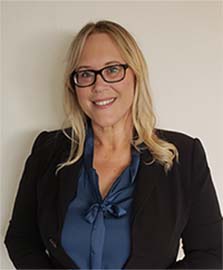 FLEXIBLE, BUT ENGAGED ONLINE PROGRAM
Prior to attending LLU, I worked in the restaurant industry. But I knew that I wanted to do more to help people. So, I decided to pursue a healthcare career. I chose healthcare administration as my field of study and enrolled in LLU's completely-online BSHA program.  One of the things that I valued about the program was that it provided me with the flexibility as a single mother to work, raise four children and complete my bachelor's degree, all at the same time. While at first I did wonder how much engagement I would have with my professors and fellow peers, I quickly came to realize that my engagement was as involved, if not more so, then my previous on-campus courses in community college.  
CAREER-ESSENTIAL COURSEWORK
LLU provided me with career-relevant coursework, which encompassed a broad spectrum of healthcare, business and organizational-management related topics. These essential courses would prove to be invaluable when I was offered my position as an Assisted Living Coordinator two months before graduation. 
I learned an abundance of relevant information from the BSHA program, but there are two pieces that impacted me most directly in my new job.  First, the course work on organizational behavior was essential to my ability to effectively build a solid team of 24 care managers.  When I started, my assisted living department had 14 caregivers, as well as outside agency caregivers, working together to care for 44 residents.   Within five months, all but two of my caregivers had quit, but I had hired enough caregivers to not only replace them, but also to discontinue the use of the outside agency.  Second, I took what I had learned about leadership styles and the importance of strategic direction to employ my personal servant leadership style and the assisted living center's mission and values in all my decision-making processes.  It took nearly a year-and-a-half to build my team into a successful unit that actively embraces the organization's culture and uses the values and team credo to meet our mission daily, but it was worth the effort!  These two examples show just some of the impact my coursework has on my career today.  
IN PURSUIT OF WHOLENESS
My greatest take away from the BSHA program was its emphasis on LLU's value of wholeness, which weaved throughout the coursework.   My new position placed me in charge of the daily care of 44 lives.  Every day I strive to ensure that my team and I are promoting the wellness of each resident's mind, body and spirit.   I work closely with my care team, wellness department nurses, medical technicians, outside doctors, hospitals, hospice and home health agencies to ensure their physical bodies are well taken care of.  I also work with psychologists and the activities coordinator to ensure that we were meeting the residents' mental, social and spiritual needs.  For example, I taught my team about Maslow's Hierarchy of Needs so that, when a resident has a behavioral expression, the care manager will spend time trying to figure out what the resident's unmet need is instead of just placating the resident.  This is another example of how much of my success can be credited to my experiences in the BSHA program. 
All in all, if you are looking for a solid program that is flexible, embraces diversity, has caring and responsive faculty and peers, networking capabilities and comes from a well-respected establishment; then LLU's BSHA program is, without question, the right program for you.