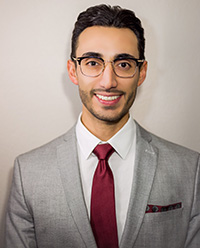 COURSES THAT SHOW THE POSSIBILITIES OF HEALTH CARE
When I was searching for a degree program, one of the features I liked about Loma Linda University's online BSHA program was that it would expose me to a variety of different facets of today's healthcare system. For example, courses such as Geographic Information Systems taught me the value of meta data and how it can be used to better understand the needs of the community. Likewise, the financial management for health care course allowed me to explore the financial aspects of healthcare facilities and the services they provide.  Learning about new aspects of health care increased my understanding of the system as a whole and prepared me for leadership in the field.
LEARNING TO GIVE WELL-ROUNDED CLINICAL CARE
Another aspect of the BSHA program that was meaningful to me was its focus on values-based clinical care.  LLU promotes a number of core values, which serve as the foundation of the BSHA coursework.  I work as part of the Interventional Radiology team at St. Joseph Hospital.  Keeping in mind core values such as integrity, compassion, and excellence helps me become a better caregiver, as I serve my community. I also highly valued learning the importance of emotional intelligence. The BSHA faculty taught me to apply these valuable skill sets not only when working with the patients I care for, but also with the relationships I build with my coworkers.
IMPORTANCE OF COMMUNICATION IN HEALTHCARE
Finally, the BSHA program improved my communication skills. I was very aware of the need be an effective communicator as a healthcare worker when I started the BSHA program. Throughout the curriculum, I learned how to efficiently use various mediums to communicate with my professors, as well as work on complex projects with my peers. Being able to properly draft, format, and proofread documents increases your value as a healthcare worker, as well as your marketability. If you, too, would like to increase your communication skills, I recommend the BSHA program for you.