Application Dates
​OPEN NOW THROUGH AUGUST 15 FOR BS HIM ONLINE AND ON-CAMPUS PROGRAMS.
Application restrictions may apply for online students living in certain states. Click here to verify that your state authorizes online programs at Loma Linda University.
SIGN UP FOR MORE INFORMATION   SCHEDULE A PERSONAL CONSULTATION
Accreditation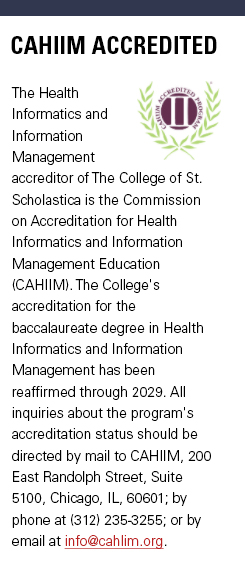 The HEALTH INFORMATION MANAGEMENT accreditor of Loma Linda University is the Commission on Accreditation for Health Informatics and Information Management Education (CAHIIM). The College's accreditation for BACCALAUREATE degree in HEALTH INFORMATION MANAGEMENT has been reaffirmed through 2029. All inquiries about the program's accreditation status should be directed by mail to CAHIIM, 200 East Randolph Street, Suite 5100, Chicago, IL, 60601; by phone at (312) 235-3255; or by email at info@cahiim.org.
Quick Facts
6
Shortest amount of terms for completion
8:1
Student to faculty ratio
80
PPE hours, with choice of Epic internship
Admission Requirements and Prerequisites
Admission Requirements
Complete a minimum of 90 quarter units at an accredited college or university
Minimum GPA of 2.5
Complete all program prerequisites (listed below)
Complete the LLU application, including values and personal essays
Provide three letters of recommendation that indicate a strong academic background and professional readiness
Interview, if deemed necessary
You will need to finish two years of prerequisite courses at a junior college or four-year college to be eligible to enter the program. The prerequisite classes, which prepare you for two years of study at Loma Linda University, are listed below.
Applicants who have graduated from this program are eligible to sit for the registered health information administrator (RHIA) exam.
Prerequisites
1. ARTS & HUMANITIES (16 qtr./11 sem. units min.)
Select courses from at least three of the content areas* listed below:
Art/Music Civilization/History
Foreign Language Literature
Philosophy
*A minimum of 3 qtr./ 2 sem. units in an area are required to meet a content area

2. SCIENTIFIC & QUANTITATIVE REASONING (12 qtr./8 sem. units min.)
Human Anatomy & Physiology/lab (complete sequence)
College Algebra
Medical Terminology
Select one additional from one of the following areas:
Chemistry Math Geology
Astronomy Physics


3. SOCIAL SCIENCES (12 qtr./8 sem. units min.)
Cultural diversity or anthropology (one course)
Psychology (one course)
Select one additional from one of the following areas:
Sociology, Political Science, Anthropology, Economics, Geography

4. WRITTEN & ORAL COMMUNICATION (9 qtr./6 sem. units min.)
Freshman English (complete sequence)
Business Communications or Interpersonal Communications

5. HEALTH & WELLNESS (2 qtr./1.5 sem. units min.)
Personal Health or Nutrition
Physical activity (2 courses total)
Job Opportunities and Earnings
Health Information Administrators have opportunities to assist in the development and implementation of health information systems for quality patient care, financial reimbursement, medical research, health care planning, and health care quality evaluation. Others responsibilities include privacy, security, and data governance.
Health Information Administration provides job flexibility for the person seeking work in a variety of settings. Many are employed by hospitals and medical centers in large urban areas. Others work in small community hospitals in rural settings. The job market is rapidly expanding outside of hospitals. New openings are available in home health agencies, long term care facilities, outpatient care, mental health facilities, private medical practices and clinics, insurance companies, health management organizations, commercial and industrial firms, governmental agencies, legal offices, software vendors, and education.
Job opportunities continue to grow for HIAs. According to the Bureau of Labor Statistics, "employment of health information technicians is projected to grow 22 percent from 2012 to 2022, much faster than the average for all occupations." As the population ages, they will require more care. More care translates to more documentation required and reimbursement for health care providers. "Additional records, coupled with widespread use of electronic health records (EHRs) by all types of health care providers, could lead to an increased need for technicians to organize and manage the associated information in all areas of the health care industry"(www.bls.gov).
Full-time salaries in the profession range from entry positions paying approximately $55,000-$70,000 to advanced positions may offer earnings as high as $125,000+.
Job positions include but are not limited to
| | |
| --- | --- |
| Director of HIM | Privacy Officer |
| Security Officer | Chief Compliance Officer |
| EHR Implementation Specialist | Data Application or System Analyst |
| Data Integrity Analyst | Consultant |
| Medical Office Administrator | HIM Revenue Cycle Auditor |
| Revenue Cycle Manager | REC/HIE Exchange Director |
| Meaningful Use Specialist | Data Quality Manager |
| Documentation and Coding Specialist | Coding Manager |
Program Outline and Cost
Program Outline - 91 total units
| FALL - Year 1 - 16 Units | Units |
| --- | --- |
| HLIN 220 Health Information Science & the Healthcare System I | 4 |
| HLIN 334 Clinical Classification Systems | 4 |
| HLIN 248 Pathopharmacy in Healthcare | 4 |
| HLIN 344 Healthcare Informatics & Database Management | 4 |
| WINTER - Year 1 - 14 Units | Units |
| --- | --- |
| HLIN 322 Health Information Science & the Healthcare System II | 4 |
| HCBL 346 Legal & Ethical Environment in Healthcare | 3 |
| HLIN 335 Advanced Classification Systems & Regulatory Compliance in HC | 4 |
| HCBL 345 Project Management in Healthcare | 3 |
| SPRING - Year 1 - 16 Units | Units |
| --- | --- |
| HLIN 340 Seminar & Portfolio for HIM | 4 |
| HLIN 347 Advanced Information Privacy & Security in Health Information Exchange | 4 |
| HLIN 430 Quality Management & Performance Improvement in Healthcare | 3 |
| HLIN 354 Professional Practice Exp. I | 3 |
| REL- Religion Course | 2 |
| FALL - Year 2 - 14 Units | Units |
| --- | --- |
| HLIN 439 Management in Healthcare | 5 |
| AHRM 475 Healthcare Research & Stats | 4 |
| HCBL 434 Financial Management for Healthcare | 3 |
| REL- Religion Course | 2 |
| WINTER - Year 2 - 14 Units | Units |
| --- | --- |
| HLIN 438 RCM for Healthcare | 4 |
| HCBL 471 Information Systems Management in Healthcare I | 4 |
| HLIN 437 Data Analytics & Visualizations for Healthcare | 3 |
| REL- Religion Course | 2 |
| SPRING - Year 1 - 16 Units | Units |
| --- | --- |
| HLIN 454 Professional Practice Exp. II | 4 |
| HLIN 472 Information Systems Management in Healthcare II | 4 |
| HLIN 440 Leadership Strategy Management in Healthcare | 4 |
| HLIN 435 Seminar Portfolio for HIM II | 4 |
Get details on the standard cost of attendance at LLU. View Estimates
Program Outcomes for 2021 Graduates
Acceptance into Graduate Programs: 100%

Graduation Rate: 100%

Overall positive LLU experience: 100%

Rated the faculty highly: 100%

Recommended the school, program, and degree to their friends: 83%
Mission, Purpose, and Learning Outcomes
MISSION
In harmony with the mission of Loma Linda University and the School of Allied Health Professions, the Department of Health Informatics and Information Management is dedicated to:
Educating competent health information professionals
Promoting the health information management profession
Extending the current knowledge of health information professionals at neighboring healthcare facilities
Challenging students and department faculty to maintain high standards of ethical and professional behavior
Encouraging students and faculty to seek a meaningful relationship with God and a balanced Christian lifestyle
PURPOSE
To prepare our graduates to be competent health information professionals through excellence in classroom instruction, professional practice experience, advisement, and mentoring with an emphasis on global service.
LEARNING OUTCOMES
Conduct assessment and management of data and information needs for a variety of health-care settings.
Advocate effective strategies for health information protection: privacy, security, and confidentiality.
Recommend technology, database models, and data analytic tools to support decision making and strategic planning.
Discuss and apprise revenue cycle management principles, strategies and processes.
Monitor and analyze compliance with standards, regulations, and laws documentation related to healthcare.
Formulate management and leadership plans and strategies in legal and ethical manners to utilization resources effectively and efficiently.
Integrate pathophysiology, pharmacology, anatomy and physiology, medical terminology, computer concepts and application, and math statistics into the practice of health information administration.
Essential Functions
In order to achieve career entry competency, students in the Bachelors of Science in Healthcare Information Management program should have the ability to perform essential functions. Learn more about our Technical Standards here.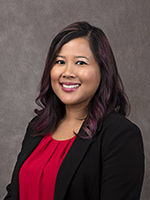 Pauline Calla Cabanada , MBA, RHIA
Program Director, Bachelor of Science in Health Information Management
Email: studyhiim@llu.edu