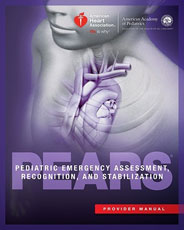 Pre-Requisites
The class is designed to help the basic pediatric health care provider develop the knowledge and skills for emergency assessment and treatment of seriously ill infants and children. Required manual must be brought on class day.
Not intended for those who routinely provide advance pediatric care. This course is highly recommended as a pre-course to pediatric advance life support course.
Video-Based Testing
A certificate from AHA will be provided upon course completion.
Course Length: 7-hours
Course Objectives
Learn to recognize respiratory distress and failure, shock and cardiac arrest.
Provide appropriate life saving actions within the initials minutes of response until the child is transferred to an advance life support provider.
Assess a seriously ill or injured child.
Understand the "Assess-Categorize-Decide-Act" approach.
Recognize and take appropriate actions for a child in cardiac arrest.
Use elements of effective communication as a team member.
Terms & Conditions
Registration
Register a month before class date. Class starts promptly at scheduled times. Anyone late for more than 15 minutes will be asked to re-schedule. Registration closes when classes are full. If registering online, student must bring printed registration confirmation at the day of class.
Certification
American Heart Association (AHA) certificates are provided upon course completion for ACLS, BLS, Heartsaver CPR/AED, Heartsaver First Aid, PALS and PEARS. NRP certification is provided by American Association of Pediatrics.
Required Cards for Updated Courses
ACLS and PALS
Books
Each student must bring required book(s) to class, anyone without their book will not be granted admission and will be rescheduled. Rescheduling fees apply. Books can be purchased at Life Support Education office or online.
Fees
Get details on the standard cost of attendance at LLU. View Estimates
CME/CEU/ICEMA
California Medical Association (CME), California Board of Nursing (CEU), have approved ACLS and PALS provider courses for 16 units and renewal courses for 8 units. PEARS has been approved for 8 CE Units. No CE Units are available for BLS and First Aid - If your licensing board allows 4 units for BLS courses. CME Category 1. CEP No. 100403. California CEP No. 62-0004.