Doctor of Occupational Therapy Program
The mission of Loma Linda University's Doctor of Occupational Therapy Program is to graduate leaders in occupational therapy who are entrepreneurs in advancing practice and promoting participation at the individual, community, and societal levels. Our graduates will embrace the integration of the spiritual, physical, and social person to promote health and occupational justice. Our graduates will be scholars who strive to meet the needs of our changing society as visionaries who apply and use research to advance practice and enact public policy.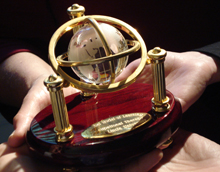 Program Stats & Facts
The OTD program began in 2007
Enrollment Period:  January - July
Minimum GPA- 3.0
Accredited through WASC Western Association of Schools and Colleges
OTD Alumni- 37
Number of students enrolled- 7
 
"The best learning happens in real life with real problems and real people and not in classrooms."Charles Handy
Program Objectives
Demonstrate in-depth knowledge of occupational therapy advanced practice skills.
Integrate occupational science perspectives in professional practice.
Exercise reflective reasoning in personal and professional experiences.
Embrace the role of spirituality in promoting health and well-being through occupation.
Serve the community promoting health and integration of the mind, body, and spirit.
Promote occupational justice at individual, community, and international levels.
Engage in program development to serve the needs of the community.
Apply principles of ethical behavior in all areas of practice and decision making.
Assume leadership roles at local, state, and/or national levels.
Contribute to the profession's body of knowledge through written dissemination of research and oral presentations.
Engage in public policy making to impact legislation and promote client rights.
Advocate for the profession, client, and those in need in the community and greater society.
Commit to lifelong learning through disciplined advancement of knowledge and participation in professional activities.