Welcome!
Welcome to Orthotics and Prosthetics education in the School of Allied Health Professions at Loma Linda University.  An ortho-prosthetist is a medical professional who cares deeply about a person's entire physical rehabilitation experience and beyond. The mission of the MSOP is to graduate students who are capable and equipped to create a culture of service. An ideal candidate for this profession has the capacity to apply a wide range of multi-disciplinary information, listen closely to a patient's challenges and offer a tangible, effective device solution.  This candidate is also someone who can maintain long-term relationships; continuing to offer new solutions throughout the lifetime of the patient.
The Hybrid MSOP Track
This graduate-level, blended-learning track is completed in 8 quarters (2 years). A new Cohort starts each summer quarter. This track is using a spiral learning format. The first year is in theory and the second year is in-person and in-practice, concentrating on clinical, technical and patient management skills. Quarters seven and eight have two summative courses in which the students demonstrate and test their learning, both in practice and in theory.
Resources
Quick Facts
100%
of graduate's get residency placement within 6 months
36,000
sq-ft completely dedicated to O&P education
17%
increase in projected jobs between 2020-2029
What Sets Us Apart
We are proud to be able to offer our Orthotics and Prosthetics students the opportunity to receive their hands-on training at our dedicated 36,000 sq. ft. campus, with state-of-the-art labs and amenities.
How To Apply
The MSOP program utilizes rolling admission, which means we evaluate applications as they are received, versus waiting to evaluate all applications after a hard deadline. We will continue to evaluate applications until we've filled all the slots for our incoming class. Students are accepted to enter the MSOP tracks based on competencies, prerequisites, and necessary coursework. The sooner you submit an application, the sooner you will be evaluated for acceptance.
The application process starts with the submission of the application and all the associated documentation and recommendations. Once the secondary application and these materials are received and evaluated an interview will be scheduled. After the interview is completed, the interview responses and the application packet will then be presented to the department admissions committee for review and voting.
All applicants must apply directly through OPCAS.
All Applicants will also need to complete a secondary LLU application. That application is free.
Provide official transcripts from all accredited institutions were credit is being applied or referenced.

Contact the O&P department directly:

Contact the admissions department at sahpadmissions@llu.edu or 909-558-4599.

International students should review additional steps.
Profession & Career Outlook
The profession of Orthotics and Prosthetics is the fabrication of and fitting of braces and artificial limbs to treat individuals that have experienced loss of function.
Most OP practices are in the private sector either in a large corporate setting or a smaller practice that might have several practices in the region or even smaller with just one office. The rest are based in institutions where a manager runs a department of employees as part of the hospital's service to their community.
Changing demographics have increased demand for OP healthcare services, leading to a projected growth of 17% more jobs for ortho-prosthetists over the next 15 years. This faster than average rate of growth means that these jobs are in high demand.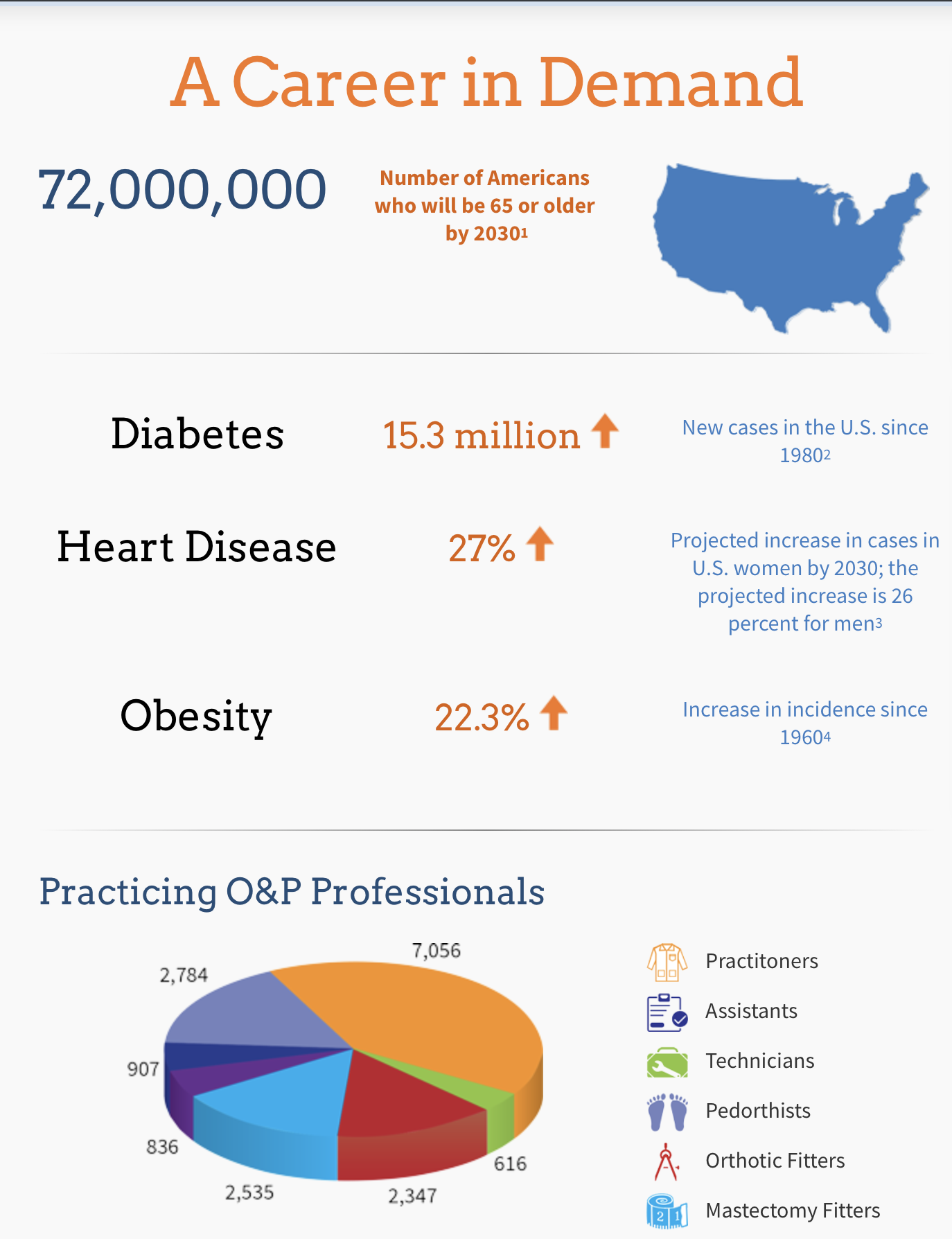 Additionally, the US Bureau of Labor Statistics stated: "Employment of orthotists and prosthetists is projected to grow 17 percent from 2019 to 2029, much faster than the average for all occupations. The large baby-boom population is aging, and orthotists and prosthetists will be needed because both diabetes and cardiovascular disease, the two leading causes of limb loss, are more common among older people." https://www.bls.gov/ooh/healthcare/orthotists-and-prosthetists.htm​
Cost and Aid
Get details on the standard cost of attendance at LLU. View Estimates
At this time, there are no scholarships available through the Department of Orthotics & Prosthetics, however some individual awards maybe available through the university, contact the financial aid office for more information.
Graduate Student Requirements
Possess a bachelor's degree from a regionally accredited US institution with a minimum GPA of 3.0 in both science and non-science courses
Human Physiology with lab
Intro or General Chemistry/lab (one course)
Intro or General Physics/lab (one course) or Biomechanics
Growth & Development or Abnormal Psychology
PLEASE NOTE THAT C MINUS (C-) OR LOWER GRADES ARE NOT TRANSFERABLE FOR CREDIT
Transfer Patterns
You can find the courses we recommend for your college by accessing the Transfer Patterns on our website.
Clinical Experience
Outside of the application there is an additional requirement to be completed prior to the start of the first day of class. Complete 80 hours of clinical observation at an O&P facility of your choice. Bring a letter from the facility owner or clinical supervisor documenting the hours completed and the timeframe they were completed in.
Program Learning Outcomes & Graduation Statistics
By the end of this program, the graduate should be able to demonstrate the following competencies:
Exercise keen insight, progressive care, and critical judgment through careful evaluation in clinical care, skills application, and thinking throughout the profession.
Adhere to guiding principles and recognized ethics of the profession.
Value and apply new technology, investigations, and knowledge to patient care and the profession through a commitment to discovery and education.
Examine the importance of embracing and serving the unmet and ever-changing needs of a diverse world.
Participate in teamwork within and across disciplines in all aspects of the profession.
LLU Department of Orthotics and Prosthetics Graduation Rates & Exit Statistics
| Graduation Year | Admitted / Graduates | Graduation Rate |
| --- | --- | --- |
| 2016 | 14/14 | 100% |
| 2017 | 26/26 | 100% |
| 2018 | 21/21 | 100% |
| 2019 | 15/15 | 100% |
| 2020 | 17/16 | 94% |
Exit Survey Results from Orthotics and Prosthetics Graduates - 2016-2019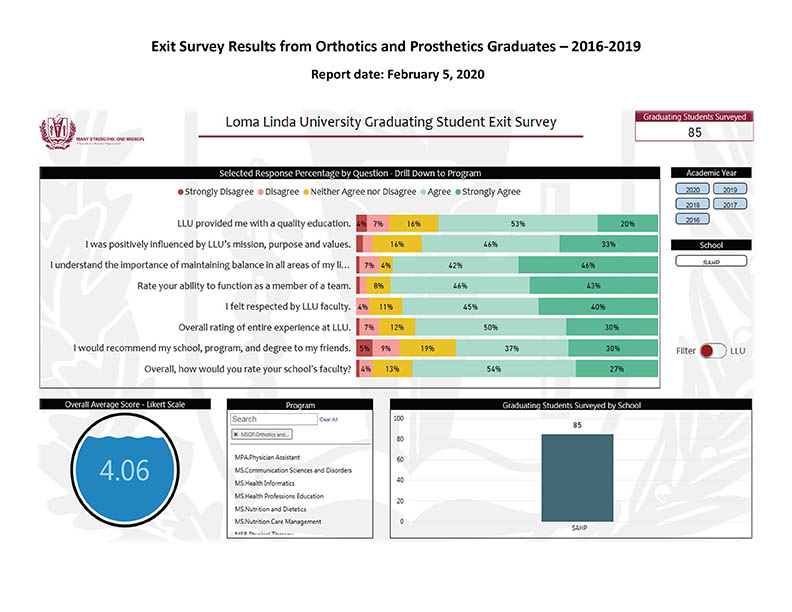 ​
Loma Linda University is above the national average in regard to acceptance of a diverse group of students. Students come to Loma Linda from various cultural backgrounds, religions, and countries.
ABCOP Board Exam Pass Rates
| 2017 | LLU Average Pass Rate | National Average Pass Rate |
| --- | --- | --- |
| Orthotic CPM Exam | 80% | 77% |
| Orthotic Written Exam | 82% | 78% |
| Orthotic Simulation Exam | 75% | 82% |
| Prosthetic CPM Exam | 100% | 79% |
| Prosthetic Written Exam | 60% | 71% |
| Prosthetic Simulation Exam | 89% | 90% |
| 2018 | LLU Average Pass Rate | National Average Pass Rate |
| --- | --- | --- |
| Orthotic CPM Exam | 83% | 90% |
| Orthotic Written Exam | 71% | 76% |
| Orthotic Simulation Exam | 91% | 86% |
| Prosthetic CPM Exam | 67% | 69% |
| Prosthetic Written Exam | 45% | 68% |
Service Learning & Research
Service Learning and Outreach
Loma Linda University's mission to further the teaching and healing ministry of Jesus Christ is a central pillar to all that we do; and in the Department of Orthotics & Prosthetics, this is no exception.
Learn more about our Service Learning and Outreach opportunities here
Research
The Department of Orthotics and Prosthetics believes in training our graduates to be lifelong learners, as well as consumers and creators of knowledge.
Learn more about our department Research here