Covid-19 Update
Prospective Students and Applicants: Exceptions to our application requirements given the current COVID-19 situation include:
Courses with face-to-face labs that have changed to on-line format will be accepted.

Letter grades are required for all prerequisite courses; however, pass/fail or credit/no credit courses taken in 2020 terms will be accepted for non-prerequisite courses. We will not be accepting prerequisite courses which were changed to Pass/Fail (P/F) due to closure of their academic institution during the COVID-19 pandemic. All pre-requisite courses must contain a letter grade to be accepted for our admissions process. Please note that a passing grade is considered a C or better, and C- grades or below are not accepted for prerequisite courses or for transferrable credit. Our requirement is as follows: "Pass/fail or credit/no-credit grades are not accepted for prerequisite courses. Grades of "pass" or "credit" for non-prerequisite courses will not be included in GPA calculations."
Students entering the BS/MSOP Track in September 2021 or MSOP Hybrid Track in June 2021

will be allowed to start the program with a minimum of 40 hours of observation.
If you are an international applicant, please note that WES has temporarily suspended all in-office operations due to COVID-19. In response to the COVID-19 pandemic, an AERC Detailed Evaluation Report will be accepted as both evaluation and transcript for a given institution for the duration of this outbreak. Be sure to pay for your original documents to be mailed back to you. All application deadlines will remain the same. Please visit the AERC website or contact them to learn about their processing time, requirements, and pricing. http://www.aerc-eval.com / 626-339-4404 / aerc@verizon.net. See the International Applicant webpage for more information.
All other requirements and preferences remain in place at this time. For any additional questions, please email joschaepper@llu.edu
O&P Information Session
Want to learn more about the Orthotics & Prosthetics profession? 
Quick Facts
100%
of graduate's get residency placement within 6 months
36,000
sq-ft completely dedicated to O&P education
20%
increase in projected jobs between 2018-2028
Welcome
Welcome to Orthotics and Prosthetics education in the School of Allied Health Professions at Loma Linda University.  An ortho-prosthetist is a medical professional who cares deeply about a person's entire physical rehabilitation experience and beyond.  An ideal candidate for this profession has the capacity to apply a wide range of multi-disciplinary information, listen closely to a patient's challenges and offer a tangible, effective device solution.  This candidate is also someone who can maintain long-term relationships; continuing to offer new solutions throughout the lifetime of the patient.
The mission of the MSOP is to graduate students who are capable and equipped to create a culture of service.
The MSOP program is within your reach, with or without a bachelor's degree. We have two distinct tracks to complete the program. Please review each track to discover the one that's right for you.     
Master's of Science in Orthotics and Prosthetics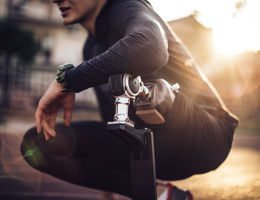 BS/MSOP Track – This is a mixed, undergraduate and graduate track, accepting students both with and without a bachelor's degree. This is a seated (in-person) 10-quarter (2 ½-year) track. Undergraduate students will simultaneously earn a BS in Health Sciences and a MSOP in Orthotics and Prosthetics. Bachelor prepared students will graduate with a MSOP degree. A new Cohort starts each fall quarter.
Learn More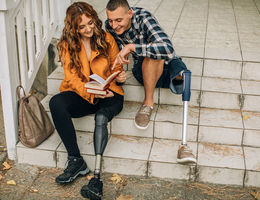 MSOP-hybrid Track – This track has been approved by the Board of Regents of Loma Linda University and starts June 21, 2021. This graduate-level, blended-learning track is completed in 8 quarters or 2 years: first year is on-line, second year is in person. A new Cohort starts each summer quarter.
Learn More
How to Apply
The MSOP program utilizes rolling admission, which means we evaluate applications as they are received, versus waiting to evaluate all applications after a hard deadline. We will continue to evaluate applications until we've filled all the slots for our incoming class. Students are accepted to enter the BS/MSOP or MSOP Hybrid tracks based on competencies, prerequisites, and necessary coursework. The sooner you submit an application, the sooner you will be evaluated for acceptance.
The application process starts with the submission of the application and all the associated documentation and recommendations. Once these materials are received and evaluated an interview will be scheduled. Once the interview is completed, the interview responses and the application packet will be presented to the department admissions committee for review and voting.
Contact the O&P department directly:
Contact the admissions department at sahpadmissions@llu.edu or 909-558-4599.
International students should review additional steps.
To help you select the correct application for your educational journey we've put together the flow chart below.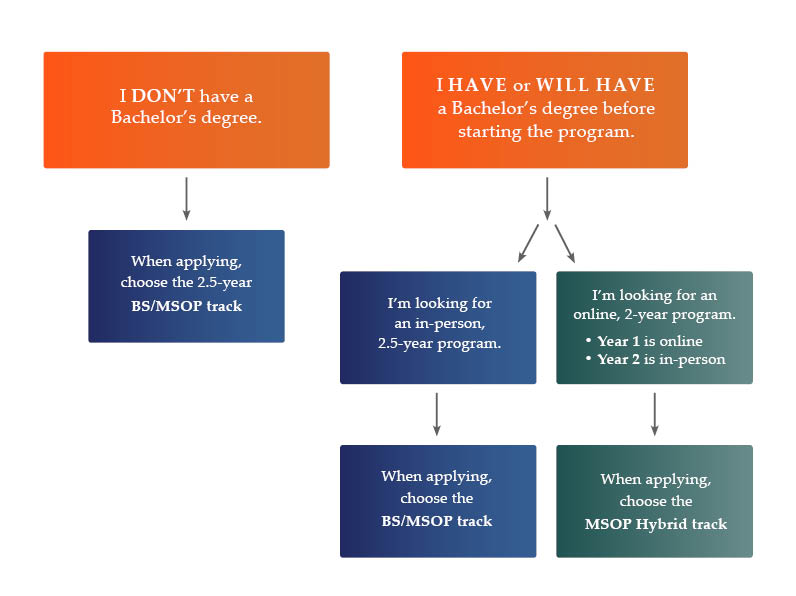 View the MSOP Enrollment Checklist.
Student Profile
Kendra Krupp
"I chose the LLU MSOP program because it offered trips all over the world with the goal to help those in need." Read about Kendra's thoughts on the program, life as a student, and much more.
Read More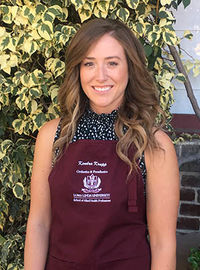 What Sets Us Apart
Our Outreach & Service Learning
Loma Linda University's mission to further the teaching and healing ministry of Jesus Christ is a central pillar to all that we do; and in the Department of Orthotics & Prosthetics, this is no exception.
Learn More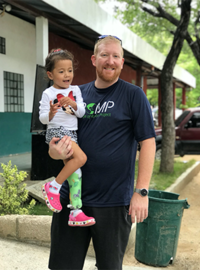 What Sets Us Apart
Our Curriculum
The MSOP program is 10 quarters long or 2.5 years in length. The program consists of didactic and clinical courses throughout the duration of the program.
Learn More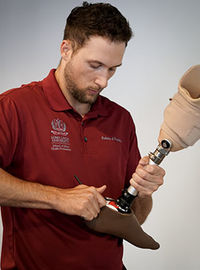 What Sets Us Apart
Our Research
The Department of Orthotics and Prosthetics believes in training our graduates to be lifelong learners, as well as consumers and creators of knowledge.
Learn More
About the Profession
The profession of Orthotics and Prosthetics is the fabrication of and fitting of braces and artificial limbs to treat individuals that have experienced loss of function.
Most OP practices are in the private sector either in a large corporate setting or a smaller practice that might have several practices in the region or even smaller with just one office. The rest are based in institutions where a manager runs a department of employees as part of the hospital's service to their community.
Changing demographics have increased demand for OP healthcare services, leading to a projected growth of 17% more jobs for ortho-prosthetists over the next 15 years. This faster than average rate of growth means that these jobs are in high demand.
Career Outlook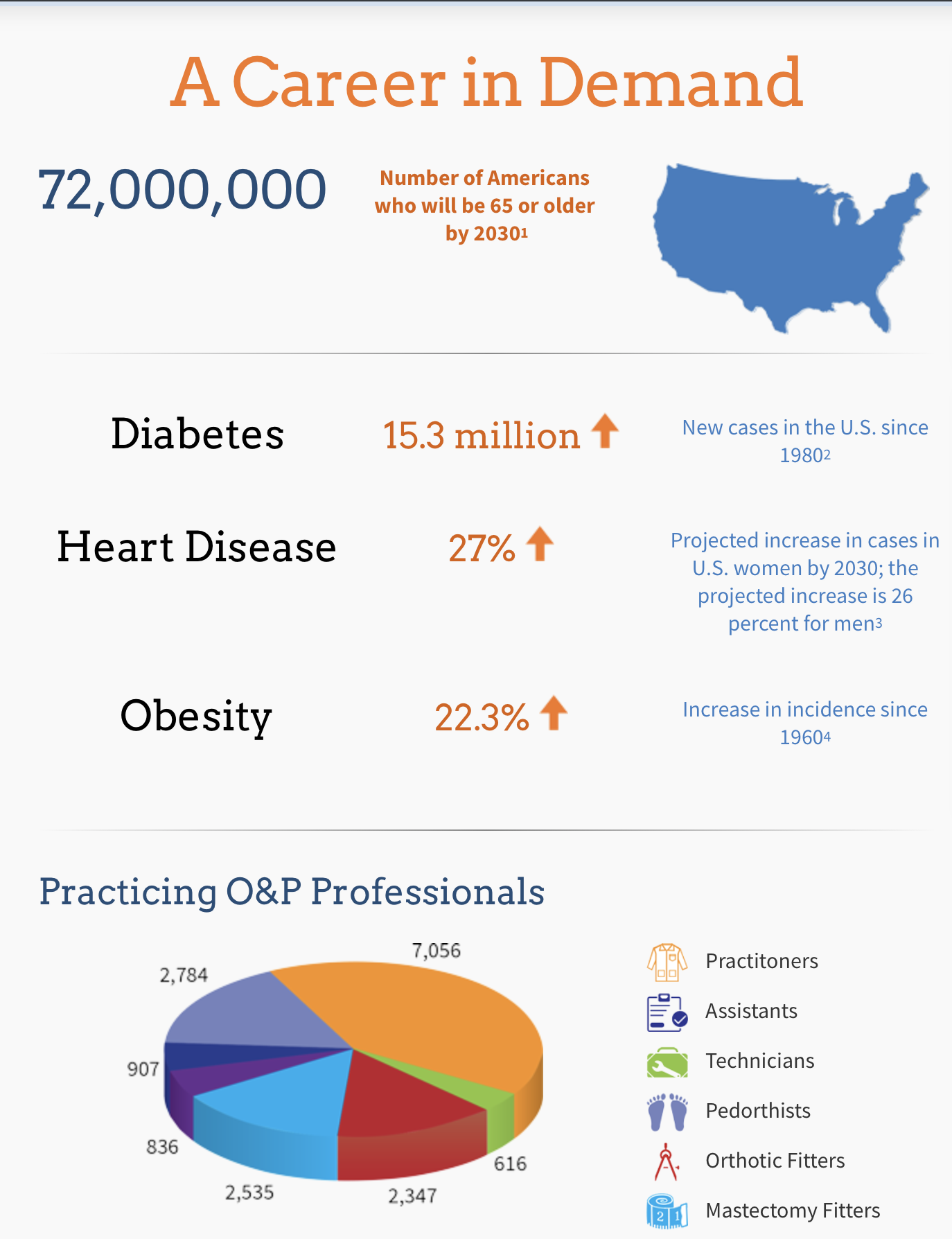 Additionally, the US Bureau of Labor Statistics stated: "Employment of orthotists and prosthetists is projected to grow 17 percent from 2019 to 2029, much faster than the average for all occupations. The large baby-boom population is aging, and orthotists and prosthetists will be needed because both diabetes and cardiovascular disease, the two leading causes of limb loss, are more common among older people." https://www.bls.gov/ooh/healthcare/orthotists-and-prosthetists.htm
Cost and Aid
BS/MSOP program cost: $91,000.00 plus quarterly registration fees
MSOP-hybrid program cost: $63,300.00 plus quarterly registration fees
For information about tuition, costs, and financial aid information: School of Allied Health Professions Financial Information.
At this time, there are no scholarships available through the Department of Orthotics & Prosthetics, however some individual awards maybe available through the university, contact the financial aid office for more information.
Program Accreditation Information
Initial accreditation for the entry-level Master of Science in Orthotics and Prosthetics degree was granted on September 23, 2013. Continuing accreditation of the entry-level Master of Science in Orthotics and Prosthetics degree was granted on September 17, 2017. Both initial and continuing accreditation were granted by the National Commission on Orthotic and Prosthetic Education (NCOPE), 330 John Carlyle Street, Suite 200, Alexandria, VA 22314; telephone: 703-836-7114 in collaboration with the Commission on Accreditation of Allied Health Education Programs (CAAHEP), 25400 US Highway 19 North, Suite 158, Clearwater, FL 33763; telephone: 727-210-2350.
LLU Department of Orthotics and Prosthetics Graduation Rates & Exit Statistics
| Graduation Year | Admitted / Graduates | Graduation Rate |
| --- | --- | --- |
| 2016 | 14/14 | 100% |
| 2017 | 26/26 | 100% |
| 2018 | 21/21 | 100% |
| 2019 | 15/15 | 100% |
| 2020 | 17/16 | 94% |
Exit Survey Results from Orthotics and Prosthetics Graduates - 2016-2019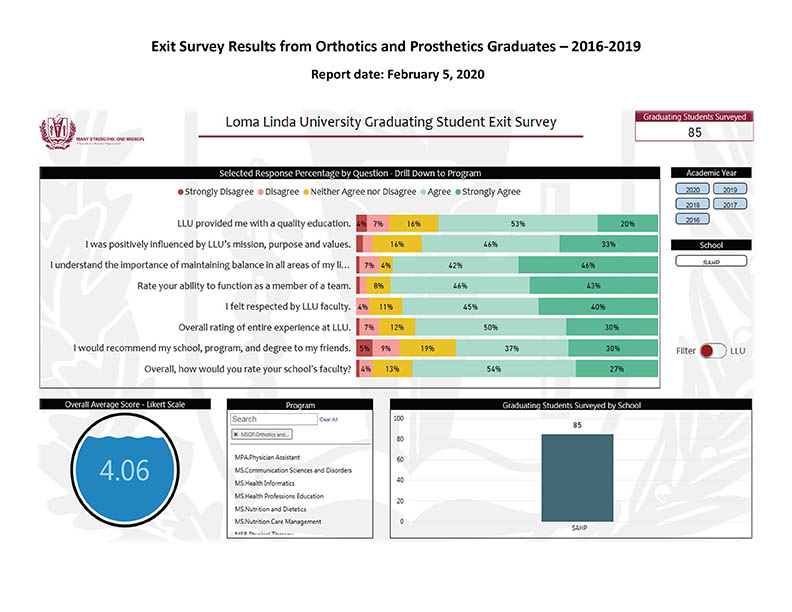 Loma Linda University is above the national average in regard to acceptance of a diverse group of students. Students come to Loma Linda from various cultural backgrounds, religions, and countries.
ABCOP Board Exam Pass Rates
| 2017 | LLU Average Pass Rate | National Average Pass Rate |
| --- | --- | --- |
| Orthotic CPM Exam | 80% | 77% |
| Orthotic Written Exam | 82% | 78% |
| Orthotic Simulation Exam | 75% | 82% |
| Prosthetic CPM Exam | 100% | 79% |
| Prosthetic Written Exam | 60% | 71% |
| Prosthetic Simulation Exam | 89% | 90% |
| 2018 | LLU Average Pass Rate | National Average Pass Rate |
| --- | --- | --- |
| Orthotic CPM Exam | 83% | 90% |
| Orthotic Written Exam | 71% | 76% |
| Orthotic Simulation Exam | 91% | 86% |
| Prosthetic CPM Exam | 67% | 69% |
| Prosthetic Written Exam | 45% | 68% |
Program learning outcomes
By the end of this program, the graduate should be able to demonstrate the following competencies:
Exercise keen insight, progressive care, and critical judgment through careful evaluation in clinical care, skills application, and thinking throughout the profession.
Adhere to guiding principles and recognized ethics of the profession.
Value and apply new technology, investigations, and knowledge to patient care and the profession through a commitment to discovery and education.
Examine the importance of embracing and serving the unmet and ever-changing needs of a diverse world.
Participate in teamwork within and across disciplines in all aspects of the profession.
Frequently Asked Questions