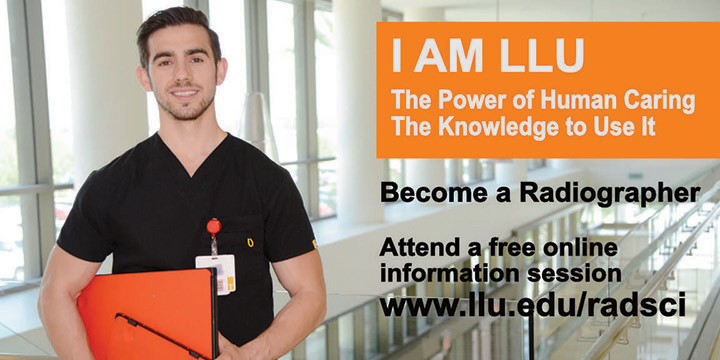 Are you looking for a profession that combines technology with patient care?
Do you need a career that you can start in less than two years? 
Do you want an education that provides options for your future?
About the Radiography Profession
The Radiographer's job is to position the patient, determine exposure factors, manipulate medical imaging equipment, evaluate radiographic image quality, provide patient comfort, and oversee patient and medical team radiation protection. Radiographers participate in fast-paced work challenges in a variety of health care settings. Radiographers must provide a positive patient experience, possess the ability to be accurate and calm under pressure, and critically think through challenges. Radiographers perform exams for diagnosis, including fluoroscopy procedures such as VCUGs, swallow studies, small bowel follow-throughs, and barium enemas. The career outlook is positive. Medical Radiography opens the door to advancement in CT, MRI, CVI, Cardiac Electrophysiology, Radiation Therapy, Nuclear Medicine, Radiology Administration, Radiology Education, and Radiologist Assistant.
How to Begin
NOTE: The COVID-19 pandemic has caused program leadership to think creatively so that students wishing to enter the radiography profession and still do so. Where we can we are teaching classes online. We do have students back in their clinical rotations, and we are adhering to strict standards and protocols for personal protection. Please continue to look into this career. We are here to help you answer the questions you have. 
Step 1:  Review the website, brochure, and FAQ in detail. Contact Dr. Brenda Boyd at 909-583-3033 for help in answering individual questions:
Step 2: Attend a free online information session. This is recommended for all applicants. You will talk to a live program guidance counselor during this 30-45 minute presentation.
Step 3: Start the application process 
Step 4: Schedule Career Observation. Contact Mr. Will Edmunds, program director, at wedmunds@llu.edu or 909-558-4931, to schedule career observation or discuss ARRT ethics issues. Download the career observation form.
Contact Christine Wetmore at (909-558-4931) (cwetmore@llu.edu) with general registration and prerequisite questions
Plan to complete all prerequisites by June of the year you plan to attend (you can continue to take prereqs during the application process) 
Program Resources
About the Medical Radiography Program at LLU
Watch a Video About the Medical Imaging Programs at LLU
The A.S. in Medical Radiography Program is a 21-month/40-hour-per-week full-time, day-time, face-to-face program. Beginning every September, students complete academic and lab instruction, and complete over 1,850 clinical hours of radiography experience. The A.S. in Medical Radiography Program is a rigorous program, focused on high-quality patient care, professionalism, and service learning.  Students are enrolled for 48 weeks the first year and 56 weeks the second year. Breaks are given between quarters. Students should expect to give full-time attention to this demanding program. 

Students in the past have needed to adjust their personal schedules to make this program a priority.  Students should also plan to drive to their clinical assignments, which are assigned to each student at the beginning of the program.  Students are expected to be responsible, accountable, and dependable. and behave and communicate with high professional standards. Attendance at all classes, clinical hours, and program events is expected. Students are expected to be able to perform the essential job functions throughout the program and on into the profession. Students must maintain a minimum overall and quarterly GPA of 2.5 and above. Over 24-hours of service learning is built into the program.
Our Mission
The Medical Radiography Program at Loma Linda University, School of Allied Health Professions, provides a quality educational experience focused on the whole person, preparing students to be registry-eligible, entry-level radiographers, equipped with the knowledge, skills, values, attitudes, and behaviors appropriate for providing excellent patient care and safely managing radiation exposure.
Our Vision
Our vision is to be known by our students, alumni, clinical instructors, faculty, professional community, and staff as the Medical Radiography Program of choice. Additionally, we want the program experience to be known as "a close family" that is exciting, challenging transforming and fun.
Our Values
We will accomplish our mission and vision by setting and achieving high standards of excellence in professional behavior, academic and clinical education, customer service, and collaborative success, in addition to living to the core values of Loma Linda University: integrity, compassion, excellence, purity/self-control, humility, justice, and freedom.
What Makes Us Unique

The LLU Medical Radiography program stands out because of its family environment, caring faculty, low student-to-faculty ratio, and emphasis on professionalism, service learning, interprofessional education, values development, transformation, and the whole person. The bar is set high in this program, and the students who engage in all that the program offers are the ones who experience the highest student success.
Service learning is built into the Medical Radiography program. Each student will complete 24 hours of service learning within their first and second year of the program. The motto of the School of Allied Health Professions is "To Lead, To Heal, To Service," so it is no wonder that service--whether local or international--is part of our curriculum. Students also have opportunities to serve on international mission trips.
Interprofessional education is all about collaboration--to build friendships, trust, and respect--between all of the different health care specialties. Second year medical radiography students attend an interprofessional lab where they roll-play scenarios with medical, dental, nursing, pharmacy, behavioral health, and allied health students in order to grow in their ability to work on the health care team.