About the Radiation Therapy Profession
Radiation therapy (or radiation oncology) is the medical use of ionizing radiation to treat cancer and control malignant cell growth.  Radiation therapy is commonly combined with other modes of treatment for cancer, such as surgery, chemotherapy, and hormone therapy.  Radiation therapists should be able to think critically, work with computers, and be able to work on a treatment team. Patient care and empathy are also important assets.
The Radiation Therapist works under the direction of a Radiation Oncologist in treating malignant and benign diseases using various ionizing radiations. Responsibilities include following prescribed treatment plans, maintaining accurate records, and providing care and support to the patients and their families.
The profession requires judgment, critical thinking, and the ability to work accurately and quickly in a stressful environment. Therapists are highly skilled professionals, who are certified at national and state levels to provide patient treatments under the supervision of a physician specializing in Radiation Oncology.
Program Expectations
The BSRTT program is a 40 hour a week program which consists of both face to face and on-line didactic courses and clinical work which is conducted at different clinical sites in the area. The first year includes two full clinical days, and the second year three full clinical days. The usual time commitment is Monday – Friday from 8am to 5pm unless otherwise specified by the site. There are exceptions to these times for either quality assurance tests or labs attached to didactic courses but students are informed of these changes well in advance. The required course consist of a mixture of face to face (60%) and online classes (40%), you are allotted time in the 40 hours to complete online classes but are otherwise engaged in clinical work. Students are required to rotate through clinical sites every five weeks which entails attending two separate sites every quarter, this ensure a broad education and experience with various machines and techniques.
What makes us unique?
The ability to learn proton particle therapy
Students gain a comprehensive clinical education by rotating through a variety of clinical sites
A high standard of didactic education delivered by very experienced faculty
An emphasis on understanding the concept of wholeness in patient care
Alumni are employed in all clinical sites and provide excellent guidance to the student
Graduates from Loma Linda University are internationally recognized and requested in all areas of health care
No waiting list because of the competitive application process
Essential Job Functions
The essential job functions of a radiation therapist require certain physical, mental and emotional attributes. Physical demands include lifting, carrying, bending manipulation of equipment, patient assistance, walking and prolonged standing, the ability to read orders, computer screens, patient records, and equipment controls; the ability to communicate clearly with physicians, patients and coworkers; the ability to distinguish changes in physical, mental and affective status. Mental and emotional demands include critical thinking, objective decision making, interaction with patients of different ages and health conditions, maintaining patient confidentiality, working with patient diversity, and being able to work under pressure in stressful conditions. Students must maintain the essential job functions throughout the program. A complete list of essential job functions will be made available during the program orientation process.
Program Mission, Vision, and Values
Our Mission
The mission of the Bachelor of Science Radiation Therapy Program is to prepare professionals in the field of Radiation Therapy with students receiving broad education and training in all aspects of the profession. This will include critical thinking, clinical competence, effective communication, and professionalism as they apply to the field of Radiation Therapy. The program encourages intellectual, physical, social, and spiritual development by emphasizing these goals in its curriculum, which are reflected in the mission statements of the School of Allied Health Professions and Loma Linda Health – "To Make Man Whole".
Our Vision
Our vision is to be known by our students, alumni, clinical instructors, faculty, professional community, and staff as the Radiation Therapy Program of choice. Additionally, we want the program experience to be known as "a close family" that is exciting, challenging, and transforming.
Our Values
We will accomplish our mission and vision by setting and achieving high standards of excellence in professional behavior, academic and clinical education, customer service, and collaborative success, while living by the Loma Linda University values of excellence, integrity, compassion, self-control, humility, freedom, and justice.
About the Bachelor of Science in Radiation Therapy Program at LLU
Two entry track options
Track 1: ARRT registered applicants – This is a 21-month long (7 quarter) program aimed at radiographers interested in further training in a radiological science. The program starts in the fall quarter, and students must have all pre-requisite courses in addition to ARRT registry.
Track 2: Non ARRT applicants - This is a 24-month long (8 quarter) program aimed at individuals with a minimum of an associate degree or equivalent units in a natural science or health care discipline, in addition to all pre-requisite courses. The program start in the summer quarter of each academic year.
The program involves both classroom and clinical work and requires a 40 hour a week time commitment usually from 8:00 am to 5:00pm, Monday – Friday. There are exceptions to these times and students are informed in advance of any required changes. The required courses consist of a mixture of face to face coursework (60%) and online classes (40%), and the clinical work is conducted in various radiation oncology departments in the area. Students are required to rotate through different clinical sites every two months in order to gain a variety of experiences with different treatment machines and techniques.
The application window for the ARRT track is October1-April 1 for a fall start.
The application window for the non-ARRT track is October 1-April 1 for a summer start.
Program Curriculum
During the BS in Radiation Therapy program, students take formal classes along with instruction in a clinical setting. This includes participation, under close supervision, in the actual procedures within the Radiation Therapy Department. The program is full-time (40 hours per week) arranged around lectures and coordinated with participating clinical affiliates.
Prerequisite Requirements
Applicants must be either:
ARRT registered radiographer with minimum of two year associated degree
Registered nurse or healthcare care professional
Holder of an Associate's degree in a natural science
In addition all candidates must have completed the following subjects at an accredited college or university prior to entering the program:
Human Anatomy and Physiology with laboratory (complete sequence)
College Algebra (within 5 year period)
Medical Terminology
General or Developmental Psychology
Radiation Physics, Radiation protection, Principles of Radiography and Patient Care Methods (available in the summer professional program for those who are NON –ARRT candidates )
All course requirements must be met before the start of the program.
Humanities – 20 units' minimum (choose minimum of three areas from: history, literature, philosophy, foreign language, art/music appreciation/history). Included in this minimum 4 units of religion per year of attendance at a Seventh-day Adventist college or university. Eight units of religion are included in the Bachelor of Science degree core as a co-requisite. A total of 28 quarter units are required to fulfill this area.
Natural Sciences – The study of natural science must include a minimum of 12 units. The units in natural sciences must be selected from two of the following content areas: biology, chemistry, geology, mathematics, physics, and statistics. Required: College algebra (pre-calculus starting with entry year 2017), all mathematics course must be taken within three years, Human Anatomy and Physiology with a lab (a 2-course sequence in Anatomy and Physiology, with labs is acceptable).
Social Sciences – Must have a total of 12 quarter units of social science, General psychology or developmental psychology is required. Select additional units from: economics, geography, political science, psychology, sociology, or anthropology.
Communication – English composition, complete sequence, and oral communication/public speaking are required. A minimum of 9 units are needed to complete this area.
Health and Wellness – Personal health or nutrition and two physical activity courses are required to meet the minimum of 3 quarter units.
Electives – may be needed to meet the minimum requirements of 192 quarter units (34-36 semester units).
Diversity Requirements – The diversity requirement is fulfilled in the BSRS portfolio core courses: AHCJ 493 Senior Portfolio I and AC 494 Senior Portfolio II
Admission Requirements
Courses listed as course requirements MUST be completed at an accredited college or university with a grade of C or better.
Prerequisite courses must be met – A total of 47 quarter units of specific courses plus 34-36 electives that can be taken from the radiation technology or health care program courses.
24-hours of career observation in a Radiation Oncology Department
GPA of 3.0 or higher
Admissions essay
Three letters of recommendation
Interview
Applicants are also required to complete:
A background check
Possess a current health care Provider CPR card offered by the American Heart Association upon admission into the program.
To remain in the program students must maintain a minimum 3.0 GPA
Adhere to the program's professional code of conduct.
Students at some clinical sites may need to complete a drug test.
Religion Classes - A maximum of 8 quarter units may be applied for students who attended or are enrolled in a Seventh-day Adventist college, 4 quarter units per year are required.
Electives – To meet minimum of 96 quarter units
When to Apply
There are two ways to apply for the program:
Non-ARRT: The program is 24 months (8 quarters) long for applicants who have a minimum of an AS degree (science area preferred), Nursing, or other allied health field. The application window is October 1 to April 1 for a summer start.
ARRT: The program is 21 months (7quarters) long for Radiographers who seek additional specialization. The application window is October 1 to April 1 for a fall start.
Upon successful completion of the program, both groups of students are eligible to sit for the ARRT boards for radiation therapy.
FINANCIAL INFORMATION:
Students are charged tuition for all academic and clinical courses. School fees, travel expenses, and book fees are extra and the student's responsibility. Required certification workshops/courses are not part of the tuition fees for the program.
Complete your FAFSA early as the deadline for many loan applications is February or March. You may begin the loan application process before you have been accepted into the program.
For more information contact Financial aid.
How to Begin
Step 1: Review our website in detail, as well as the documents below. Many questions you may have can be answered from our online information.
Step 2: Attend a free online information session to gain information about Radiation Therapy. This is required for all applicants.
Step 3: Have your unofficial transcripts reviewed by our program clinical coordinator Dolly Kisinger dkisinge@llu.edu as early as possible to be sure that all of the courses transfer to Loma Linda University, in order to meet the requirements. Refer to the admissions requirements below for detailed steps.
Step 4: Email our Administrative Assistant at studyradsci@llu.edu with general registration and prerequisite questions.
Step 5: To contact the program director, email Carol Davis at cadavis@llu.edu.
Program Resources
Program Accreditation
The Bachelor's Degree in Radiation Technology is accredited by: WASC (Western Associate of Schools and Colleges)
*Accreditation through fall 2030.
JRCERT (Joint Review Committee on Education in Radiologic Technology). Contact information: 20 N Wacker Drive Suite 2850, Chicago IL 60606-3182. Phone (312) 704-5300 (312) 704-5300 Fax (312) 704-304. Website: www.jrcert.org Email: mail@jrcert.org.
*Accreditation through fall 2025, interim report due fall 2021.
Program Outcomes & Program Completion Data
BSRTT Program Goals and Student Learning Outcomes (SLO's)
Goal #1 - Students will demonstrate critical thinking skills
Student Learning Outcomes
Student will be able to monitor changes in patient condition
Student will be able to interpret isocenter shift from CT simulation data to treatment planning data
Student will be able to apply critical thinking skills to analyze complex issues
Goal #2 – Students will be clinically competent
Student Learning Outcomes
Student will perform daily QA
Student will be able to check that dosimetry data is accurately transferred to the electronic chart
Student will be able to recognize treatment changes
Goal #3 – Students will be able to communicate effectively
Student Learning Outcomes
Student will demonstrate effective verbal communication skills
Student will demonstrate effective written communication skills
Goal #4 – Students will demonstrate professionalism
Student Learning Outcomes
Student will treat all persons with respect
Student will understand HIPPA
Students will demonstrate responsibility and accountability for actions
Goal #5 – Student will demonstrate quantitative reasoning
Student Learning Outcomes
Student will demonstrate quantitative reasoning through the ability to reason and solve quantitative problems from wide array of authentic contexts and everyday life situations.
The Radiation Therapy goals and program learning outcomes include: students will demonstrate critical thinking; students will be clinically competent; students will be able to communicate effectively in English, both written and oral; and students will demonstrate professionalism.
Eligibility for ARRT Credential
Eligibility for the ARRT credentialing exam may be affected if the applicant has a prior felony or misdemeanor conviction. Prior to applying to this program the applicant should contact the ARRT at 651-687-0048 to determine if eligibility will be granted.
Contact Us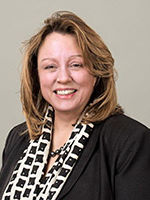 Carol Davis, PsyD, Dr.PH, R.T. (T) (ARRT)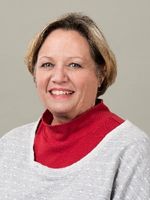 Dolly Kisinger, B.S., R.T. (T) (ARRT)