About LLU
Loma Linda University (LLU) is a Seventh-day Adventist educational health-sciences institution located in the Inland Empire of Southern California.
If you are pursuing an education in a healthcare field, then Loma Linda University is where you want to attend. In addition to the School of Allied Health Professions, we offer health-related degree programs in dentistry, medicine, nursing, pharmacy, public health, and science and technology.
Curricula and degrees offered vary from certificates of completion and associate in science degrees to professional doctoral degrees.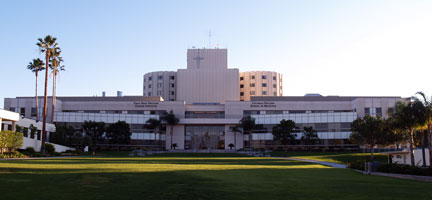 Loma Linda is a mecca for healthcare and the Seventh-day Adventist Church. Healthcare is the primary business in Loma Linda with Loma Linda University Medical Center, Loma Linda University Children's Hospital, the Faculty Medical Offices, Jerry L. Pettis VA Medical Center, and numerous smaller medical facilities.
The colorful history of the Seventh-day Adventist Church began as a result of close study of Bible prophecies around the mid-nineteenth century. People of many persuasions came to believe that the second coming – or advent – of Christ was imminent.
Basing its faith on the Bible, the church is a closely-knit, worldwide organization with a membership of more than 13.5 million believers.
The church operates one of the largest Protestant educational systems in the world, with more than 5,700 schools, including 86 colleges and 15 universities.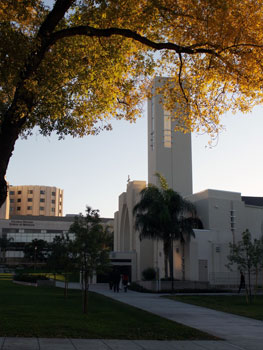 The first organized medical work by Adventists began in 1866 with the founding of Battle Creek Sanitarium in Battle Creek, Michigan. Today the Adventist health system is one of the largest healthcare delivery systems in the nonprofit sector. Worldwide, the church operates more than 570 health-care institutions, including hospitals, sanitariums, and clinics. Adventist Health International (AHI), a management organization committed to partnering with health-care services in developing countries, is based at Loma Linda University. The denomination's world activities are directed by the General Conference of Seventh-day Adventists, with headquarters in Silver Spring, Maryland.
"Students do not have to be or convert to Seventh-day Adventists to attend Loma Linda University. Over 60 religions are represented on our campus. Loma Linda University promotes an environment that reflects and builds respect for the diversity of humanity as ordained by God. Students from all faiths and religions are welcome!"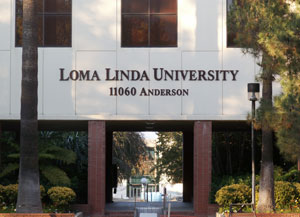 About the City of Loma Linda
Loma Linda's location in the heart of the eastern Inland Empire provides the unique benefits of being located within 50 miles of the mountains, the desert, the beach, and the cultural and recreational opportunities available in the Los Angeles area.
In relation to other cities of its size, Loma Linda enjoys a comparative advantage because of its prime location between the cities of Riverside and San Bernardino. Being nestled between the two cities enables Loma Linda to prosper as a part of one of the nation's fastest-growing Standard Metropolitan Statistical Areas. Neighboring towns and other local cities include: Redlands, Colton, Highland, Yucaipa, Riverside, Mentone, Moreno Valley, San Bernardino and Grand Terrace.
The campus is within driving distance of the following: San Francisco, CA - 7-8 hours; San Diego, CA - 2 hours; Los Angeles, CA - 1 hour; Palm Springs, CA - 1 hour; Las Vegas, NV - 4 hours; Phoenix, AZ - 5 hours.
Getting Around
Californians seem to spend a significant amount of leisure time outdoors. Thanks to Loma Linda's convenient location and the easy access to the Southern California transportation system, most of the region's recreational activities are only a short drive away. Loma Linda is a fast-growing city environment with the Loma Linda University Campus located in the middle of town.
Loma Linda is conveniently close to freeways, which connect it to other nearby economic centers. With easy access to I-10, I-215, Hwy 60 and Hwy 91, Loma Linda is linked to the Los Angeles transportation network and the most extensive freeway system in the world.
There is no restriction for students having cars on campus, but you must register your car for student parking access. Loma Linda University students are responsible for their own transportation to and from on-campus classes and to clinical sites. The State of California does require car insurance and a valid driver's license for all drivers operating vehicles.
Non-driving students attending Loma Linda University and living on campus are in walking distance to the Loma Linda Market and Campus Store. There are several more grocery and shopping centers in the immediate area. Loma Linda also has city bus service to get around town. Non-driving students may opt to purchase a bicycle or a bus pass to get around Loma Linda.
Traffic
Loma Linda has its share of city traffic with increased traffic during peak hours in front of schools, on freeways, and on main streets. Loma Linda provides easy access to Interstate 10 and intersects with other freeways in either direction. Students are encouraged to plan ahead by altering their time to factor in traffic.
Traveling by Air
Ontario International Airport (ONT) is only 25 miles west of Loma Linda on I-10 and is the best option for air travel to and from Loma Linda University. Los Angeles International (LAX) and Palm Springs (PSP) are also options. LAX is about a 1 and-a-half-hour travel time and Palm Springs is about 40 minutes away. Airport shuttle services are available from area airports to the University.
Other Modes of Transportation
Amtrak and Metrolink train services are available to San Bernardino. The train station is about a 20-minute drive from campus. Metrolink also provides rail service to San Bernardino from Los Angeles and Orange County.
Campus shuttles are available between some student parking lots and major buildings such as the Faculty medical offices and Medical Center. Shuttle service on campus is free.
Where to Stay
See hotel listings for the Loma Linda Area with approximate distances. Some establishments offer shuttle service to and from the university.
Other online searches: San Bernardino, Loma Linda, or Redlands, California.
Campus Security & Safety
Campus and student safety is a main focus of our Department of Security, which is open 24 hours a day, 7 days a week.
The Department of Security patrols campus buildings, parking lots and all other university grounds. Patrols are conducted by officers in marked patrol units, and from time to time, by officers on foot.
Students are encouraged to practice general personal safety and good driving habits on campus. The School of Allied Health Professions is within walking distance of both residence halls.
Local Entertainment & Activities
The diverse lifestyle available here enables our students to choose from a variety of entertainment options: Visit Disneyland, Magic Mountain or explore nearby Los Angeles or Hollywood; hiking, snowboarding, or skiing in the nearby mountain communities of Big Bear and Lake Arrowhead; Water activities at one of Southern California's world-renowned beaches; shopping at one of the numerous shopping malls located in the Inland Empire and nearby Palm Springs or Los Angeles or take a day trip to San Diego.
You may also enjoy watching one of our local teams or watching your favorite team when they come to town. Teams within driving distance include: the LA Dodgers and Angels, San Diego Padres, Inland Empire 66ers, LA Kings, Anaheim Ducks, San Diego Chargers and LA Galaxy.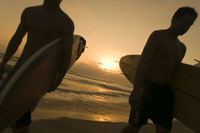 Our Office of Student Affairs offers student discounts to many area attractions and events.
Staying Fit
Students have access to the Drayson center on campus. The Drayson center is a premier sports complex complete with all the amenities of staying fit. Outdoor swimming pools, racquetball courts, weight rooms, and fitness classes offered to accommodate busy students' schedules.
Loma Linda University is a smoke-free campus. Smoking is not allowed in buildings, dorms;and only permitted in designated areas. The state of California has a state wide smoking ban and Loma Linda banned smoking on all sidewalks, streets and public areas. 
Weather
Our outdoor temperatures can range from 30ºF to 60ºF in January to 100ºF plus degrees in the summer months. It rains an average of 15 inches per year and mostly in the winter months. The mild conditions are great for year-round outdoor activities.
Contact Us
Contact us if you have further questions regarding our university.