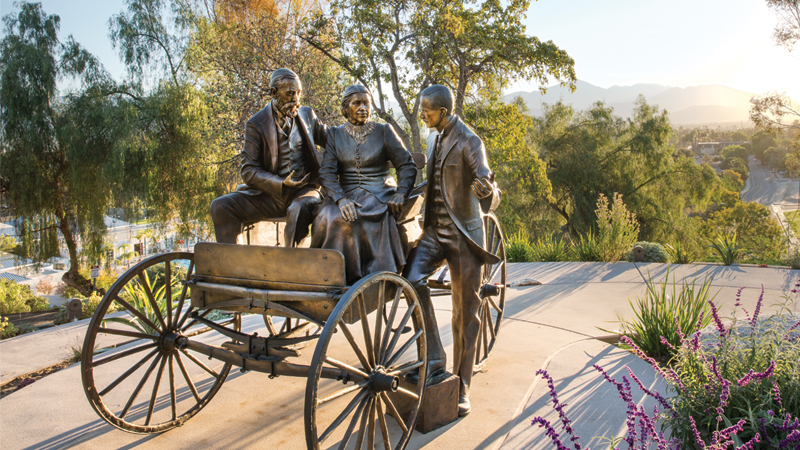 On May 24, under the trees atop the Nichol Hall hill—the very mound from which Loma Linda takes its name meaning "Beautiful Hill"—a crowd gathered in anticipation of the moment when a new sculpture called "This is the Very Place" would be unveiled.
The sculpture by Victor Issa recalls the moment Ellen White visited Loma Linda on June 12, 1905, and knew it to be the location she had seen in a vision.
White traveled with her son Willie and was met by John Burden, who had made the property purchase. Upon arriving on the Beautiful Hill, Ellen White said, "Willie, I have been here before."
He responded, "No, Mother. You have never been here."
"Then this is the very place the Lord has shown me, for it is all familiar," she answered.
Members of the White and Burden families attended the sculpture unveiling.
Speakers at the ceremony were Richard Hart, MD, DrPH, president of Loma Linda University Health; Victor Issa, sculptor; B. Lyn Behrens, MBBS, president emerita; and John Burden (played by Randy Roberts, pastor of Loma Linda University Church).
In character, Roberts said he feared that people would forget the remarkable story of Loma Linda University Health's beginnings, concluding with a quote from White in "Life Sketches of Ellen G. White":
"We have nothing to fear for the future, except as we shall forget the way the Lord has led us, and His teaching in our past history."
Donor Reuben Matiko, MD, School of Medicine class of 1945, commissioned the sculpture a few years ago after feeling impressed that God's leading in the founding of Loma Linda University Health should be memorialized in illustration.
View photos of the event on Facebook
Watch the fascinating story of the beginning of Loma Linda University Health Here: