Bachelor's Degree
All prerequisite course work must be from a regionally accredited institution in the United States.
Any bachelor's degree is acceptable but a strong science background is encouraged.
Degree must be received by December 31 of the application year, for example, December 31, 2020 for the class beginning September 2021.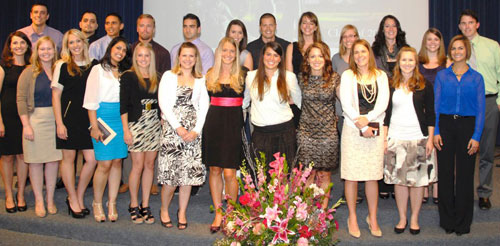 Minimum Grade Point Average (GPA)
Overall GPA 3.0 on a 4.0 scale AND  Science GPA 3.0 on a 4.0 scale
Both the overall and science GPA as calculated by CASPA must meet the minimum requirement at the time of application.
Pending coursework is not calculated into the minimum GPA requirements prior to interviews.
You must maintain the minimum required GPA with any outstanding coursework through admission into the program.
Pass/fail or credit/no-credit grades are not accepted for prerequisite courses. Grades of "pass" or "credit" for non-prerequisite courses will not be included in GPA calculations.
Grades received for courses taken at non- U.S. institutions are not calculated by CASPA but will be included in the evaluation of the GPA.  Please see International Applicants page for more information.
Prerequisite Courses* (All prerequisite courses must be taken at a regionally accredited institution by all applicants)
PLEASE NOTE – THE REQUIRED PREREQUISITE COURSES LISTED BELOW HAVE CHANGED AND ARE IN EFFECT FOR THE 2020/2021 APPLICATION CYCLE.
Science Courses**
Human Anatomy and Physiology with an on-campus laboratory component, complete sequence OR separate courses in Human Anatomy with an on-campus laboratory component and Human Physiology with an on-campus laboratory component. Must cover all organ systems.  (Introductory, X or XL courses are not accepted)
General Chemistry, one-year sequence with an on-campus laboratory component OR a sequence in Inorganic, Organic AND Biochemistry with an on-campus laboratory component (three quarters or two semesters; Inorganic can be Introduction to Chemistry or General Chemistry I only. Organic and Biochemistry cannot be Introductory; X or XL courses are not accepted)
General Microbiology with an on-campus laboratory component.  Must cover the four medically important areas: bacteria, viruses, fungi, and protozoa. (Introductory, X or XL courses are not accepted)
Please note:  "C- minus grades" are not accepted for prerequisite courses
General Education Courses
General Psychology (General Psychology, Introduction to Psychology, Human Growth and Development, or Developmental Psychology)
General Sociology or Cultural Anthropology (General Sociology, Introduction to Sociology, Principles of Sociology, Medical Sociology, Cultural Anthropology or Introduction to Cultural Anthropology)
College-level Algebra (College Algebra, Pre-Calculus, Trigonometry, Calculus or AP Calculus)
English, one year sequence (language courses not accepted. International students must complete English writing sequence requirement from an accredited US institution)
Recommended Courses
Statistics
Medical Terminology
Conversational Spanish
*A maximum of 2 total prerequisite courses may be outstanding at the time of application, with only 1 science / 1 non science prerequisite outstanding. An outstanding course is defined as any course listed as being in progress when the CASPA application is submitted by the applicant, even if the course will be completed prior to the applicant submitting his or her supplemental application.  All outstanding prerequisites must be completed by the end of Spring Quarter of the year of matriculation.
**Science courses must be for science majors and include an on campus laboratory component. Online courses will be evaluated on a case-by-case basis but must have an on-campus laboratory component in order to be considered. It is strongly recommended that all prerequisite science courses have been taken within the last 10 years, especially for those applicants who have only been in clinical practice for a short time. 
Allied Health Transfer Patterns
Patient Care Experience
2,000 hours of hands-on patient care experience must be completed prior to enrollment
Preferred experiences include accredited, credentialed professions that provide patient assessment, treatment, patient care plans, and diagnostic testing. 
Preferred applicants will have direct patient care experience working in clinical settings that involve a range of patient responsibility and involve a high level of critical thinking.  Only paid hours are acceptable.
Examples of preferred clinical experiences
Military medic or corpsman
Paramedic/EMT (waiting/transportation time not included )
Nurse (LVN or RN)
Radiology Technologist 
Physical Therapist
Respiratory Therapist
Occupational Therapist
Medical Technologist
Medical assistant (certified; back office hours only)
Scribe (in active participation in ongoing patient care)
Chiropractor
Other professions not listed above (e.g.. phlebotomy, etc.) will be considered on a case-by-case basis and are dependent upon the quality of patient interaction. 
Examples of clinical experiences not preferred
Volunteer Service
Administrative duties
Massage Therapy
Personal Trainer
Home Care Aide
Home Health Aide
Pharmacy Technician
Certified Nurse's Aide (except with documented high-quality patient interaction)
Shadowing a Physician or PA
Research with no patient contact
Hours received during training programs (e.g. medical school, internship)
Letters of Reference
Three letters of reference, one of which must be from a practicing physician (MD or DO) or physician assistant that you have worked under in a paid position.
MD/DO/PA letter cannot be from a friend or relative
MD/DO/PA letter cannot be from a shadowing experience
Other Requirements
All applicants must be able to meet all Admission and Technical standards, and Graduation Standards with or without reasonable accommodations.
Health Screening and Immunizations
Students must meet specific health requirements prior to enrolling in classes. A physical exam is not necessary for enrollment in the Physician Assistant program.  All vaccination policies are developed in accordance with current guidelines from the Centers for Disease Control (CDC). For more information regarding pre-admission health requirements including a list of required vaccinations, please visit our Student Health Services  for more information.
Standards for Students
Loma Linda University has certain policies and standards for all students who attend the University.  We encourage all prospective applicants to review these standards as printed in the student handbook.