Winter Class
The next phlebotomy class will be offered in winter quarter.  The online application will be open October 30 – December 8, 2023. Classes will meet Tuesday and Thursday evenings 5pm-8pm starting January 2 – March 12, 2024.
Phlebotomy Course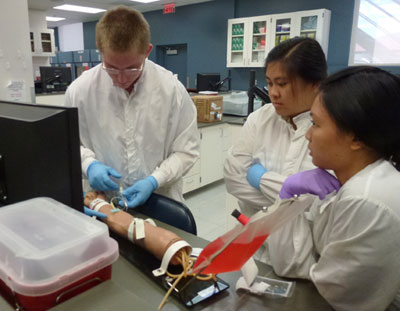 AHCJ 105 Procedures in Phlebotomy (5 units) provides a minimum of 20 hours Basic and 20 hours Advanced training designed to prepare individuals to collect blood for laboratory analysis, which is necessary for the diagnosis and care of the patient. It is ideal for those interested in becoming a Certified Phlebotomy Technician I (CPT-1) or for health professionals seeking to expand their current skills. About our Phlebotomy Program
This program trains the modern phlebotomist to perform venipuncture and capillary puncture. Other topics covered include medical terminology, laboratory safety, basic anatomy and physiology, quality assurance, and medicolegal issues of phlebotomy. Over 40 hours of supervised clinical experience is provided at Loma Linda University Medical Center and other medical affiliates, allowing participants to achieve proficiency in the health-care setting.
Prerequisites/Admission Requirements
To be eligible for admission, the applicant must:
Be 18 years of age or older
Have a High School diploma or GED. Your official transcripts must be sent from your school or the GED main office directly to LLU. Hand delivered transcripts will not be accepted.
Provide one professional recommendation through the online application. (Professional persons include previous teachers or professors, work supervisors. We will also accept references from your clergy or pastor. Recommendations will NOT be accepted from friends or relatives.)
Current CPR certification through the American Heart Association. Must be the Basic Life Support (BLS) training.
Background check (part of the online registration process). Students will need to pay with a credit card preferably in the student's name to expedite the process.
Provide current immunization records to Student Health. Learn more here.
How to Apply
Begin your process by Applying online at the direct application link, NOT the non-degree link. Please read the additional Instructions below:

Please follow these additional instructions when completing the online application for the Phlebotomy program.
Under the "Previous College" section- Leave the college school code blank and use "N/A" for the college name and use dates of attendance of Jan 1900-Jan 1901. This overrides this portion of the application. Phlebotomy students DO NOT need to have previous college courses or provide official college transcripts from previous colleges or higher learning institutions. This requirement will be deleted completely after the application is submitted.

Under the "Recommendations" section- It shows to submit three recommendations. Phlebotomy students are only required to submit one professional recommendation. The section will not have a check mark showing completion, but the application can be submitted with just one professional recommendation. Recommendations must come from current or previous teachers or work supervisors. We will also accept pastor/clergy. Recommendations from coworkers, friends, or relatives will not be accepted.
Under the "Projected Coursework" section- Click the [none planned] option to indicate that there is no planned coursework (at the n/a school).

There is a $25 application fee due at the time application.
You will need to request your high school transcripts to be sent to the following address: Admissions Processing 11139 Anderson St. Loma Linda University Loma Linda CA 92350.
Contact our Admissions office if you have difficulty with the online application.
Academic Progression
A minimum grade of C (2.0) is required for satisfactory performance in the program. Loma Linda University reserves the right to withhold certification if course requirements are not met. Unsatisfactory clinical performance will be cause for dismissal from the program.
Professional Registration
Successful participants receive a certificate in phlebotomy and are eligible to take a national certifying examination.
International Applicants
International applicants must meet all program, admission, and additional requirements. All phlebotomy applicants with foreign transcripts must have them evaluated by an approved evaluation service. Please refer to our international student information for approved services.

Additionally, any applicant whose English competency is uncertain in regards to his/her professional success at Loma Linda University may be required to pass a test of English proficiency. The minimum required score for International English Language Testing System (IELTS) is 6.5. The minimum required score on Michigan English Language Assessment Battery (MELAB) is 77. A minimum Test of English as a Foreign Language (TOEFL) score of 550 (paper based) / 213 (computer based) / 80 (Internet based) is required. The TOEFL score is valid for two years from the test date. If it has been more than two years since the examinee last took TOEFL, the test must be taken again to have the scores reported. Visit the TOEFL Web site at for the most up-to-date information and examination registration.
This information is published in our LLU catalog.
Program Accreditation
This program is approved by the California Department of Public Health, Laboratory Field Services, 850 Marina Bay Pkwy., Bldg. P, 1st Floor, Richmond, CA 94804-6403, (510) 620-3800
Phlebotomy Regulations for California
The California regulations became effective April 9, 2003. You may obtain a state certificate by following the three-step process:
Take classroom instruction from an approved phlebotomy training program and complete a minimum of 40 hours of clinical externship training.
Pass a state approved certification exam
Submit an application form to the state with the required documents and fees
Contact Us
Department of Clinical Laboratory Science
Phlebotomy Certification Program
Nichol Hall Room A923
Loma Linda University
Loma Linda CA 92350
909-558-4966
phlebotomy@llu.edu