Welcome
Radiation sciences provides so many choices. People who choose a specialty in the radiation sciences usually enjoy working with technology, as well as working with people.
TAKE THE FIRST STEP: Sign up for and attend a free online information session to learn more and talk to a guidance counselor, live and in real time!
We often hear applicants say, "I just want to help people!"  This area of health care is perfect for that.
Our department is home to over 15 program emphases, with certificate, Associate's degree, Bachelor's degree, and Master's degree programs available:
The variety of programs and degrees that we offer provides an educational path to career satisfaction. Our department faculty and staff work together to provide a challenging and engaging experience for students, so that students are prepared for the real world of health care. Our team of dedicated faculty have years of teaching and clinical experience, and are committed to students and spend quality time with them, inside and outside the classroom environment.
Watch a short 3 minute video about the programs in the Department of Radiation Technology.
As you look through each of our programs on these web pages, you will see that so many opportunities are available to the student who is pursuing a meaningful career in radiation sciences and imaging. If you have further questions, or would like to speak with one of our faculty, please call the department. We will be happy to assist you!
Laura L. Alipoon, Ed.D, R.T.(R)
Chair, Department of Radiation Technology
LOMA LINDA UNIVERSITY | School of Allied Health Professions
Contact Us Today
Loma Linda University
School of Allied Health Professions
Department of Radiation Technology
Nichol Hall A829
Loma Linda CA 92350
909-558-4931
909-558-0264
studyradsci@llu.edu
www.llu.edu/radsci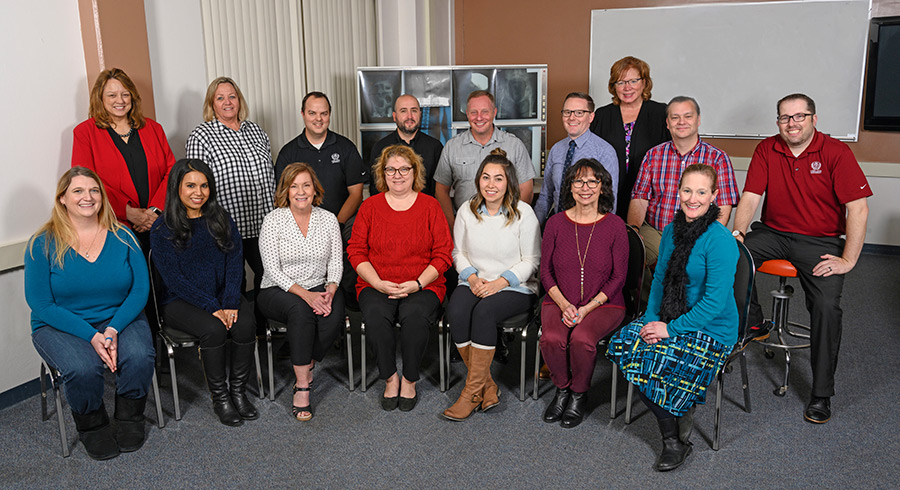 BACK ROW (from left): Carol Davis, Dolly Kisinger, Tim Seavey, Mike Iorio, James Rippetoe, Joe Hewes, Brenda Boyd, Rob Cruise, Will Edmunds
FRONT ROW (from left): Christine Wetmore, Maria Gonzales, Lisa Parker, Laura Alipoon, Erin Marshall, Marie DeLange, Kate Cockrill
Not pictured: Terri Mosley, Ray Ho, James Kim, Karla Lavin-Williams, Brigit Mendoza, Jerone Murphy