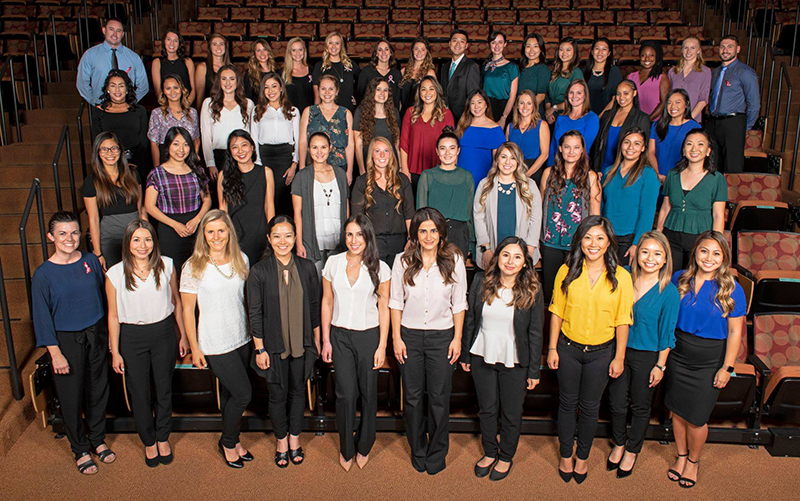 Admissions Resources
The following downloadable PDFs include program information including admissions info, program prerequisites & requirements, student expectations, and tuition rates for our Occupational Therapy degree offerings.
Program Start Dates
Due to the popularity of our OT Program, we recommend that you submit your online application as early as possible. Deadlines listed below are for online applications.  Acceptance decisions are not made until all admissions elements are received and reviewed by the admissions committee.  Applications are reviewed once all elements are received.
  RECENT DEADLINE CHANGE 

- OTCAS will begin accepting applications mid July, and our new deadline is September 30, 2019. The Masters program begins mid-June of each year, (summer quarter)
The Occupational Therapy Doctorate program begins in September of each year, (fall quarter)
How to Apply
See our school's Admissions page to apply to our Occupational Therapy Programs.
The Occupational Therapy program at Loma Linda University uses the Occupational Therapy Centralized Application Service (OTCAS).  MOT applicants must first apply to OTCAS; please visit www.otcas.org to create your OTCAS account.
 Application Period:  The OTCAS portal will open on mid-July  and will close October 1, 2018.
Transcripts
All official transcripts must be sent directly to OTCAS, from your college/university. Transcripts will not be accepted from you personally. 
Address:
Occupational Therapy Centralized Application Service (OTCAS)
PO Box 9120
Watertown, MA 02471
Phone:  617-612-2860
Email:  otcasinfo@otcas.org
Website:  http://www.otcas.org/
International Transcripts:
International transcripts must be evaluated by an agency approved by Loma Linda University. See the list of approved agencies at this link:  http://www.llu.edu/central/apply/intltrans.page%20.
Applicants using WES will not be required to submit an official international transcript to Loma Linda University.
Request the official transcript evaluation to be sent directly to OTCAS, an official transcript does not need to be sent to OTCAS.
If you use a transcript evaluation service other than WES, request an official transcript of your international institution to be sent directly to Loma Linda University.
Where to Submit Your Application:
OTCAS must receive the application, references, and transcripts no later than September 30.  Once your application is complete, OTCAS will verify your documents before releasing them to Loma Linda University. All transcripts must be received before verification can be completed; the verification process could take between 4 – 6 weeks. Please note that Loma Linda University cannot access unverified applications.  It is your responsibility to confirm your status as verified with OTCAS.
For any questions about the receipt, processing, and verification of your application, please contact OTCAS Customer Service at 617-612-2860, or www.otcas.org.
For other questions regarding our prerequisites or Loma Linda University application process, please contact the Loma Linda University Department of Occupational Therapy at 909-558-4628, or studyot@llu.edu.
Supplemental documents to be submitted to OTCAS
Loma Linda University Verification of Observation Experiences forms, and Reaction to Observation Experiences. Please submit forms for each OT setting that you observed.
If you took a medical terminology course that offered a certificate of completion, and was not for college credit, request the agency to send a copy of the certificate to the Department of Occupational Therapy (we will accept the agency's email with the attached certificate or link to the certificate). Please request our approval of an online medical terminology course before taking it.
Personal Statement:
Please submit a personal statement as part of your OTCAS application, in the section of Supplemental Information, under Documents.  Your personal statement should be no longer than 2 pages in length, and it is viewable by all programs you might have applied to.
Recommendations:
Three recommendations are required as a minimum. Please submit one or two academic recommenders, and you may also select employment supervisors, church officials, volunteer or community service supervisors, or occupational therapists.
             Please note:  OTCAS does not accept paper references. Letters of recommendation are submitted electronically through the OTCAS system.
Secondary Loma Linda University Application
Once your OTCAS application is verified, your documents will be released to Loma Linda University.  You will receive an email from Admissions Processing of Loma Linda University, with the link to the secondary Loma Linda University application that you must complete and submit within 2 weeks.  There is no additional fee for the Loma Linda University secondary application. You are not an official Loma Linda University applicant until your secondary application has been submitted.
Supplemental documents to Loma Linda University
Supplemental documents you wish to submit, such as resumé, or non-electronic letters of recommendation, may be submitted to the Department of Occupational Therapy.
Our mailing address:
Department of Occupational Therapy
Nichol Hall, A901
Loma Linda University
Loma Linda, CA 92350
Fax:  909-558-0239
Email:  studyot@llu.edu
Selection of Applicants
Selection is based on a two part process.  The first level involves a screening of recommendation letters, GPA, observation reactions, service, application essays, and volunteer experience in Occupational Therapy.  Applications making it to the second level will be asked to make a 4-5 minute video responding to specific prompts provided by the Department.
The Applicant will be invited via email to continue to this second level.   Directions and the prompts will be emailed to the applicant.  Applicants must post their video within the specified timeframe given in the email in order to be considered.
We are looking for students who are leaders, service-oriented and compassionate.  Applicants need to have effective stress management and time management skills as this is a rigorous gradate program.   Occupational therapy applicants do not need to be specifically artistic, but they should be high in mechanical aptitude, resourcefulness, and critical thinking. We feel it is our obligation to assure quality care of patients by preparing students who meet these qualifications.
Loma Linda University was established to provide education in a distinctive Christian environment, and our students are expected to have adopted Christian ethical standards as a basis for their conduct. It must be understood further that, in harmony with the University's emphasis on health and the health professions and the practices of the supporting church, that applicants who use tobacco, alcoholic beverages, or narcotics should not expect to be admitted.
Number of acceptances per year: 45
Minimum cumulative GPA: 3.20
Minimum science GPA: 3.20
Professional Registration
Upon satisfactory completion of the entry-level MOT degree—including completion of Level II fieldwork within twenty-four months following completion of academic preparation and upon recommendation of the faculty—the graduate is eligible to take the national certification examination administered by The National Board for Certification for Occupational Therapy (NBCOT). The board offers computerized examinations on demand throughout the year.
Many states require licensure in order to practice; however, state licenses are based on the results of the NBCOT certification examination. The American Occupational Therapy Association provides recognition essential to the practice of occupational therapy in the United States and most foreign countries. Information about qualifying examinations can be obtained at the office of the department chair.
When the graduate applies to write the certification examination with the NBCOT, he/she will be asked to answer questions related to the topic of felonies. Felony convictions may affect a candidate's ability to sit for the national certification examination or attain state licensure. For further information on these limitations, contact NBCOT at 800 South Frederick Avenue, Suite 200, Gaithersburg, MD 20877-4150; or telephone (301) 990-7979. Graduates practicing in the state of California must acquire licensure from the California Board of Occupational Therapy. For further information, contact CBOT at (916) 322-3394; E-mail cbot@dca.ca.gov. The office address is 444 N. 3rd Street, Suite 410, Sacramento, CA 95814.
Contact Us
We are available Monday to Thursday from 8:00 a.m.. to 5:00 p.m.. and on Fridays from 8:00 a.m.. to 12:00 noon.
You may also leave a voicemail, if you do not reach us, or email the program advisor directly, and we will contact you back at our earliest convenience.
Phone: 909-558-4628
Fax: (909) 558-0239
Email: studyot@llu.edu