Rated
Loma Linda University #1 Physical Therapist Assistant Program
See why we are ranked the top PTA Program in the United States on College Factual's Best Schools for Physical Therapy assistant list here.
Learn more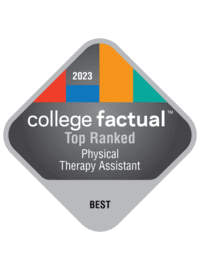 Admissions
The application portal for this program is open every year from August 1 through March 30. For the best advantage in the application process, we encourage all applicants to submit an online application early in the admissions cycle, that is, prior to November 1. A new cohort of students enters the program each year in June.
SUBJECT REQUIREMENTS
To be eligible for admission, applicants must have a minimum 2.5 GPA in both science and non-science prerequisite courses. They must also have completed a minimum 48 quarter units (or 32 semester units) at an accredited college or university. Admission is a selective process. Criteria used include: science and non-science, GPA, completion of subject requirements, interview, essay, recommendations, and work or observation/volunteer experience.
See school admissions page for further information and to apply for this program.
*Students are required to have current cardiopulmonary resuscitation (CPR) certification for all scheduled clinical experiences. We recommend you take this prior to starting the program.
PREREQUISITE COLLEGE COURSE REQUIREMENTS FOR ADMISSION
Please complete the check sheet above and bring with you to your advising appointment. You are also encouraged to bring college transcripts from colleges where you have completed your prerequisites. Unofficial copies are ok initially, but official copies must be requested and supplied during the application process.
Deadlines
Deadline for PTA applications is April 1st prior to a June start date. Classes may fill sooner than published deadlines based on early completed applications. Applications submitted early are given priority in the admissions process. We encourage students to apply early within the enrollment period, due to the popularity of this program. Waiting or putting off submitting your application or not completing all admissions requirements early on, may decrease your chances of acceptance.
International students need to apply early for extended processing. See International student information for further details.
PLEASE NOTE: GRADES OF C MINUS (C-) ARE NOT TRANSFERABLE FOR CREDIT. Credits must be from an accredited college
What is a Physical Therapist Assistant?
The physical therapist assistant is a skilled paraprofessional healthcare worker. Under the supervision of a physical therapist, the assistant carries out the patient's treatment program. The extent to which the physical therapist assistant is involved in treatment depends upon the supervising therapist.
A planned patient-care program is carried out by the assistant, following established procedures. Duties of the physical therapist assistant include training patients in exercises and activities of normal daily living. Duties also include conducting treatments and utilizing special equipment and assisting with tests, evaluations and complex treatment procedures. Assistants also observe and report patient responses.
Other members of the rehabilitation team include the occupational therapist, nurse, speech and hearing therapist, respiratory therapist and recreational therapist. This is in addition to the physician, social worker, chaplain, vocational counselor, dietitian, and psychologist. This team has as its objective the optimum functional restoration and rehabilitation of patients disabled by illness or injury.
The Profession
The field of physical therapy offers careers for men and women who are interested in medical science and who enjoy working with people. Physical therapist assistants are in demand. Graduates have a wide range of employment opportunities. They may be employed by medical groups, hospitals, rehabilitation centers, outpatient clinics, public agencies or physical therapy schools.
The PTA program at Loma Linda University
The physical therapist assistant program is 15 months in length and leads to the associate in science degree. The program begins with the sophomore year. Instruction begins in June; graduation is the following June. Program completion occurs when clinical affiliations are completed, usually by the end of September. 
Clinical Experience
Supervised clinical experience is obtained in a variety of settings during the program. Students complete a two-week practicum and three major clinical assignments, each six weeks in length.
All clinical assignments will be made by the coordinator of clinical education or a designate (or program director). Because local facilities are limited, assignments cannot be made based on the student's family/marital status or personal preference. The department makes an effort to accommodate student preference; however, the student agrees to accept assignment to any affiliated facilities. These affiliated facilities may be local or out of state. Clinical facilities may also require a background check and/or fingerprinting. They may have certain stipulations (ie, immunizations, CPR certification) that need to be met before the student is assigned. Costs for these requirements are the student's financial responsibility.
Accreditation
The Physical Therapist Assistant program at Loma Linda University is accredited by the Commission on Accreditation in Physical Therapy Education (CAPTE), 3030 Potomac Ave., Suite 100, Alexandria, Virginia 22305-3085; telephone: 703-706-3245; email: accreditation@apta.org; website: http://www.capteonline.org. If needing to contact the program/institution directly, please call 909-558-4634 or email studypta@llu.edu.
Loma Linda University is accredited by WASC. Western Association of Schools and Colleges.
Program Pass rates: See our current pass rate report provided by www.fsbpt.org.
2 Year Graduation Rate: 2023 = 76% | 2022 = 88% | Average: 82%
2 Year Employment Rate*: 2022 = 100% | 2021 = 100% | Average: 100%
2 Year First-Time PTA Board Pass Rate: 2022 = 76.7% | 2021 = 86.5% | Average: 81.6%
2 Year Ultimate PTA Board Pass Rate: 2022 = 97.7% | 2021 = 94.6% | Average: 96.2%
*Completed on 11/28/2023. Class of 2023 completed in September of 2023 and complete numbers are not yet received for employment and board pass rates.
Professional Registration
Satisfactory completion of the degree requirements and clinical affiliation qualifies the student to sit for the National Physical Therapist Assistant Licensing Examination. Licensure is not required in all states for the physical therapist assistant to practice. Information about licensure or registration in the state in which one wishes to practice can be obtained on the web at www.fsbpt.org
Professional Association
Students and graduates are eligible for membership in the American Physical Therapy Association. The objective of the association is to foster development and improvement of service and education. This organization grants membership at a nominal cost to students of approved schools. Students are required to become members of this association while in the program. The national office of the American Physical Therapy Association is at 1111 North Fairfax Street, Alexandria, VA 22314.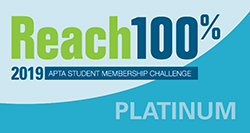 Program of Instruction
PHYSICAL THERAPIST ASSISTANT Associate in Science
The program of instruction outlined below is for students who are enrolled at Loma Linda University. Courses are taught during daytime hours and usually 4-5 days a week depending on the quarter of study. Class times may vary by quarter depending on instructor and classroom availability.
See course descriptions.
A minimum grade of C (2.0) is required for all courses in the program.
Contact Us
If you have questions or wish to set up an appointment regarding our PTA program, feel free to call or email our department. This is a great opportunity for you to see firsthand what Loma Linda University has to offer. Please call or email us to plan your visit. We request that you bring a copy of your transcripts, the prerequisites sheet, and any questions you may have.

R. Jeremy Hubbard, PT, MPT, DSc
Assistant Professor
PTA Program Director