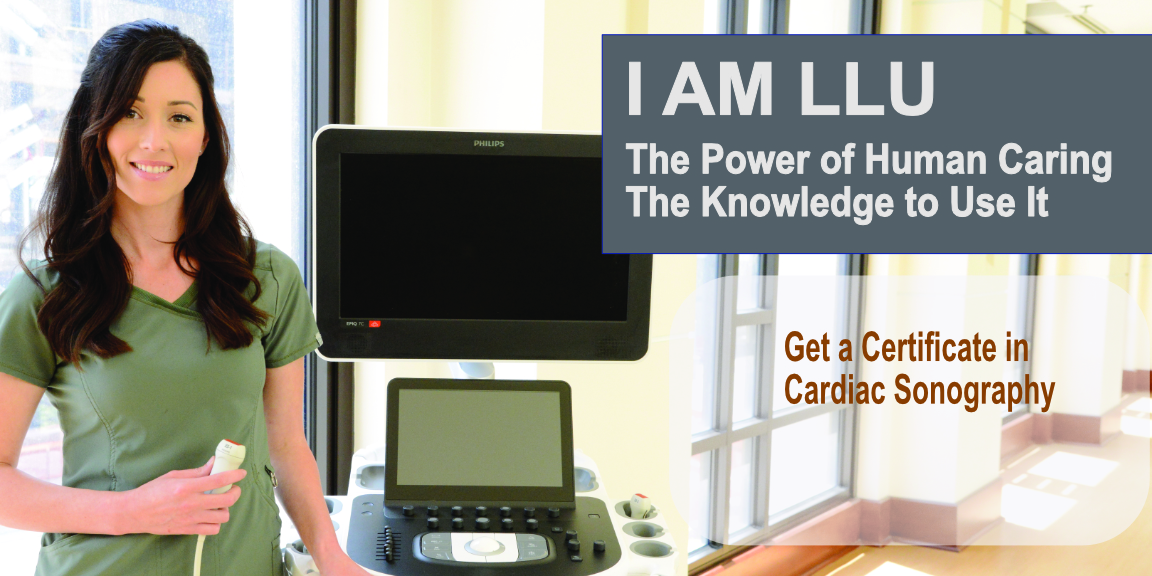 Do you want to help people with heart problems?
Do you see yourself working on a team making a significant contribution?
Are you searching for a school that supports your values and need for wholeness?
The cardiac sonography application window is October 1, 2018 - February 1, 2019.
About the Certificate of Cardiac Sonography Program
The Certificate in Cardiac Sonography is a 12-month program. Coursework and clinical time in this program involves more in depth concentrated study of assessment of the heart. It includes extensive study of the heart hemodynamics, normal anatomy, disease processes, and patient treatment.  The Cardiac Sonography program begins each Fall. This program prepares students to sit for the board exam and RDCS credentialing exam.  All students are required to take and pass the ARDMS Standard Physics and Instrumentation (SPI) exam before completion of the program.   This program does require a previous associate/bachelors degree in any field.
Our Mission
The Diagnostic Medical Sonography Program at Loma Linda University, School of Allied Health Professions, provides a quality educational experience focused on the whole person. The program prepares students to take the national board exam, become entry-level sonographers, and be equipped with the knowledge, skills, values, attitudes, and behaviors appropriate for providing excellent patient care and working on a health care team.
Our Vision
Our vision is to be known by our students, alumni, clinical instructors, faculty, professional community, and staff as the Diagnostic Medical Sonography Program of choice. Additionally, we want the program experience to be known as "a close family" that is exciting, challenging, and transforming.
Our Values
We will accomplish our mission and vision by setting and achieving high standards of excellence in professional behavior, academic and clinical education, customer service, and collaborative success, while living by the Loma Linda University values of excellence, integrity, compassion, self-control, humility, freedom, and justice
Goals and Student Learning Outcomes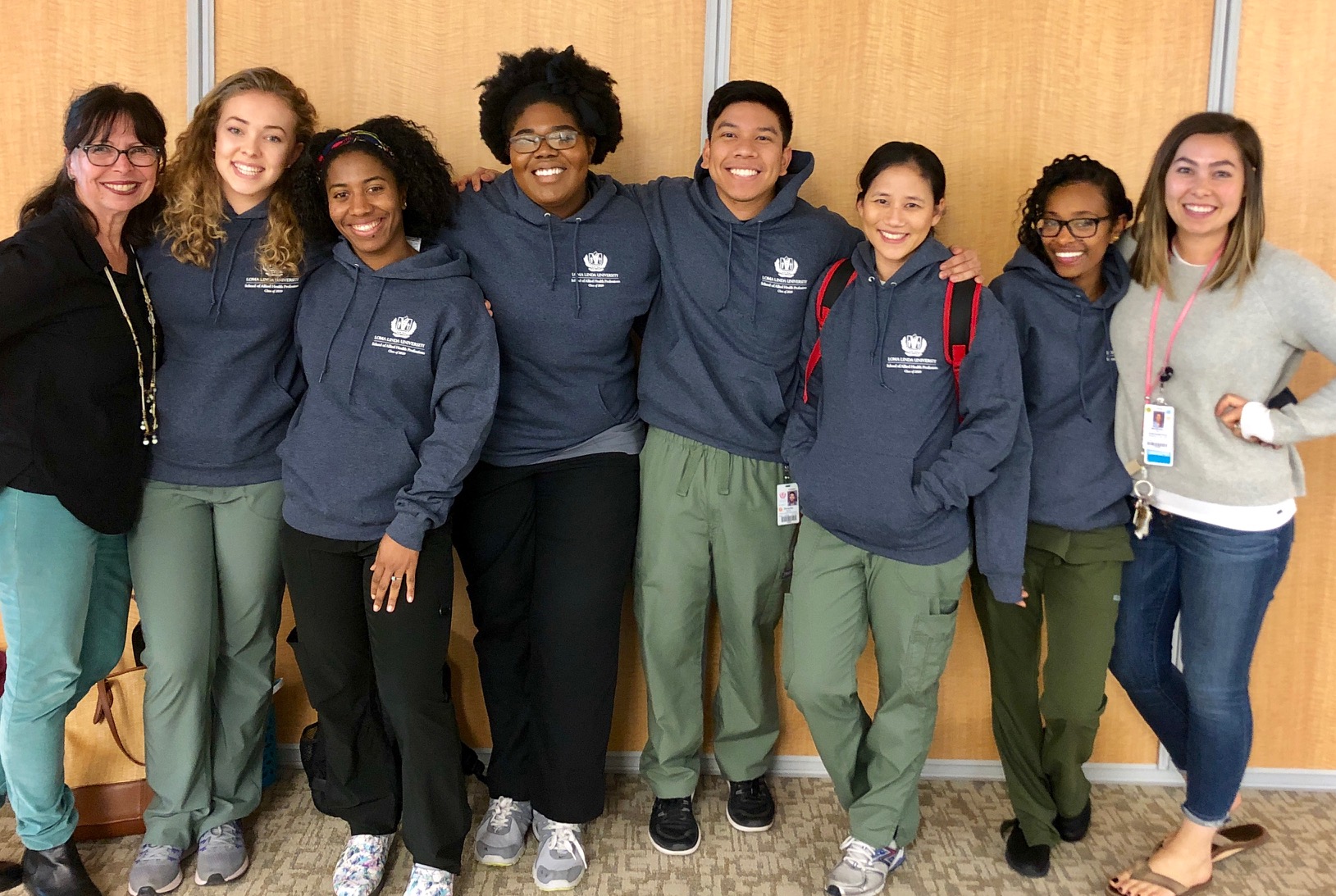 While in the Program, students will demonstrate clinical competence by performing ultrasound exams of diagnostic quality, and applying patient care and appropriate practices for all procedures. Students will communicate effectively by being able to clearly explain ultrasound procedures to patients and often family members, effectively communicate and work with the health care team, and demonstrate appropriate communication to diverse populations. Students will develop critical thinking and problem-solving skills so that they can appropriately adjust procedures, and critique images to determine diagnostic acceptability. Students will demonstrate the values and professional development, model professional behavior, and examine the core values and reflect on personal application. Students will also apply knowledge in interdisciplinary situations.
______ Read all the information on the LLU Sonography WEB page (llu.edu/sonography).
______ Submit all unofficial transcripts for review to mdelange@llu.edu.  Be sure to state which program you are interested in (Cardiac certificate, one year, or a Bachelor's in Diagnostic Medical Sonography, 27 months).
______ Plan to complete all prerequisite courses by the end of May of the year you would like to begin the program and have your course plan verified by LLU staff.
______ Apply to the Sonography program online (llu.edu/apply). There is an application fee.
______ Order all OFFICIAL transcripts to be sent directly from all institutions to Admissions Processing as soon as the application has been submitted, even if you have courses in progress.  Your application will not be reviewed without this step.
NEXT STEPS
In order to be eligible to be interviewed for our program, you must attend an information session (September 29 or November 17) AND schedule an observation date.
Email Marie DeLange (mdelange@llu.edu) your preferred date to attend the information session held at LLU in Nichol Hall (space is limited).  When you establish the date you will attend, I will send you the specific details.  It will take approximately 1-2 hours that day.
To schedule observation for the Certificate in Cardiac Sonography, contact Danielle Yanez (dcyanez@llu.edu). Requests for an observation will be taken starting October 1. You must submit an application AND have your prerequisites verified by LLU staff before you can schedule the observation.  We will then send you a link so that you can choose a date.  There is limited space for this opportunity, so please try to set up an observation as soon as possible.
______Attend an information session.
______Complete the observation.
If you live out of state or have extenuating circumstances, please contact mdelange@llu.edu, and we will try to make other arrangements. Keep in mind that the observation must be completed prior to being granted an interview, which will take place in April.  If we run out of dates to observe prior to interviews, you will need to reapply the following year.
OBSERVATION REQUIREMENT
Be sure to communicate clearly which program you are applying to. Indiciate whether you are applying to the one-year Certificate in Diagnostic Cardiac Sonography program or the 27-month Bachelor of Science in Diagnostic Medical Sonography program.​
Appointments for "Observation" begins on October 1, You must have an application submitted in order to acquire a date.
There is limited space for applicants to observe, so please take one of the first appointments that you are able to make.  We can take 4 applicants per day.
If we run out of dates to observe prior to interviews, you will need to apply the following year.
LINKS TO MORE INFORMATION
Important Dates
Application Window: October 1 to February 1
Priority Deadline: December 31
Final Deadline: February 1
Attending the LLU Open House gives you eligibility to receive the $60 application fee waiver.
Program Resources
Program Accreditation
The Loma Linda University Diagnostic Medical Sonography program has been fully accredited by the Joint Review Committee on Education in Medical Sonography (JRCDMS) and the Commission on Accreditation of Allied Health Education Programs (CAAHEP) in general sonography and vascular and echocardiography since October 7,1985. Loma Linda University is accredited by the Western Association of Schools and Colleges (WASC).
To contact the JRCDMS:
Commission on Accreditation of Allied Health Education Programs
25400 U.S. Highway 19 North, Suite 158
Clearwater, FL 33763
Phone: 727-210-2350
Fax: 727-210-2354
In addition, our vascular lab at Loma Linda University Medical Center was awarded the Accreditation of Vascular Labs (ICAVL) in 1993 and our cardiac labs are also accredited by ICAEL.
Program Outcomes
Academic Calendar
The program, in general, follows the Loma Linda University Quarterly academic terms. The program begins each June.  Please refer to the Academic Calendar since the actual dates change yearly.
Program Expectations
The Certificate in Cardiac Sonography Program is rigorous.  Students should expect to give full-time attention to this demanding program.  Students in the past have needed to adjust their personal schedules to make this program a priority.  Students should also plan to drive to their clinical affiliates, which are assigned to each student after the program begins.  Students are expected to be responsible, accountable, and dependable as well as behave and communicate with high professional standards. Attendance in all classes and clinical rotations is expected.  Students are also expected to be able to perform the essential job functions throughout the program and on into the profession.
What Makes Us Unique
No waiting list. Every applicant is reviewed each year on an individual basis.
Comprehensive and compassionate instruction in the classroom and clinical setting.
Students gain valuable diversity in their experiences through multiple clinical rotations.
Students receive more hands on clinical experience than other comparable programs.
Graduates are competent in a broader range of exams than comparable programs.
Diligent students often obtain the ARDMS credentials prior to program completion.
Alumni are employed at the majority of our clinical sites, providing care and guidance.
Graduates are more prepared and requested for employment in all levels of health care.
Essential Job Functions
The essential job functions of a sonographer require certain physical, mental, & emotional attributes.  Physical demands include lifting; carrying; bending; manipulation of equipment; patient assistance; walking and prolonged standing; the ability to read; and the ability to communicate effectively.  Mental, emotional, and affective demands include: critical decision making, interaction with patients of different ages and health conditions, maintaining patient confidentiality, ability to work under pressure, ability to repeat previously learned information, and interacting appropriately.  Students must maintain essential job functions throughout the program.  A complete list of essential job functions will be made available during the interview process.
Eligibility for ARDMS Credential
Eligibility for the ARDMS credentialing exam may be affected if the applicant has a prior felony or misdemeanor conviction. Prior to applying to this program the applicant should contact the ARDMS at 800-862-7367 to determine if eligibility will be granted.
Other Requirements
Applicants are required to complete a background check and possess a current Health Care Provider CPR card offered by the American Heart Association. To remain in the program students must maintain a 2.5 GPA, pass three program milestones, pass a mock board exam, and adhere to the Program's professional code of conduct. Students at some clinical sites may need a drug test.
Gainful Employment Disclosure
The following links will provide information regarding the cost of the certificate, financing available, median debt, normal time frame for completion, and job placement rates for students that have completed this program.
Contact Us

Marie DeLange
Program Director
mdelange@llu.edu
studyradsci@llu.edu 
llu.edu/sonography
909-558-4931 Department Office
909-558-7965 Fax
* Please note: Information in the University catalog may differ from our online info. Our web info was updated after the catalog was published. In the catalog- Track 1 is in reference to the General Medical Sonography option and Track 2 is in reference to the Cardiac Sonography option.