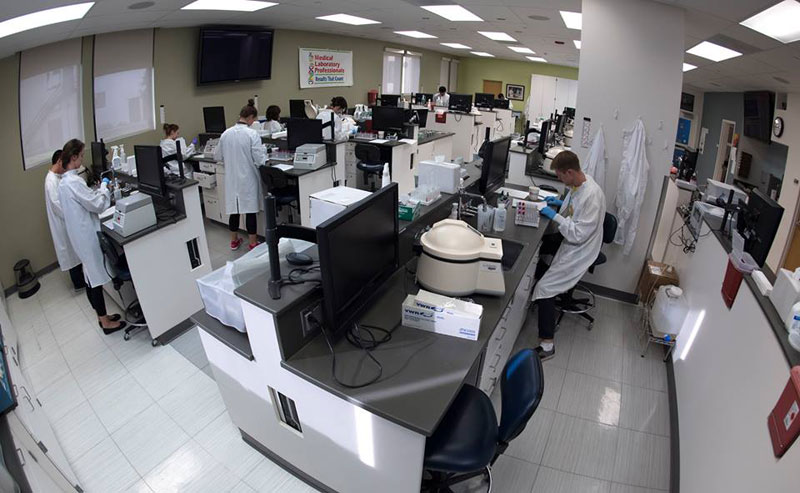 How to apply (For Clinical Laboratory Science and Cytotechnology programs)
Meet all required program requirements
Submit a completed School of Allied Health Professions undergraduate online application 
Submit personal statement -part of online application
Pay non-refundable application fee of $60.00 (for first-time applicants). For re-application within the last three years, the fee is $30.00.
Submit three personal recommendation forms (available once you begin the online application)
Submit official transcript from high school and each college or university attended (sent directly from school to school). Transcripts issued to the student will not be accepted as official.
Submit mission statement acknowledgment form (online application)
All application requirements must be submitted in order to be considered.
How to apply (for Phlebotomy Course)
Review the program information on our webpages. Verify that you meet all program requirements.  If you have additional questions, contact the department at 909-558-4966.  
When you are ready to apply, complete the online application.  Be sure to follow the "additional instructions" listed below.  You will be required to pay a non-refundable application fee of $25.00 when the application is submitted. 
When all required materials are received by the department (application, high school or college transcripts, and 1 letter of recommendation) then completed files will be reviewed for admission. 
Students that are accepted into the program will receive a letter from School of Allied Health Professions Admissions and instructions on how to register for the course. Registration includes a required background check, immunization verification, and financial clearance. 
This program is not eligible for Financial Aid.
Begin your process by Applying online
Please follow these additional instructions when completing the online application for the Phlebotomy program.
Under the "Previous College" section- Leave the college school code blank and use "N/A" for the college name and use dates of attendance of Jan 1900-Jan 1901.  This overrides this portion of the application.  Phlebotomy students DO NOT need to have previous college courses or provide official college transcripts from previous colleges or higher learning institutions.  This requirement will be deleted completely after the application is submitted.
Under the "Recommendations" section-  It shows to submit three recommendations.  Phlebotomy students are only required to submit one professional recommendation. The section will not have a check mark showing completion, but the application can be submitted with just one professional recommendation.
Under the "Projected Coursework" section-  Click the [none planned] option to indicate that there is no planned coursework (at the n/a school).
There is a $25 application fee due at the time application.  
You will need to request your high school transcripts to be sent to the following address:  Admissions Processing 11139 Anderson St.  Loma Linda University  Loma Linda CA 92350.
Documentation must be sent directly to Loma Linda University.  Hand delivered copies by the student will not be accepted as official.  Transcripts must be received and processed in order to be eligible for the program.
Your application, recommendation and transcripts must be submitted and received by posted deadline in order to considered.
Contact sahpadmissions@llu.edu if you have difficulty with the online application.
International Students
International students must meet all program, admission, and additional requirements. Transcript evaluations must include both High School and College credits.
Refer to our international student information for accepted evaluation services.