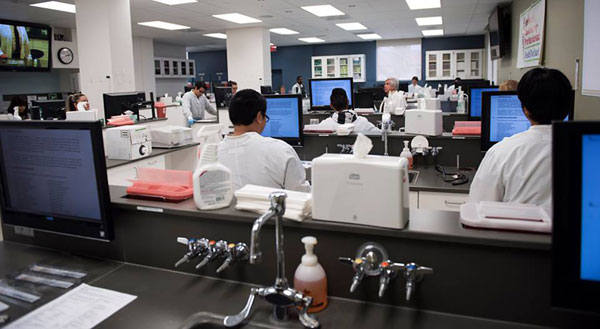 Clinical Laboratory Sciences Admissions
Program Prerequisites
To be eligible for admission, applicants must have a minimum 2.75 science grade point average. A minimum grade of C (2.0) is required for all transfer courses. C-minus grades are not acceptable for transfer credit. The minimum subject requirements are:
ARTS AND HUMANITIES (minimum of 16 quarter units)
Select units from at least three content areas* below:
Art/Music
Foreign Language
History
Literature
Philosophy
Religion
General Humanities electives
*A minimum of 3 quarter units in an area are required to meet a content area
SCIENTIFIC & QUANTITATIVE REASONING
Each course or sequence listed below:
College Algebra or Calculus (one course)
General Biology (one course with lab)
General Chemistry (complete sequence with labs)
Organic Chemistry (complete sequence with labs)
Physics with lab (must include principles of light and electricity)
SOCIAL SCIENCES (minimum of 12 quarter units)
Select units from at least two content areas* listed below:
Anthropology
Economics
Geography
Political Science
Psychology
Sociology
*One course (or components integrated into several courses) dealing specifically with issues of human diversity is required.
WRITTEN & ORAL COMMUNICATION (minimum of 9 quarter units)
English Composition (complete sequence) must meet the baccalaureate degree requirements of a four-year college or university
If additional units are necessary, select from the courses listed below:
Critical Thinking
Public Speaking
Informational Systems
HEALTH AND WELLNESS (minimum of 2 quarter units)
Required: Two separate physical activity courses totaling a minimum of one quarter unit, or military discharge papers (DD-214)
A didactic course in health or nutrition (e.g., personal health, personal nutrition, population health, global health, community nutrition) is required.
English Proficiency
Regardless of nationality or citizenship, an applicant whose native language is not English or whose secondary education has been given outside the U.S. is required to pass a test of English proficiency.
Test results/scores are to be sent directly to LLU from the testing service.
University minimum scores:
TOEFL scores are valid for two years from the test date. If it has been more than two years since the test taker last took TOEFL, the test must be taken again. The institution code for Loma Linda University is 4062.
TOEFL minimum scores:
80 - Internet-based
550 - paper-based, including a minimum final score of 5.0 on the TWE part (Test of Written English)
Duolingo English TestLLU minimum score is 105
IELTSscores are valid for two years from the test date. LLU minimum score is 6.5
PTE Academic(Pearson Test of English-Academic) LLU minimum score is 60
iETP Academic-Plus(International Test of English Proficiency, Academic-Plus) LLU minimum score is 3.5
Preadmission Advisement
An advisor can provide an unofficial transcript review for completion of prerequisite courses. Prerequisites may be completed at any accredited college or university. If you plan on attending a local community college or university, visit the Transfer Patterns page, select the school you plan to attend and check the transfer courses at that school. It takes approximately two years at another college to complete these prerequisites.
Essential Functions
In order to achieve career entry competency, students in the Clinical Laboratory Science Program should have the ability to perform the following essential functions:
Self-Care
The student must be able to:
Maintain general good health and self-care to not jeopardize the health and safety of self and individuals with whom one interacts in the academic and applicable clinical settings.
Arrange transportation and living accommodations to foster timely reporting to the classroom and clinical assignments.
Cognitive Learning Skills
The student must demonstrate the ability to:
Receive, interpret, retain, reproduce, and use information in the cognitive, psychomotor, and affective domains of learning to solve problems and evaluate work.
Process and categorize information set forth in course objectives.
Receive, interpret, retain, reproduce, and use information to achieve satisfactory performance in all courses.
Integrate and relate data generated in several clinical laboratory settings.
Psychomotor Skills
The student must demonstrate the following skills:
Locomotion ability to:
Arrive to course locations as scheduled and move within rooms and laboratories.
Arrive to applicable clinical locations and maneuver in the facility to accomplish assigned tasks.
Monitor and maintain equipment and to perform phlebotomy on patients confined to hospital beds.
Possess strength adequate to perform the above functions, without compromising patient safety or employee safety.
Small motor/hand skills: Perform procedures requiring fine motor control and manual dexterity.
Visual acuity: Discriminate fine detail, using a microscope, or on computer monitor displays.
Affective Learning Skills
The student must be able to:
Sustain the mental and emotional rigors of a demanding educational program in Clinical Laboratory Science, which includes didactic, laboratory and clinical settings that occur within set time constraints, and often concurrently.
Demonstrate respect to all people, including students, teachers, patients, and medical personnel, without showing bias or preference on the grounds of age, race, gender, sexual preference, disease, mental status, lifestyle, opinions or personal values.
Demonstrate appropriate affective behaviors and mental attitudes in order not to jeopardize the emotional, physical, mental, and behavioral safety of clients and other individuals with whom one interacts in the academic and applicable clinical settings.
Acknowledge and respect individual values and opinions to foster harmonious working relationships with colleagues, peers, and patients.
Communication
The student must be able to:
Receive and interpret written communication in both academic and clinical settings.
Communicate quickly, effectively, and efficiently in oral and written English with all members of the academic and applicable clinical settings.
Effectively communicate information and safety concerns with other students, teachers, staff, applicable clinical personnel, and patients.
How to Apply
The Clinical Laboratory Science program accepts applications between March 1st and May 15th for the class beginning in August of the same year. Transcripts, letters of recommendation and test scores (such as English Proficiency, if required) must be submitted by May 29. Early submission is encouraged.
To be redirected to the LLU Admissions webpage, click here.
Select "Apply to LLU."
If you are a first-time applicant, follow the prompts to create an account in the Application Portal and fill out the online application. Retain your username and password to re-enter the portal and monitor your application's progress. Returning applicants may log in using your ID and PIN.
Submit the application and pay the non-refundable fee of $60.00.
Submit official transcripts from each college or university attended. These must be sent directly from school to school; transcripts issued to the student will not be accepted as official. A high school transcript is required if the applicant has not earned at least an Associate degree.
Review the Financial Aid webpage for options on financing your education.