Why Loma Linda University should be your 1st choice in the diverse clinical profession of Respiratory Care:
You will learn to provide cardiopulmonary care for patients under physician direction at Loma Linda University Health medical centers starting just 4 months from admission
You will learn under the mentorship of leaders in respiratory care who have pioneered respiratory care development around the world
You will experience diverse specialties from neonatal to adult care at the regional trauma referral center for ¼ the state of California
You will experience the hospitals of Loma Linda University Health, inaugurated by the president of the USA & governor of California combined with the support of a leading School of Allied Health Professions in the USA
You will study with the university rated #1 in the USA for highest average starting salaries for graduates at BS degree level (NY Times Economix, July 20, 2009).
You could become an alumni of the #1 ranked university in the USA for graduate satisfaction for making the world a better place!
You could get a job in California, nationwide or in many countries around the world
You could get involved with humanitarian service opportunities around the world!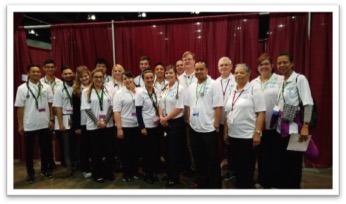 Pictured above are members of our Class of 2016 & 2017 joining Los Angeles respiratory therapists (April, 2016),
helping to treat more than 8,000 under insured patients
Program Accreditation Information
Only the Entry Level Bachelor of Science Respiratory Care program accreditation is provided by the Commission on Accreditation for Respiratory Care (CoARC) 1248 Harwood Road, Bedford, Texas, 76021-4244. www.coarc.com.  The Advanced Practitioner - Respiratory Care Bachelor of Science degree advancement program is not CoARC accredited.
Additional accreditation information and programmatic outcomes data is provided by CoARC @ https://www.coarc.com/Accreditation.aspx 
Contact Us
To set up an advising appointment or to ask questions regarding respiratory care, email our office at studycardio@llu.edu or call (909) 558-4932.
Loma Linda University
Department of Cardiopulmonary Sciences
Nichol Hall Room 1926
Loma Linda CA 92350