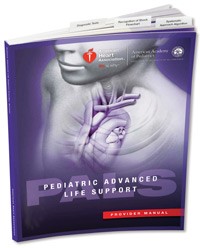 Prerequisites
Must bring proof of current AHA BLS card on the day of class. A proof of current PALS card if renewing. Candidate must be a health care provider whose activities demand proficiency in PALS skills. Required manual must be brought on class day. Self-assessment test is Required.
At completion of the course, participants will be able to demonstrate proficiency according to American Heart Association standards in the areas of:
Infant and child CPR
Respiratory & Airway Management
Intraosseous insertion
Circulatory management
Megacode & Team Dynamics
Basic Arrhythmia recognition and therapeutic treatment of Sinus Bradycardia, AV Blocks, SVT, VT, VF, PEA and Asystole.
Function as a Team leader and a Team Member in an evaluation code scenario that includes patient assessment, arrhythmia recognition and treatment, supervision of team members, and problem solving.
Student must provide Certificate of Completion from American Heart Association only. Skills testing must be done within 60 days of completing online testing. Call Life Support Education to schedule testing.
Price: $100.00
Registration
Register a month before class date.  Class starts promptly at scheduled times. Anyone late for more than 15 minutes will be asked to re-schedule. Registration closes when classes are full. If registering online, student must bring printed registration confirmation at the day of class.
Certification
American Heart Association (AHA) Certificates are provided upon course completion for ACLS, BLS, Heartsaver CPR/AED, Heartsaver First Aid, PALS and PEARS. NRP Certification is provided by American Association of Pediatrics.
A proof of current AHA BLS card must be presented on the day of the following provider courses: ACLS, PALS and PEARS.
|   | REQUIRED CARDS FOR PROVIDER | REQUIRED CARDS FOR RENEWAL |
| --- | --- | --- |
| BLS |   | BLS |
| ACLS | BLS | BLS, ACLS |
| PALS | BLS | BLS, PALS |
| PEARS | BLS | BLS |
| NRP |   | NRP |
Books
Each student must bring required book(s) to class, anyone without their book will not be granted admission and will be rescheduled. Rescheduling fees apply. Books can be purchased at Life Support Education office or online.
Fees
A 5 business day notice is required for full Refunds, Cancellations, and Re-scheduling of Classes. If less than 5 business day a $25.00 processing fee applies for ACLS, PALS and NRP classes. A $10.00 processing fee for PEARS, ECG & Pharmacology, BLS, Heartsaver CPR and First Aid. NO REFUNDS for NO SHOWS.
There will be a $25.00 fee for retesting on ACLS, PALS, and NRP and a $10.00 fee for PEARS and BLS. Retesting only after 48 hours of class date.
CME/CEU/ICEMA
California Medical Association (CME), California Board of Nursing (CEU), and Inland Counties Emergency Medical Agency (ICEMA) has approved ACLS, PALS, and NRP Provider Courses for 12 units and Renewal Courses for 6 units. PEARS has been approved for 8 CE Units. No CE Units for BLS and First Aid. CME Category 1. CEP No. 100403. California CEP No. 62-0004. Pharmacy.
| | |
| --- | --- |
| PALS Provider | $195.00 |
| PALS Update | $125.00 |
| PALS Skills Test | $100.00 |
| PALS Manual | $47.00 |
| ECC Handbook Fee | $30.00 |
LLU Employee and Student discounts available with a valid ID.